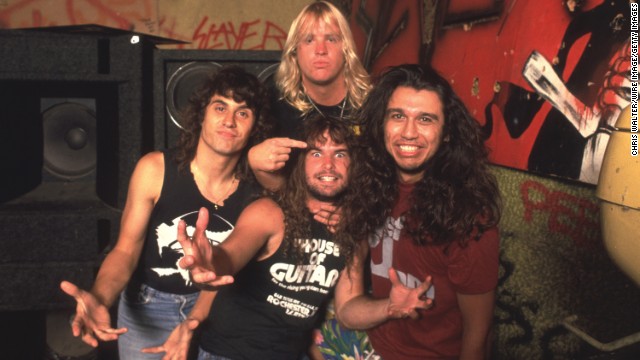 The 1980s is famous for its hair metal, but Slayer, which
lost one of its founding members when Jeff Hanneman died
Thursday, stood apart. The band, seen here in 1986, earned acclaim throughout that decade with their distinctive take on thrash metal. Slayer wasn't the only group on the harder side -- here are eight other heavy metal favorites that we rocked to in the '80s:
Good luck finding a list on heavy metal that doesn't feature Metallica. Aside from being considered the most influential heavy metal band in the '80s, it was also one of the "Big Four" thrash metal bands along with Slayer.
Rolling Stone
notes that Anthrax is one of "the few heavy metal bands to get consistently high critical remarks."
Another one of the "Big Four," Anthrax was also a leader of speed metal.
Although Judas Priest was formed in the early '70s, the English band reached a high point in the U.S. in 1982 with "Screaming for a Vengeance" and the single, "You've Got Another Thing Comin'."
Formed in the late '70s, Iron Maiden made its debut in 1980 with a self-titled record. Two years later, the Brit band released its now classic third album, "The Number of the Beast."
When Metallica's Dave Mustaine left the group, he went on to form Megadeth, the final member of the thrash big four. Their first album, 1985's "Killing Is My Business ... And Business Is Good!" was well-received by critics, even those who weren't into heavy metal.
Motörhead got its start in the UK in the mid-'70s, but made its mark on American audiences with 1980's "Ace of Spades." Acts like Guns N' Roses and Metallica have named the group as an influence.
AC/DC was famous throughout the '70s, but it was 1979's "Highway to Hell" that catapulted the Australian group to a new level. The band suffered a loss when vocalist Bon Scott died a year later, but it regrouped with Brian Johnson taking Scott's place. When they released 1980's "Back in Black," their status as rock gods was solidified.
Like other bands we've included, Black Sabbath started long before the '80s, but that doesn't mean they didn't still have life in them years later. With Ronnie James Dio, the band released 1980's successful "Heaven and Hell."
Slayer, and 8 more heavy metal '80s faves
Metallica
Anthrax
Judas Priest
Iron Maiden
Megadeth
Motörhead
AC/DC
Black Sabbath