Police: Bangladesh building collapse death toll tops 620
May 5, 2013 -- Updated 2350 GMT (0750 HKT)
STORY HIGHLIGHTS
Police say at least 626 people were killed in the building collapse
Crews are still searching through the rubble for bodies as families camp nearby
Officials have vowed to improve worker safety as a result of the disaster
Dhaka, Bangladesh (CNN) -- The death toll has climbed to more than 620 in last month's collapse of a Bangladeshi garment factory building, police said Sunday.
As authorities searched through the rubble of what has become the nation's worst industrial disaster, the stench of decomposing bodies filled the air.
On Sunday night police said at least 626 people were confirmed dead, and crews were expected to continue searching for bodies for a few more days.
Family members of victims remain camped nearby, awaiting news of missing loved ones.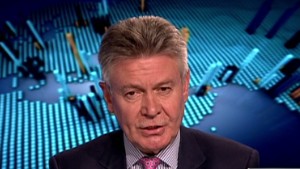 EU warns Bangladesh on factory safety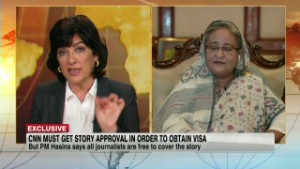 Bangladesh's PM: 'Accidents happen'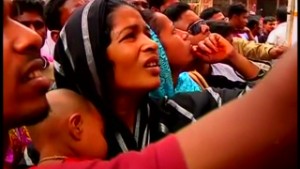 Calls for action after factory collapse
The April 24 collapse of the Rana Plaza Building in Savar, a suburb of the capital, Dhaka, is the most serious disaster to strike Bangladesh's garment industry.
Preliminary results of a government inquiry into the building collapse found that "heavy machinery and high-capacity generators" were "largely responsible," the state-run Bangladesh Sangbad Sangstha News Agency reported.
"During the inquiry, we have found that use of substandard materials during the construction also contributed to the building collapse," the leader of the inquiry, Main Uddin Khandaker, told BSS.
Bangladesh's $20 billion garment industry accounts for 77% of the country's exports.
Among those caught up in the finger-pointing after the building collapse disaster are Western retailers and clothing brands that Bangladeshi suppliers say put heavy pressure on prices, resulting in bad pay and conditions for workers.
On Saturday representatives of Bangladesh's government, industry and workers issued a joint statement laying out an "action plan" to improve worker safety in the wake of the disaster.
CNN's Tom Watkins contributed to this report.

Today's five most popular stories
Part of complete coverage on
Tragedy in Bangladesh
May 15, 2013 -- Updated 2136 GMT (0536 HKT)

Reshma, the last survivor of the collapse, describes 17 harrowing days buried underground in pitch-black darkness.
May 13, 2013 -- Updated 0749 GMT (1549 HKT)

A well-placed pool of water and an air pocket appear to have combined to help a young woman survive in the rubble for more than two weeks.
May 9, 2013 -- Updated 1915 GMT (0315 HKT)

Questions remain over who was ultimately responsible for the Bangladesh tragedy. Is the huge profit buyers make on clothes ethical?
May 3, 2013 -- Updated 1130 GMT (1930 HKT)

It costs more than three times as much to make a denim shirt in the U.S. as it does in Bangladesh. We break down the numbers.
May 2, 2013 -- Updated 2027 GMT (0427 HKT)

CNN's Christiane Amanpour asks Bangladesh's prime minister why more wasn't done to prevent a building collapse which killed more than 400.
May 3, 2013 -- Updated 1050 GMT (1850 HKT)

Prime Minister acknowledges nation's garment industry is beset with problems, but says her government is trying to fix them.
May 7, 2013 -- Updated 1908 GMT (0308 HKT)

A nurse who was meant to be on the Boston Marathon finishing line finds herself treating trauma victims in Bangladesh.
May 2, 2013 -- Updated 2151 GMT (0551 HKT)

CNN's Richard Quest talks to the editor of Women's Wear Daily, James Fallon, about the garment industry in Bangladesh.
May 2, 2013 -- Updated 0923 GMT (1723 HKT)

CNN's Jim Boulden reports on the growing pressure on clothing companies after a Bangladeshi garment factory collapsed.
May 1, 2013 -- Updated 1004 GMT (1804 HKT)

Journalist David Bergman discusses why the Bangladeshi government said no to international rescue offers.
May 3, 2013 -- Updated 1348 GMT (2148 HKT)

Despite the many warnings of dangerous cracks in the walls. thousands were still sent to work to proceed with business as usual.
April 30, 2013 -- Updated 1004 GMT (1804 HKT)

After so much horror and heartache, the death of one woman they were trying to rescue was too much for emergency crews.
May 28, 2013 -- Updated 1905 GMT (0305 HKT)

Fire breaks out in the rubble of a collapsed Bangladesh building, and one girl recalls the choice she was given: Your hand or your life.