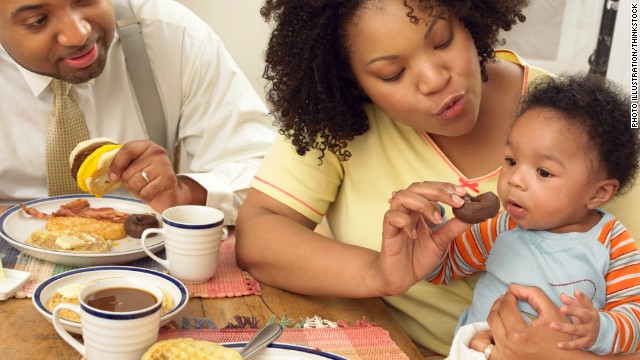 Sometimes, busy moms prioritize getting their children dressed and fed in the morning instead of themselves. Click through this gallery of morning rituals moms forgo for a manageable start to the day.
If "mom jeans" are comically passe, then yoga pants are in, said Bunmi Laditan. Moms don't need to hem and haw over a wardrobe of trendy clothing, Rosie Pope advises. Instead, five to 10 articles of fits-like-a-dream clothing will more than make up for lack of time.
A solo morning wash-up can seem like the Holy Grail for mothers of young children: highly desirable yet impossible to attain. Evening showers are one solution to the problem, "but I know moms who shower with their babies," Pope said.
A carefully applied face full of makeup is generally not in the cards for busy moms. Laditan opts for powder at the very least and indulges her lip gloss obsession. And there are multitasking makeup brands billed specifically for mothers with little spare time in their hectic a.m. routines.
Keeping track of the morning news or even last night's highlights on "SportsCenter" is often not compatible with the many other tasks busy moms have to juggle. "Keep the TV off" to save time, Pope said.
A sit-down, nutritionally sound breakfast is best for growing children, but it's often something busy moms let slide for themselves. Grab-and-go cereal bars allow more time for child care. But if you can't get it all done, give yourself a break: "No matter how hard I try to predict what my kids will need at the breakfast table, there is always something I forgot," Pope said.
Enjoying the perfect cup of coffee with that magical, perfect breakfast? Busy moms, as challenged as they are, might opt to skip the morning joe. But Pope doesn't make such a sacrifice. "Never!" she said. "It's so easy to make coffee. ... My kids actually make it with me."
Hair dryers, flat irons or any kind of complicated hair implements are absolutely on the chopping block for busy moms. Ponytails, top knots, buns, hair clips and all manner of scarves are a few ways to get your hair ready to go quickly.
For myopic moms, being able to see exactly what kind of trouble the toddler is getting into is important. But maybe not important enough to fool around with washing contact lenses. Glasses take less time and don't dry out during a long day.
It's one thing many moms will not sacrifice. Crazy hair, bare face, lack of sleep? Those are easy enough to live with during mornings with the family. Fuzzy teeth and halitosis are harder to ignore, and brushing is a time to model healthy hygiene for the kids.
10 morning shortcuts for moms
10 morning shortcuts for moms
10 morning shortcuts for moms
10 morning shortcuts for moms
10 morning shortcuts for moms
10 morning shortcuts for moms
10 morning shortcuts for moms
10 morning shortcuts for moms
10 morning shortcuts for moms
10 morning shortcuts for moms
10 morning shortcuts for moms
STORY HIGHLIGHTS
The reality of a busy mom's morning is not luxurious, but it is fulfilling
Mothers strike a personal compromise when balancing self-care and child care
Showers, hairdos and leisurely breakfasts are often on the chopping block
(CNN) -- A workout, followed by a long shower, full makeup application and choosing the perfect outfit for the day? It's a morning routine many busy women -- and mothers in particular -- can only dream about.
For many moms on the go, pulling wet hair into a ponytail, skipping the face paint and grabbing a cereal bar on the way out the door to carpool will have to suffice.
"Makeup was the first to go," said Susan Mannis, a Plano, Texas, mother of two. "Now that I have a kid in kindergarten and I have to get him to school by 7:45, showers have also disappeared. Past brushing my teeth and taking my medicine, my bathroom time in the morning is limited to checking to see that my hair isn't too scary."
Aside from giving up on sleep, Kimberly Zimmerman Shorter of Atlanta said she makes a lot of morning compromises now that she has two children.
"The older one gets plopped in front of the TV, and I have more than once balanced a nursing infant while trying to put on mascara," she said. "Now, that takes talent."
Mothers sacrifice cherished rituals so they can get the household up and running each day, but maintaining a routine that makes you feel confident about yourself is important too, says Rosie Pope, mother of three and star of Bravo's "Pregnant in Heels."
"I firmly believe when you look good, you feel good. And when you feel good, you have more energy, and you can be better at what you do," Pope said.
Pope owns a maternity boutique on Madison Avenue in New York and makes a living designing clothes and accessories for mothers-to-be, consulting with celebrity clientele and coaching women to face the journey of pregnancy and motherhood with knowledge and confidence.
Parenting these days can be a competitive endeavor, with all of Mom and Dad's energy going toward the kids, Pope finds.
"The way we've started to talk about how we parent makes ourselves seem more and more amazing and makes people around us feel not so amazing," Pope said. "Too often, we get caught up in this world of comparing Supermom tactics."
Moms who stay up all night and then wake up early to fit in a run and blow-dry their hair are not better mothers than those who stayed up all night with their baby and are struggling because they're tired, she said.
"We all deal with it in different ways. What's important is the time you're spending with your child."
Parents can lose themselves amid all the competition. But kid-crazy culture has had one positive effect for women, Pope said. Thanks in part to celebrities who no longer hide their pregnancies and appear in public with their children, the idea of what a mom looks like is changing, she said.
"I think we're realizing that you don't have to suddenly abandon your sense of style and start wearing muumuus. You can really keep wearing the types of things you would normally wear, just cut for a pregnant body" or your post-birth figure, she said.
"The Honest Toddler" author Bunmi Laditan, soon to be a mother of three, says that balancing self-care and child care is tough.
She spends less time shopping for herself, isn't always "put together" and opts for comfort over style now that she's a mother. But being a mom hasn't doomed her to wearing "mom jeans." In fact, she still prefers the bohemian dresses of her native California.
That's the modern mom aesthetic, Pope said: Find flattering clothing that's adaptable to your lifestyle.
There are ways to glam up even the most exhausted, spit-up-on look.
"For those really hard, busy, hectic, crazy mornings," Laditan said, "one of my friends with two kids swears by big dark sunglasses and lipstick."
With those classic accessories, no one has to know about your dark under-eye circles and blotchy complexion, Laditan said. If she thinks she looks raggedy, she will take 10 minutes in the morning to polish up.
Time-saving tricks are essential, Pope said.
For example, the TV star said she washes her hair only once a week and styles it progressively into a top knot as the days of the week wear on.
Don't miss out on the conversation we're having at CNN Living.
Follow us on Twitter
and
Facebook
for the latest stories and tell us what's influencing your life.
Laditan said that after the birth of her "Honest Toddler," the time it took for her to shower was drastically reduced. "It's not much fun when a little gumball is banging on the shower door," she said.
Same goes for Pope.
"The kids always want to get in the shower," she said. "Every now and then I'll say, 'Mommy just needs a few minutes of privacy,' and my oldest, who is 4½, will say, 'what does that word mean?' "
Another solution for limited time, Pope said, is incorporating her children into her morning routine.
"I've always made a point of bringing (my kids) in the bathroom with me, and they pretend to do makeup while I'm doing my makeup," Pope said. "And they love it. They have little brushes, and it's a little bit chaotic in there, but it all gets done, and we have a really good time."