STORY HIGHLIGHTS
Girls trafficked for sex are forced to do degrading acts
One rescued girl regularly saw 13 customers a day
Via webcams men would order the girls to carry out sex acts
One rescued girl warned: Please, do not to believe all the promises, especially from people you don't know
Editor's note: This article is part of The Fighters, a series of reports from a full-length film that premieres on CNN International TV on May 17 and 18 at 1900 HKT; 2200 CET; 2200 ET. The documentary is a result of two years of undercover work and filming in the Philippines.
Manila, Philippines (CNN) -- Birds chirp outside. A motorcycle groans up a nearby hill. And in a small, warm room filled with books and framed drawings, a young woman we're calling Maria tears at a tissue as she prepares to tell how sex traffickers corrupted her life.
"I was 15 when I was recruited," she said. "I had to find a job because my father had a lung problem and I needed to find money so we could send him to the hospital."
Maria met a person in her province who said he could find her a job in Manila.
"I thought I was going to work as a dishwasher in a restaurant," she said. "But when I arrived I realized it was a 'casa.'" 'Casa' is a code word for brothel in the Philippines.
Many young girls fall prey to human traffickers. They often leave their homes and villages in the provinces, seeking opportunities to support their families.
The traffickers are adept at convincing them to travel with them.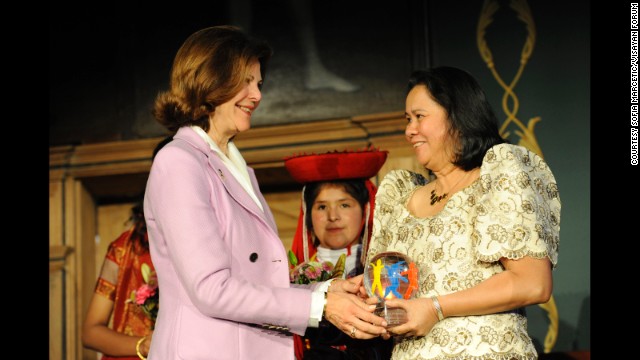 Cecilia Flores-Oebanda is presented with The World's Children's Prize for the Rights of the Child by Sweden's Queen Silvia on April 28, 2011.
Manny Pacquaio, with Oebanda, meets girls rescued from human traffickers. The girls shared their stories with Pacquaio, who also spoke at congress in support of an anti-trafficking law.
Oebanda with President Jimmy Carter at the 2008 Skoll World Forum where she recieved the Skoll Award for Social Entrepreneurship
Oebanda meets with Desmond Tutu in 2008 while both were speaking at the Global Philanthropy Forum.
Oebanda receives the 2005 Anti-Slavery Award at Chatham House in London on November 29, 2005. The award was presented by Lord Bill Brett, director of the International Labour Organization.
Oebanda speaks before the Philippine Senate during deliberations about the Magna Carta on Domestic Workers in 2002. The legislation was designed to improve conditions for domestic workers in the country.
Oebanda attends the first Southeast Asian Consultation, meeting to draft legislation on domestic workers in 2005. The meeting was organized by the Visayan Forum.
Oebanda is seen in the late 1990's working in poor communities of Manila with the Child Watch Network.
Oebanda's first day outside prison, with her children on February 26, 1986. She was captured while fighting for rebel forces against the dictatorship of President Ferdinand Marcos.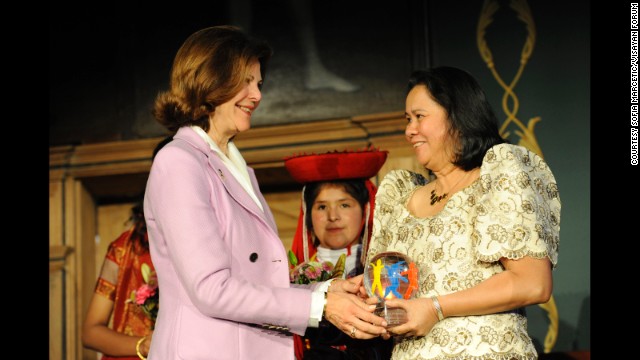 Anti-trafficker attracts power brokers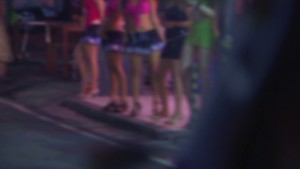 Government: 100,000 sex workers are kids
"I traveled through the islands. It took me 24 hours to reach Manila. When I got there, I found 16 girls staying in the same small place. Some were as young as 13-years-old," she said.
Maria was trapped and forced to have sex with a number of foreign and Filipino men.
Although she was there for only a few weeks before the Filipino police raided the apartment and freed her and the others, the damage had been done.
Maria routinely saw up to 13 customers a day. Her captors forced her to go to extreme lengths to deceive them into thinking she was a virgin in order to command higher prices.
"We were forced to take a cotton ball and dip it in pigeon's blood, then put that in our sex organ," she says. As outrageous as that is, it is not unusual.
In some parts of Asia, anti-trafficking groups have found that men believe sex with a virgin can cure their HIV/AIDS.
Social workers say that's led to a disturbing trend with tragic consequences for the victims of human trafficking. UNICEF estimates as many as 100,000 children work in the illegal sex trade in the Philippines.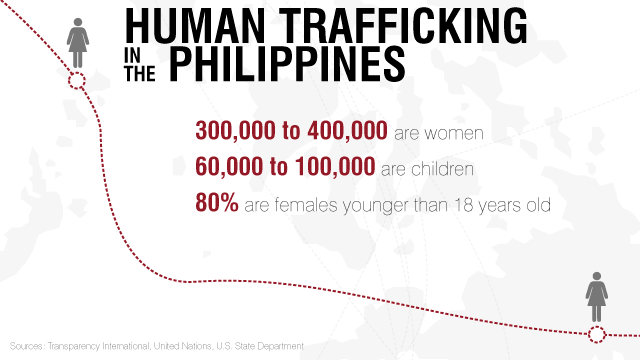 Click here to get full infographic on human trafficking in the Philippines
Many women are also forced to prostitute themselves, not because of financial circumstances, but because they fear violence against themselves or their families, if they try to escape.
While filming the CNN Freedom Project documentary, we interviewed three girls, whose story was so profound and distressing, it left me in tears, the only time in my 15-year career that's happened.
The interview started out normally, with the girls singing into the microphone and telling us about Tom & Jerry cartoons and the crushes they had on the musician Bruno Mars.
They seemed like typical 12-year-olds, but what they would tell us about what they'd been through, stopped me cold.
"The trauma is really so deep," says Cecilia Flores-Oebanda, the director of the Visayan Forum Foundation, an organization that cares for recued girls. "They wake up in the middle of the night screaming and crying because they are so afraid the trafficker will come again. Sometimes one of the kids suddenly gets sick and vomits. Our psychologist said it's because she remembers what these guys on the Internet asked her to do."
Read Oebanda's amazing story -- from rebel fighter to anti-trafficking icon but now she has a new fight
One of the girls said: "At the internet café they tell me to take my clothes off and then they make me dance [in front of the camera]. I was kind of embarrassed because I'm not used to being naked like that."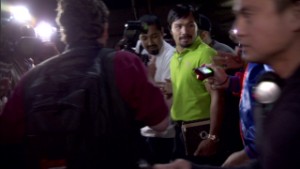 Child advocate wants Pacquiao's help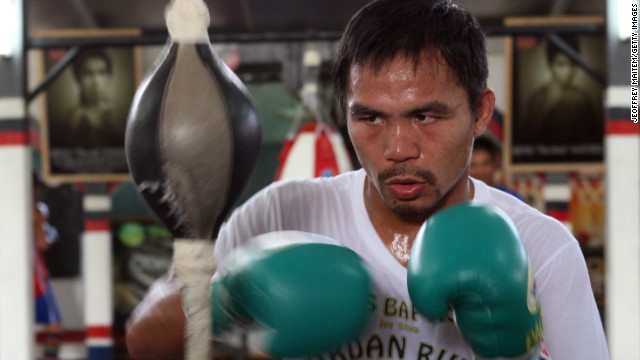 Manny Pacquiao is known the world over for his boxing abilities, but in the Philippines he's also a national hero beyond the ring. Click through to see moments of Pacquiao's life.
Pacquiao, center, and his wife Jinkee, right, display their certificates of candidacy at the election office in Alabel, Sarangani province, in the southern island of Mindanao, on October 2, 2012. Pacquiao registered to run for reelection as a congressman for the southern province of Sarangani, with Jinkee filing to stand for vice-governor.
Pacquiao attends a plenary session discussing a proposed reproductive health bill at the House of Representatives at Congress in Quezon City, east of Manila, Philippines, August 6, 2012.
Pacquiao gestures during a prayer rally at the Araneta Coliseum in Manila on July 28, 2012. The prayer rally was a way for Pacquiao to thank his fans and supporters for the blessings he received.
Pacquiao gives a sack of rice and relief goods to a woman after floods struck in Glan, Sarangani province, southern Philippines, June 17, 2012.
Pacquiao speaks to flood-affected residents at an evacuation center in Cagayan de Oro City, a southern island off Mindanao on December 23, 2011.
Pacquiao is conferred the rank of lieutenant colonel by Maj. Gen. Emmanuel Bautista, left, and Brig. Gen. Alex Albano, right, in Manila, on December 5, 2011.
Pacquiao sits with fellow lawmakers during the 15th Congress at the House of Representatives in Quezon City on July 25, 2011.
Pacquiao shakes hands with a Special Forces Operation Course student during the 49th Special Forces Regiment anniversary at Fort Magsaysay in Nueva Ecija, north of Manila, on June 27, 2011. During the event, Pacquiao received the Honorary Special Forces Warrior Badge, and wore the exclusive Special Forces uniform popularly known as the "Tiger suit."
Pacquiao looks toward Congressman Edcel Lagman, right, at the House of Representatives on May 18, 2011.
Pacquiao speaks at a news conference during the Catholic Bishops Conference of the Philippines in May 2011.
Pacquiao and U.S. Senate Majority Leader Harry Reid exchange flags in Washington on February 15, 2011.
Pacquiao waves as he joins hundreds of other runners in Manila on October 10, 2010, to raise funds and environmental awareness to help revive the Pasig River, a heavily polluted major waterway that cuts through the city of 12 million.
Pacquiao joins Harry Reid, a Nevada senator, on the campaign trail at the Orr Middle School in Las Vegas, Nevada, on October 29, 2010, ahead of the midterm U.S. elections.
Pacquiao tries out whitewater rafting to promote tourism in his district in New La Union in Maitum, Sarangani province, on August 14, 2010.
Pacquiao attends a session of the Lower House as congressman representing his home district of Sarangani during the State of The Nation address of President Benigno "NoyNoy" Aquino on July 26, 2010.
Pacquiao listens during the turnover ceremony for the new commanding general of the Philippine army at Fort Bonifacio on July 23, 2010.
Pacquiao takes his oath of office as congressman at the provincial capitol in Alabel, Sarangani province, on June 28, 2010.
Pacquiao holds his daughter Queen Elizabeth as he talks to members of the media during his victory party for winning a seat in parliament -- held jointly with her birthday celebration -- at a convention center on the southern island of Mindanao on May 15, 2010.
Pacquiao celebrates with local officials during his proclamation as congressman of Sarangani province in May 2010.
Pacquiao plays billiards at his recreational center in General Santos, Mindanao, in May 2010.
Pacquiao places his ballot into a vote-counting machine in Kiamba, Sarangani province, on May 10, 2010.
Pacquiao greets supporters during a campaign rally in Kiamba in April 2010.
Pacquiao, center, greets supporters with presidential candidate Manny Villar, right, and vice-presidential candidate Loren Legarda, left, as he starts his campaign for Congress in March 2010.
Pacquiao poses with his certificate of candidacy next to his wife, Jinkee, after filing in the town of Alabel, Saragani province, on December 1, 2009.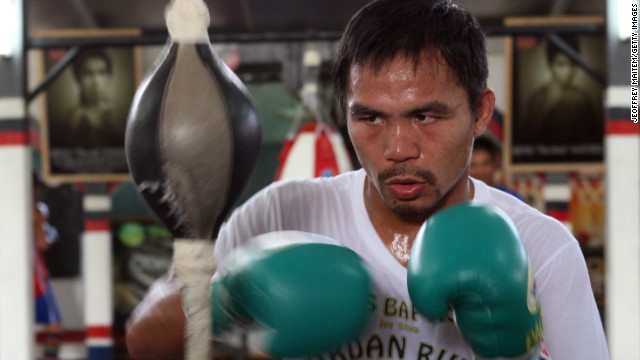 Pacquiao outside the ring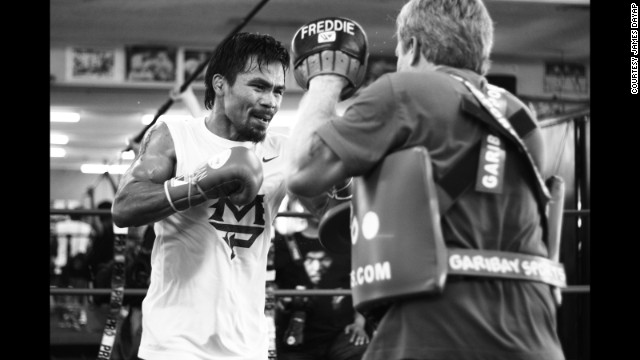 In these rarely seen photos, taken by Manny Pacquiao's personal photographer James Dayap, we take a glimpse at the boxer's training regimen for the Timothy Bradley fight in June 2012, which would become one of the most controversial bouts of his career.
Pacquiao was awarded the title "Fighter of the Decade" for the 2000s by the World Boxing Organization (WBO), World Boxing Council (WBC) and the Boxing Writers Association of America (BWAA).
At the age of 14, Pacquiao moved to Manila, the Philippines, and started boxing. For a time, he lived on the streets.
Pacquiao trained in Los Angeles for the welterweight title match against Bradley.
The WBO welterweight title fight was held on June 9, 2012, at the MGM Grand Garden Arena in Las Vegas.
The fight ended with Bradley winning a split decision that sparked controversy throughout the boxing world.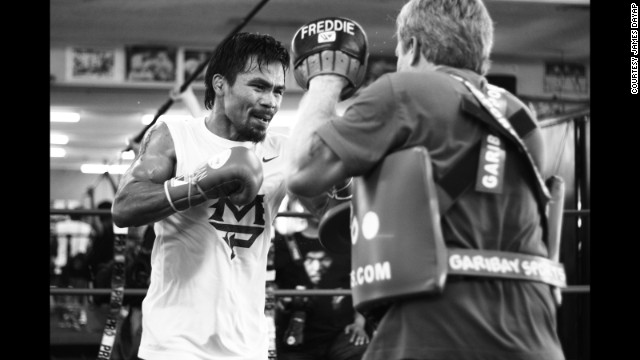 Pacquiao in training
Often that wasn't enough for paying customers on the other side of the sex chat room. For $27 an hour, anyone could tell the girls what to do, and a man behind the camera would make sure they did it.
The girls told of men coming in off the street and the girls having to perform sexual acts. Animals were sometimes involved. And perverts took deranged pleasure in watching the girls suffer these terrible abuses.
"Sometimes we had to urinate," says the girl in the middle. Her friend to the right adds: "The urine is mixed with juice as a drink."
"That's what the American client wants. He demands anyone who feels like urinating should do so, but that he wants us to do it in front of the camera."
I asked the children what they think about Americans.
"You're maniacs," one of the girls says, sharply. "You need to stop victimizing girls like us."
Read what happened when CNN journalists went undercover in Manila's red light district
The Visayan Forum Foundation, which has operated in the Philippines since 1991, says it has reached out to more than 70,000 victims or potential victims of human trafficking, and provided services to, or helped rescue, more than 15,000 victims.
"The cases we handle in the Visayan Forum is always on trafficking for prostitution and domestic servitude," says Oebanda. "Now there's a new phenomenon of trafficking for cybersex. We observe that [the victims] are becoming younger and younger."
During filming, we witnessed several raids conducted by the Philippines Inter-Agency Council Against Trafficking, referred to commonly as IACAT.
One of those raids involved two suspected traffickers and four teenage girls coming in to Manila aboard a passenger ferry. Officers with the Coast Guard and Port of Manila police intercepted the group before they could disembark.
"One of the [girls] is around 15 years old and another one is around 16 or 17 years old, so that's a qualified case of human trafficking," says Oebanda.
They told social workers they were heading to a city north of Manila where the trafficker planned a live show in a cybersex den and where they would be prostituted.
Oebanda and lawyers with the Philippines' Department of Justice filed charges against the two suspects, realizing it could be years before the trial is finished.
New cases like these were always heartbreaking for Maria, whose own attempts to embrace a new life were cruelly snatched away. In March this year, she died from complications as she gave birth to her second child, social workers told CNN.
One of the last things Maria said to CNN was a message to warn others.
"Please, do not to believe all the promises, especially from people you don't know, because a lot of things can happen if you leave with them."