STORY HIGHLIGHTS
In Manila's unofficial red light district, scantily-clad young girls are everywhere
CNN undercover reporters asked to choose from a line up of girls
Police and anti-traffickers say sex industry is major destination for trafficked girls
Some estimates say up to 100,000 children are trafficked into the Philippines' sex trade
Editor's note: This article is part of The Fighters, a series of reports from a full-length film that premieres on CNN International TV on May 17 and 18 at 1900 HKT; 2200 CET; 2200 ET. The documentary is a result of two years of undercover work and filming in the Philippines.
Manila, Philippines (CNN) -- Bolly is working the streets, watching clubbers spill from one bar to the next when he spots his next mark -- two westerners in one of Manila's most notorious areas.
It's a little after 10pm when Bolly sees me and my cameraman -- though he doesn't have a camera visible with us on this night -- rolling out of a sports bar known for its bounty of women offering 'companionship' in Edsa, Manila's unofficial red light district. He strides over quickly, waving a little white flier in our faces.
The street is teeming with people after an evening rain. Pedestrians dodge neon-bathed puddles while darting behind and between passing cars.
On the sidewalk, several homeless families have bedded down on cardboard for the night. On the block ahead, we see teams of girls in tight-fitting cocktail dresses and school girl uniforms standing in front of karaoke bars, calling out to western businessmen to come inside and join them for a little fun.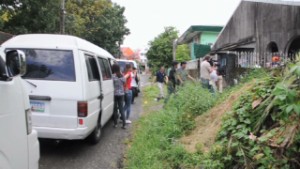 Ride-along on a human trafficking raid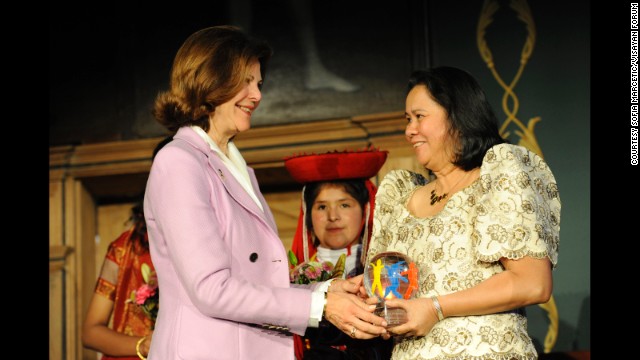 Cecilia Flores-Oebanda is presented with The World's Children's Prize for the Rights of the Child by Sweden's Queen Silvia on April 28, 2011.
Manny Pacquaio, with Oebanda, meets girls rescued from human traffickers. The girls shared their stories with Pacquaio, who also spoke at congress in support of an anti-trafficking law.
Oebanda with President Jimmy Carter at the 2008 Skoll World Forum where she recieved the Skoll Award for Social Entrepreneurship
Oebanda meets with Desmond Tutu in 2008 while both were speaking at the Global Philanthropy Forum.
Oebanda receives the 2005 Anti-Slavery Award at Chatham House in London on November 29, 2005. The award was presented by Lord Bill Brett, director of the International Labour Organization.
Oebanda speaks before the Philippine Senate during deliberations about the Magna Carta on Domestic Workers in 2002. The legislation was designed to improve conditions for domestic workers in the country.
Oebanda attends the first Southeast Asian Consultation, meeting to draft legislation on domestic workers in 2005. The meeting was organized by the Visayan Forum.
Oebanda is seen in the late 1990's working in poor communities of Manila with the Child Watch Network.
Oebanda's first day outside prison, with her children on February 26, 1986. She was captured while fighting for rebel forces against the dictatorship of President Ferdinand Marcos.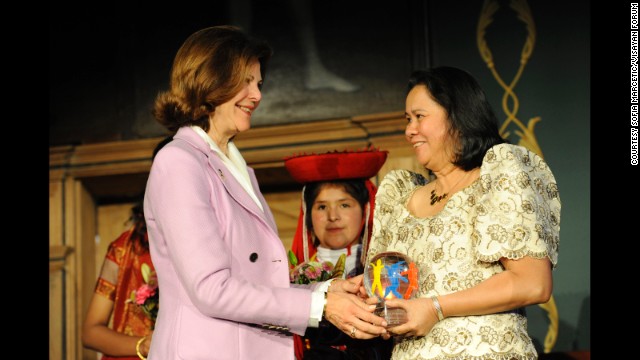 Anti-trafficker attracts power brokers
"Hello friends. Where are you going?" Bolly says. "I know where there lots of girls. Cheap drinks. This way," he says, thrusting the pamphlet into our hands. Bolly is a recruiter for a number of nightclubs in the area.
"We are looking for young, pretty girls" my cameraman asks, playing the part. "Where can we find them?"
Bolly grins broadly. "OK. I take you."
We make small talk as Bolly happily walks us the several blocks to the first bar.
My photographer and I don't tell our new friend that we're actually working at the moment; on the lookout for evidence of forced prostitution or children being sold for sex. It's part of the two year-long investigation CNN embarked on as part of its Freedom Project, an initiative to help the battle against modern-day slavery.
It's estimated 800,000 people are involved in prostitution in the Philippines. The government and NGO estimates on the number of women trafficked range from 300,000 to 400,000 and the number of children trafficked range from 60,000 to 100,000.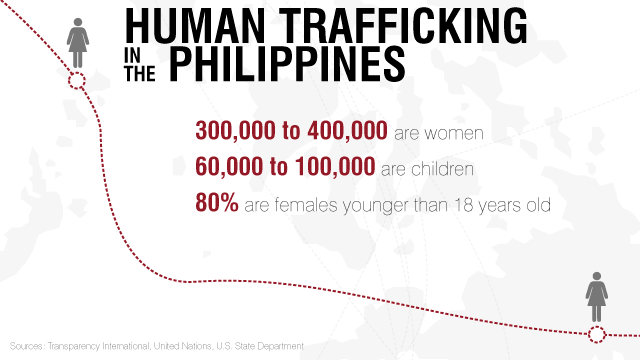 Click here to get full infographic on human trafficking in the Philippines
We follow Bolly down the street, until we come upon a little door guarded by a large bouncer. He opens the door and our eyes struggle to accept the flood of pink fluorescent light bathing the room. Katy Perry's "Teenage Dream" blares from unseen speakers.
Along the wall a dozen girls seated in a row stare at the newcomers. A few wave hello, most look bored. They're not drinking. Not really even talking. Just sitting and waiting to be selected.
A few red plastic tables are scattered around the room, each decorated by a single man sitting and drinking.
One man has a girl he's chosen sitting beside him. She's kissing the lobe of his ear. There are no empty tables left, so the manager puts us on the side of the L-side couch, opposite the girls. It feels a little like it's an adolescent school dance, with everyone waiting for someone else to make the first move.
I struggle for a place to look away from the gaze of the girls and cast my eyes to the ground. A cockroach skitters around the legs of the tables and chairs and patrons' feet. The manager is behind the bar, getting us beers. She sees me looking at the cockroach and laughs from across the room. "Our pet," she says.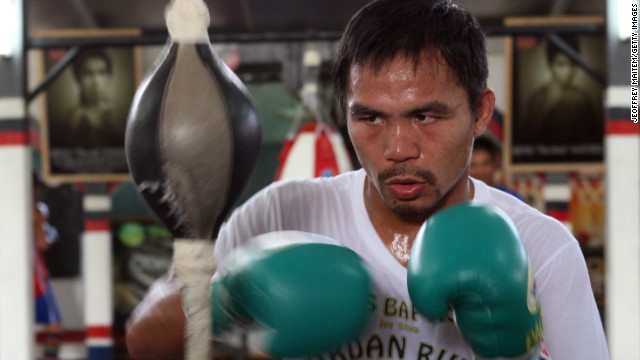 Manny Pacquiao is known the world over for his boxing abilities, but in the Philippines he's also a national hero beyond the ring. Click through to see moments of Pacquiao's life.
Pacquiao, center, and his wife Jinkee, right, display their certificates of candidacy at the election office in Alabel, Sarangani province, in the southern island of Mindanao, on October 2, 2012. Pacquiao registered to run for reelection as a congressman for the southern province of Sarangani, with Jinkee filing to stand for vice-governor.
Pacquiao attends a plenary session discussing a proposed reproductive health bill at the House of Representatives at Congress in Quezon City, east of Manila, Philippines, August 6, 2012.
Pacquiao gestures during a prayer rally at the Araneta Coliseum in Manila on July 28, 2012. The prayer rally was a way for Pacquiao to thank his fans and supporters for the blessings he received.
Pacquiao gives a sack of rice and relief goods to a woman after floods struck in Glan, Sarangani province, southern Philippines, June 17, 2012.
Pacquiao speaks to flood-affected residents at an evacuation center in Cagayan de Oro City, a southern island off Mindanao on December 23, 2011.
Pacquiao is conferred the rank of lieutenant colonel by Maj. Gen. Emmanuel Bautista, left, and Brig. Gen. Alex Albano, right, in Manila, on December 5, 2011.
Pacquiao sits with fellow lawmakers during the 15th Congress at the House of Representatives in Quezon City on July 25, 2011.
Pacquiao shakes hands with a Special Forces Operation Course student during the 49th Special Forces Regiment anniversary at Fort Magsaysay in Nueva Ecija, north of Manila, on June 27, 2011. During the event, Pacquiao received the Honorary Special Forces Warrior Badge, and wore the exclusive Special Forces uniform popularly known as the "Tiger suit."
Pacquiao looks toward Congressman Edcel Lagman, right, at the House of Representatives on May 18, 2011.
Pacquiao speaks at a news conference during the Catholic Bishops Conference of the Philippines in May 2011.
Pacquiao and U.S. Senate Majority Leader Harry Reid exchange flags in Washington on February 15, 2011.
Pacquiao waves as he joins hundreds of other runners in Manila on October 10, 2010, to raise funds and environmental awareness to help revive the Pasig River, a heavily polluted major waterway that cuts through the city of 12 million.
Pacquiao joins Harry Reid, a Nevada senator, on the campaign trail at the Orr Middle School in Las Vegas, Nevada, on October 29, 2010, ahead of the midterm U.S. elections.
Pacquiao tries out whitewater rafting to promote tourism in his district in New La Union in Maitum, Sarangani province, on August 14, 2010.
Pacquiao attends a session of the Lower House as congressman representing his home district of Sarangani during the State of The Nation address of President Benigno "NoyNoy" Aquino on July 26, 2010.
Pacquiao listens during the turnover ceremony for the new commanding general of the Philippine army at Fort Bonifacio on July 23, 2010.
Pacquiao takes his oath of office as congressman at the provincial capitol in Alabel, Sarangani province, on June 28, 2010.
Pacquiao holds his daughter Queen Elizabeth as he talks to members of the media during his victory party for winning a seat in parliament -- held jointly with her birthday celebration -- at a convention center on the southern island of Mindanao on May 15, 2010.
Pacquiao celebrates with local officials during his proclamation as congressman of Sarangani province in May 2010.
Pacquiao plays billiards at his recreational center in General Santos, Mindanao, in May 2010.
Pacquiao places his ballot into a vote-counting machine in Kiamba, Sarangani province, on May 10, 2010.
Pacquiao greets supporters during a campaign rally in Kiamba in April 2010.
Pacquiao, center, greets supporters with presidential candidate Manny Villar, right, and vice-presidential candidate Loren Legarda, left, as he starts his campaign for Congress in March 2010.
Pacquiao poses with his certificate of candidacy next to his wife, Jinkee, after filing in the town of Alabel, Saragani province, on December 1, 2009.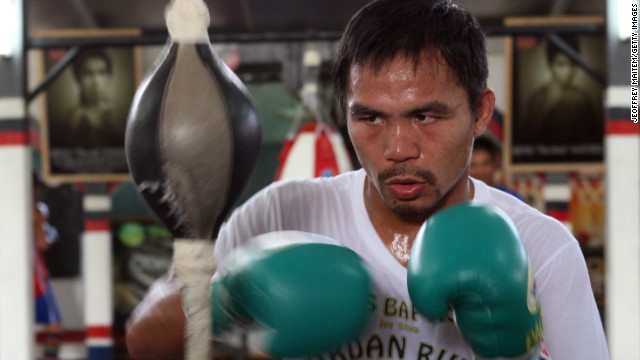 Pacquiao outside the ring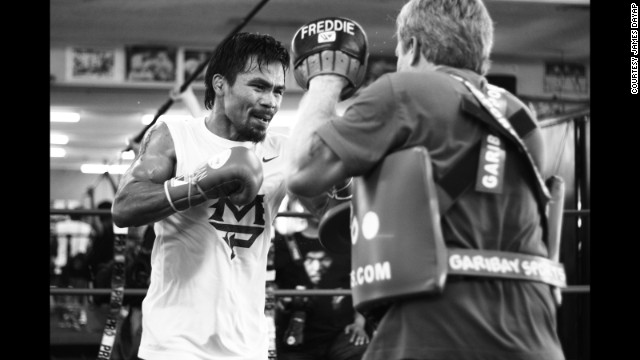 In these rarely seen photos, taken by Manny Pacquiao's personal photographer James Dayap, we take a glimpse at the boxer's training regimen for the Timothy Bradley fight in June 2012, which would become one of the most controversial bouts of his career.
Pacquiao was awarded the title "Fighter of the Decade" for the 2000s by the World Boxing Organization (WBO), World Boxing Council (WBC) and the Boxing Writers Association of America (BWAA).
At the age of 14, Pacquiao moved to Manila, the Philippines, and started boxing. For a time, he lived on the streets.
Pacquiao trained in Los Angeles for the welterweight title match against Bradley.
The WBO welterweight title fight was held on June 9, 2012, at the MGM Grand Garden Arena in Las Vegas.
The fight ended with Bradley winning a split decision that sparked controversy throughout the boxing world.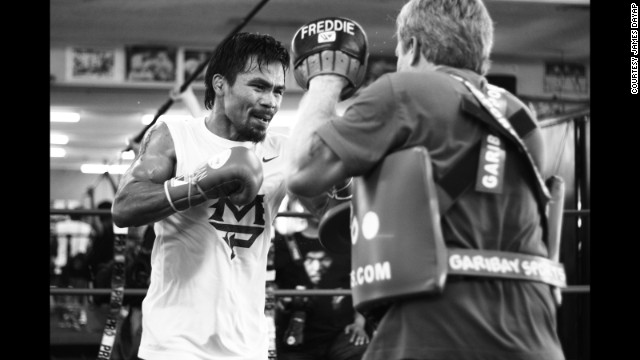 Pacquiao in training
The girls giggle, somewhat embarrassed. I force a smile, but another patron, who hadn't heard the quip gets up from his chair and smashed his shoe down on the husky insect.
The girls groan and the manager pretends to cry. This is too weird. Time to go. My photographer and I race through our San Miguel Lights and leave.
Bolly is there outside the door. He leads us through a labyrinth of roads and alleys. Fifteen minutes later, near the Manila port, we arrive at a strip club.
We're seated near the front of the stage, where two girls sway in a bored dance. This time instead of the girls sitting in a line, the manager brings them to us.
More than a dozen girls in skimpy cocktail dresses line up in front of us. The manager shines a flashlight across each of their faces. He tells us to select one.
"No, that's okay. I don't want one," my photographer says.
In the back, smaller than the others, I see a young girl, hiding behind the others. I can't tell if she's frightened or uninterested. "Her."
The other girls part way. She hesitantly makes her way to sit beside me. She orders an ice tea. When the bill arrives, we'll find out it cost us $22. How old are you? I ask "18," she says.
"Really? You look younger." She doesn't budge. "18,"
"Do you like working here?" She looks forlornly at the stage. "Yes."
How long have you been working? "Three months."
Despite our best efforts, she has no interest in giving up information to two white strangers.
Read what girls rescued from trafficking say
We decide to leave and end up getting into an argument with the manager. The bill for two beers and an iced tea comes to $83 dollars.
But carrying undercover camera equipment, and because of the size and number of security guards, we only offer a half-hearted protest.
We would go to several other bars and speak to a number of women working in the sex industry.
Some seemed to enjoy their work, but most said it was a sort of last resort. They had children at home they have to feed and they hadn't been able to find any other work.
Still, it's important to note, no one we spoke with said they were being forced to do this work by another person despite our suspicions and their youthful looks.
Often, skeptics of the modern slavery issue will point to a story like this as proof that it doesn't exist, or that the problem is overblown.
But the absence of evidence is not evidence of its absence and the simple fact is; it is very hard to get deep enough into an underground criminal culture to find evidence of trafficking, especially in a single night.
It's equally difficult to convince a person who may be in that situation that it is safe and wise to speak openly with a foreigner.
In filming the documentary, "The Fighters," we witnessed the hard work of the Filipino government's Inter-Agency Council Against Trafficking, honest police officers and anti-slavery organizations like the Visayan Forum and International Justice Mission.
They are working to ensure that jaunts like the one we attempted aren't successful, not only for a night, but for good.