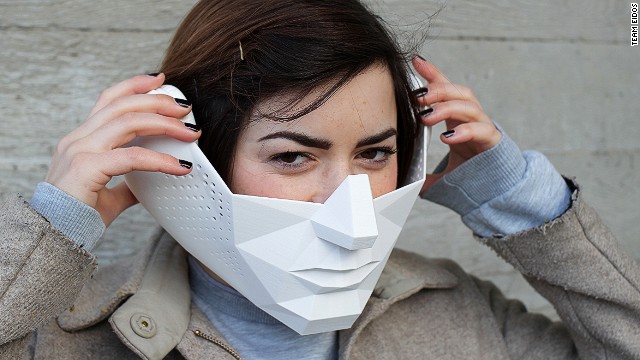 It may bear an ominous similarity to the head-gear worn by Iron Man, but this cool piece of 3D-printed equipment is one half of a hi-tech vision and audio system that aims to sharpen how we see and hear the world around us.
The Eidos Vision device enhances the way users see motion, achieving a similar effect to long exposure photography. By detecting and overlaying movement it showcases a flow of patterns hidden to the naked eye (as displayed in the image).
The Eidos Audio Mask, meanwhile, is shaped to target bone structures in the inner-ear, amplifying specific sounds while blocking out background noise. This enables users to hone in on the voices and conversations they want to hear in a crowded or loud environment.
Some of the most obvious practical uses for the vision product can be found in the arts where there is the potential to add spectacular visual effects to live performances such as ballet or fashion shows. Sportspeople using the technology will be able to analyze their performance and movements in real time, quickly making adjustments to correct their technique (for example, tennis players can see and follow the trajectory of a ball that they just served).
The audio mask could have major practical implications for those with hearing problems or ADHD sufferers who find it difficult to concentrate in a loud environment by neutralizing distracting background noise.
The stated aim of the project was to add value to the human body by using technology. This photo shows the early stages of experimental brainstorming in the group, who are based at London's Royal College of Art.
The Eidos team went through rounds of intense analysis and modeling, settling on a mixture of wearable materials and 3D printed parts that house functional electronic components such as transducers, speakers, cameras and displays.
As part of the prototyping phase the crew constructed this elaborate, if clunky, sensory deprivation experiment using noise isolation rigs.
Testing the effects of bone conduction technology, where the user can hear via the inner, rather than the outer, ear. These rigs use motors and small transducers pressed against the teeth to achieve the effect.
Exploring audio swapping technology. This head-mounted rig changes what listeners hear from their left to right ear, and vice-versa.
A human guinea-pig tests out a "strobe vision" prototype device, which gives the appearance of slow or arrested motion by using alternating light.
This complex looking head piece was used to modify active 3D shuttering technology.
The first working prototype of Eidos Vision. It contains a head mounted display and camera, although it's a far cry from the cool looking final product.
Extending human capabilities
Delving into detail
Hearing one voice among many
On the spot sports analysis
Helping focus
Creating superhumans
Mixing digital technology with the human body
Early stage development
Hearing a voice inside the head
Wearable tech
Creating visual effects in real time
Illusion of depth
Eidos superhuman mask