Chicago airport gets goats
May 11, 2013 -- Updated 1333 GMT (2133 HKT)
STORY HIGHLIGHTS
Chicago's O'Hare Airport plans to use goats as landscapers
The herd will munch on 120 acres of foliage at the airport
Other airports have employed goats with mixed results
(CNN) -- Have you herd? Goats are now scheduled to land at Chicago's O'Hare Airport for a meal and some landscaping.
The city's aviation authority wasn't kidding Wednesday when they announced a two-year contract for "sustainable vegetation management grazing services" with Central Commissary Holdings.
Twenty-five to 30 of the four-legged creatures will chow down on 120 acres of foliage at the airport, including space along creeks and hilly areas too hard and expensive to maintain using other methods, a press release said.
To ensure the animals don't try to head butt a 747 they will be separated from the airfield by security fencing, remain supervised while on airport property, and spend evenings in a nearby transport trailer.
The curse of the Billy Goat may have haunted the Chicago Cubs for decades, but the airport believes embracing the animals will save money, reduce carbon dioxide emissions and cut down on toxic herbicides.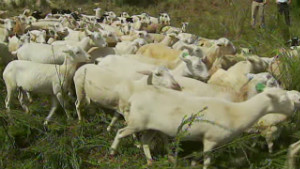 Sheep clear brush near Atlanta's airport
"This pilot program will help the CDA achieve many economic, operational, environmental and social benefits, achieving our goal of balancing people, planet and profit," Aviation Department Commissioner Rosemarie Andolino said in the release.
There's no word if the goats will help with World Series hopes.
The overall cost for two years of weed eating goats could reach $100,000, but the Chicago Department of Aviation is quick to point out it uses no local or state tax dollars for operations or capital improvements.
Other airports have tried grazing goats with mixed results.
San Francisco airport uses a herd for two to three weeks each June to clear vegetation for a fire break on the west side of the airport.
"The benefits of the goats is this property is home to two endangered species, the San Francisco Garter Snake and the California Red Legged Frog," SFO Airport Duty Manager Doug Yakel told CNN.
"They can clear this vegetation for us without endangering these two species, where heavy machine or mowing might."
But Seattle's Sea-Tac Airport kicked the goats out after only a week in 2008.
"Airport managers decided to discontinue using the goats because they were, in effect, too effective," said Christina Faine, an airport spokeswoman. "Goats, indiscriminate eaters, eat everything, including the trees and native plants that we wanted to protect."
Chicago's goat herd is expected to arrive at O'Hare in about a month.

Part of complete coverage on
December 10, 2013 -- Updated 1306 GMT (2106 HKT)

Presidents and prime ministers, celebrities and royals joined tens of thousands of South Africans to pay tribute to Nelson Mandela.
December 9, 2013 -- Updated 1558 GMT (2358 HKT)

The Web is set to change our lives over the next decade. This will also question the use of personal data and balancing new powers with ethics.
December 9, 2013 -- Updated 0111 GMT (0911 HKT)

The image of the Shinkansen bullet train streaking past Mount Fuji is a powerful part of the iconography of the resurgent post-war Japan.
December 9, 2013 -- Updated 2023 GMT (0423 HKT)

Imagine the delight at unwrapping your Christmas present in 2043 and discovering you've been gifted a trip around the Moon.
December 9, 2013 -- Updated 0727 GMT (1527 HKT)

A new political party claiming to champion ordinary Indian voters makes a startling electoral debut.

Few words in Hungarian, including place names, are easily recognizable to foreigners.
December 10, 2013 -- Updated 1344 GMT (2144 HKT)

Browse through images you don't always see in news reports, taken by CNN teams all around the world.
December 9, 2013 -- Updated 1234 GMT (2034 HKT)

Walking into one of Yayoi Kusama's infinity rooms is like walking into a completely different universe.
December 9, 2013 -- Updated 1529 GMT (2329 HKT)

Meet Tony Allen -- famous for helping create Afrobeat by fusing different beats and patterns.
December 8, 2013 -- Updated 2116 GMT (0516 HKT)

Fans converged on the site where Paul Walker died to pay tribute to the actor. CNN's Paul Vercammen reports.

He was imprisoned for life but that did not quiet him. Nelson Mandela became South Africa's first black president, and an icon and inspiration.
December 9, 2013 -- Updated 1002 GMT (1802 HKT)

Watching digital artist Kyle Lambert's stunning photo-realistic iPad paintings emerge from a blank screen is an awe-inspiring experience.

Today's five most popular stories