Malaysian police: Opposition rally 'illegal'
May 8, 2013 -- Updated 0958 GMT (1758 HKT)
STORY HIGHLIGHTS
Head of Malaysian police warns rally participants they risk arrest
Anwar Ibrahim has called a rally Wednesday to protest against election results
Prime Minister Najib Razak was re-elected with 133 of 222 parliamentary seats
Anwar claims the election result was "conjured through frauds and cheating"
(CNN) -- The head of Malaysia's police force has warned opposition supporters they face arrest if they attend a rally Wednesday evening organized by losing candidate Anwar Ibrahim.
Inspector-General of Police Tan Sri Ismail Omar said the rally was illegal because organizers didn't apply for a permit.
"The organizer must comply with the Peaceful Assembly Act 2012. Marching without permit aimed at arousing anger is wrong according to the law," Ismail said, according to the country's state-run news agency Bernama.
According to a statement from Anwar's Pakatan Rakyat (PR) coalition, the event is being held at a private location so is not bound by the law.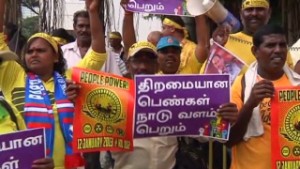 Politics looking forward in Malaysia
The group said it had informed police but there was no need for a permit.
Anwar has slammed the outcome of Sunday's general election, which extended the 56-year rule of the Barisan Nasional coalition, giving it a simple -- albeit reduced -- majority of 133 of 222 parliamentary seats. PR won 89.
"Our conscience cannot allow us to accept election results conjured through frauds and cheating. A fight for clean and fair election remains the single most important fight that any Malaysian should relate to," Anwar said in a statement released Monday.
READ: Ruling coalition wins again in Malaysia
He urged his supporters to wear black to the rally as a sign of mourning for Malaysia's democratic process.
A government spokesperson said on Tuesday that allegations of fraud in the election process were "unsubstantiated" and the government's victory was in line with independent polling.
"Anwar claimed the only way he could possibly lose was if there was 'massive fraud'," the spokesperson said in a statement.
Prime Minister Najib Razak took his oath of office on Monday after 80% of the electorate turned out to cast their vote.
During the weeks leading up to the election, reports emerged of escalating violence, including beatings and death threats.
Human Rights Watch also claimed that cyber-attacks had been directed at a number of Malaysian news websites, restricting access to reporting on the election within the country.
Other allegations surfaced on polling day, with Anwar's party and election observers alleging the government exchanged cash for votes and flew in foreigners to cast their ballots in favor of Barisan Nasional -- a charge denied by the government.
"We were told that 40,000 foreigners were being flown across Malaysia to vote. However, passenger manifests prove that a few hundred Malaysian citizens were flown to their home states, entirely legally," it said in a statement.

Part of complete coverage on
December 8, 2013 -- Updated 1654 GMT (0054 HKT)

Scottish singing sensation Susan Boyle tells a British newspaper she was diagnosed with Asperger's syndrome last year.
December 7, 2013 -- Updated 2244 GMT (0644 HKT)

Merrill Newman -- the 85-year-old American detained by North Korean authorities earlier this fall -- returned Saturday to the United States.
December 8, 2013 -- Updated 0004 GMT (0804 HKT)

Nick Wilkins was diagnosed with leukemia when he was 4 years old, and now is cancer free after an experimental treatment.
December 6, 2013 -- Updated 1745 GMT (0145 HKT)

Mandela spent almost three decades in jail. But he had two Indian goddesses and a 17th century playwright for company.

He was imprisoned for life but that did not quiet him. Nelson Mandela became South Africa's first black president, and an icon and inspiration.
December 6, 2013 -- Updated 0319 GMT (1119 HKT)

His was a great sense of humor, with a dry wit and remarkable ability to render someone speechless with a well-placed one-liner.
December 8, 2013 -- Updated 1840 GMT (0240 HKT)

Mohammed Jamjoon interviews the American performer who stunned the Arab world by singing in Arabic.
December 6, 2013 -- Updated 1252 GMT (2052 HKT)

He was loved and admired the world over, profiled in books and movies. Here are 10 surprising facts you probably didn't know about Mandela.
December 5, 2013 -- Updated 1532 GMT (2332 HKT)

"Sometimes it just takes one incident to galvanize a society," says CNN's Sumnima Udas.
December 5, 2013 -- Updated 1426 GMT (2226 HKT)

Drones hover like a bee, flap like a bird and bounce like a ball. These awesome flying robots are taking unmanned flight in new directions.
December 5, 2013 -- Updated 1225 GMT (2025 HKT)

The mysterious "catacomb saints" were venerated by the Catholic Church and encrusted with gold and jewels -- before disappearing for centuries.
December 5, 2013 -- Updated 1315 GMT (2115 HKT)

The KAZA conservation area is working to make it easier to cross borders.

Today's five most popular stories