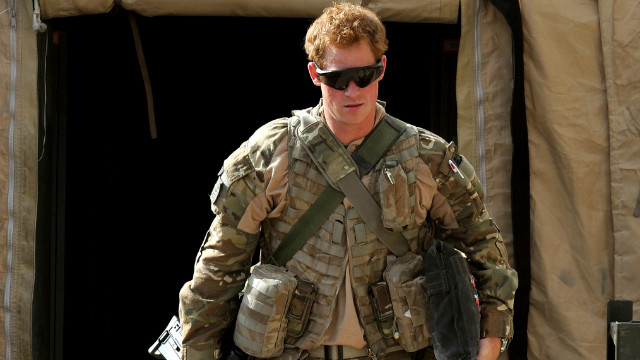 Prince Harry walks around a military base in Helmand province on his recent tour of duty in Afghanistan. His deployment meant he could step back from the public eye and live in contrast to his privileged upbringing.
Princess Diana, from left, Prince Harry, Prince William and Prince Charles gather for the commemorations of VJ Day on August 19, 1995, in London.
Charles, the Prince of Wales, and his son Prince Harry stand for the anthems during the Wales versus Scotland game in Cardiff, Wales, on February 17, 1996.
Left to right: Princes William, Harry and their father Prince Charles wait in front of the Westminster Abbey in London after the funeral ceremony of Diana Princess of Wales on September 6, 1997.
Prince Harry stands in the Drawing School on May 12, 2003, between two of the works he completed while studying at Eton College. His work involves a mixture of painting and printing, and reflects his habit of using animals as his starting point.
Prince Harry takes part in the Wall Game at Eton College in March 2003.
The youngest son of the Prince of Wales, Prince Harry makes a slice of toast in his house kitchen situated in the house library, which is the preserve of the senior House prefects, in March 2003 at Eton College.
Britain's Prince Harry, right, and his father The Prince Of Wales play polo for The BFF/Highgrove Team in a match for The Indian Cavalry Polo Trophy in Tidworth, England, on July 12, 2003.
Prince Harry paints in Eton College's new Drawing Room on May 12, 2003.
A man reads the New York Post newspaper on January 13, 2005, featuring the "Royal Nazi" headline about Prince Harry who attended a fancy dress party wearing a khaki uniform with an armband emblazoned with a swastika.
Britain's Queen Elizabeth II and Prince Harry share a joke as they watch Prince Charles and his bride Camilla Duchess of Cornwall leave St. George's Chapel in Windsor, England, following their marriage blessing on April 9, 2005.
Prince Harry takes part in the Trooping Of New Colours alongside his fellow officer cadets at the Royal Military Academy on June 21, 2005, in Sandhurst, England.
Prince Harry sitting below the turret of his Spartan armored vehicle as he communicates with other units by radio, in the desert in Helmand province in Southern Afghanistan, on February 20, 2008. The 23-year-old, an officer in the Household Cavalry regiment, secretly served for several weeks in the volatile southern province of Helmand.
Prince Harry skis with the Walking with the Wounded team, who have gathered on the island of Spitsbergen, Norway -- situated between the Norwegian mainland and the North Pole -- for their last days of preparation before setting off to the North Pole by foot on March 29, 2011.
Prince Harry climbs on board a specially decorated golf buggy as he goes on a tour of Harbour Island in Nassau, Bahamas, on March 4, 2012. The Prince was visiting the Bahamas as part of a Diamond Jubilee tour as a representative of Queen Elizabeth II.
Left to right: Carole Coe, Prince Harry and Peter Phillips enjoy the atmosphere as they watch track cycling at the Velodrome on August 7, 2012 at the London 2012 Olympic Games.
Prince Harry was deployed to Afghanistan as an Army helicopter pilot, the UK military announced on September 7, 2012.
Harry through the years
Harry through the years
Harry through the years
Harry through the years
Harry through the years
Harry through the years
Harry through the years
Harry through the years
Harry through the years
Harry through the years
Harry through the years
Harry through the years
Harry through the years
Harry through the years
Harry through the years
Harry through the years
Harry through the years