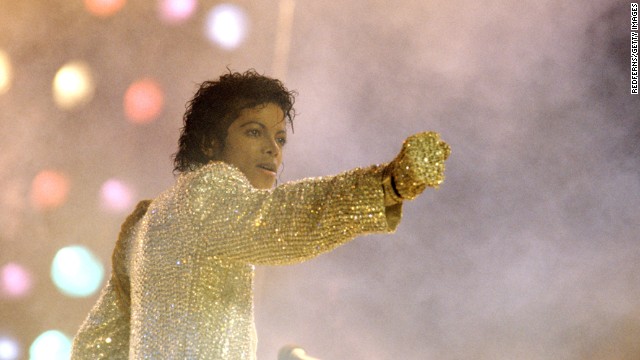 The death in 2009 of superstar Michael Jackson, who died of cardiac arrest at the age of 50, sent shockwaves around the world.
The Jackson 5 perform on a TV show circa 1969. From left, Tito Jackson, Marlon Jackson, Michael Jackson, Jackie Jackson and Jermaine Jackson.
Michael Jackson quickly became the stand out star of the Jackson 5. Here he performs onstage circa 1970.
Michael Jackson poses during a portrait session in Los Angeles in 1971.
Michael Jackson performs with The Jacksons in New Orleans on October 3, 1979.
Jackson achieved superstardom with his solo career in the 1980s. Here Jackson is shown on stage in Kansas in 1983.
Michael Jackson performs on stage circa 1990.
Jackson broke a world record during the Bad tour in 1988 when 504,000 people attending seven sold-out shows at Wembley Stadium in London.
Jackson perfoms in concert circa 1991 in New York City.
Known for his dance moves, Jackson is seen here jumping in the air while performing during the Dangerous tour in 1992.
Michael Jackson performs in Rotterdam, Netherlands.
Jackson performs with his brothers.
Jackson performs during the Bad tour at Wembley Stadium in London.
Jackson performs during the taping of "American Bandstand's 50th: A Celebration" in 2002.
Michael Jackson earned the Legend Award during the MTV Video Music Awards in Tokyo in 2006.
Jackson is seen in this handout photo provided by AEG Live on June 23, 2009, two days before his death, rehearsing at the Staples Center in Los Angeles.
Michael Jackson, King of Pop
Michael Jackson, King of Pop
Michael Jackson, King of Pop
Michael Jackson, King of Pop
Michael Jackson, King of Pop
Michael Jackson, King of Pop
Michael Jackson, King of Pop
Michael Jackson, King of Pop
Michael Jackson, King of Pop
Michael Jackson, King of Pop
Michael Jackson, King of Pop
Michael Jackson, King of Pop
Michael Jackson, King of Pop
Michael Jackson, King of Pop
Michael Jackson, King of Pop
Photos: Michael Jackson, King of Pop
STORY HIGHLIGHTS
Michael Jackson's longtime makeup artist testifies about his good times, last days
Jackson "was acting like a person I didn't recognize" Karen Faye says
Jackson tried to avoid rehearsing for "This Is It," Faye testifies
"They had to make him rehearse," she says
Los Angeles (CNN) -- Michael Jackson appeared paranoid, repeating himself and shivering from chills in his final days, his longtime makeup artist testified Thursday.
"This was not the man I knew," Karen Faye testified. "He was acting like a person I didn't recognize."
Faye, who did Jackson's makeup and hair for 27 years, was the sixth witness called by lawyers for Michael Jackson's mother and children in their wrongful death lawsuit against concert promoter AEG Live. She testified Thursday and will return to the stand Friday in a Los Angeles courtroom.
The Jacksons contend that AEG Live is liable in the pop icon's June 25, 2009, death from an overdose of a surgical anesthetic because it negligently hired, retained or supervised the doctor treating him.
Michael Jackson's brightest and darkest moments brought laughter and tears as Faye testified.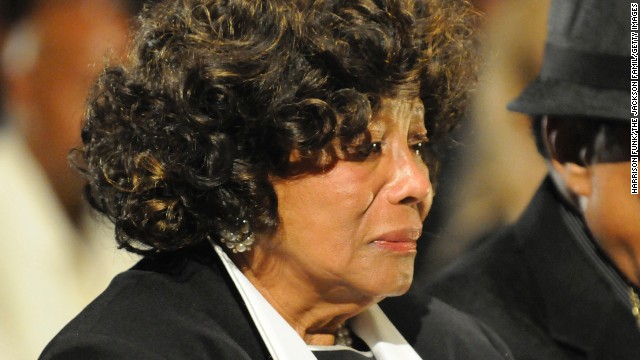 Katherine Jackson: Michael's mother, 82, was deposed for nine hours over three days by AEG Live lawyers. As the guardian of her son's three children, she is a plaintiff in the wrongful death lawsuit against the company that promoted Michael Jackson's comeback concerts.
Kenny Ortega: He was chosen by Michael Jackson and AEG Live to direct and choreograph the "This Is It" shows. Ortega, who choreographed for Jackson's "Dangerous" and "HIStory" tours, testified at Dr. Conrad Murray's criminal trial that "Jackson was frail" at a rehearsal days before his death.
Dr. Conrad Murray: He was Michael Jackson's personal physician in the two months before his death, giving him nightly infusions of the surgical anesthetic that the coroner ruled led to his death. Murray, who is appealing his involuntary manslaughter conviction, has sworn that he would invoke his Fifth Amendment protection from self-incrimination and refused to testify in the civil trial. There is a chance that Murray will be brought into court from jail to testify outside the presence of the jury to allow the judge to determine if he would be ordered to testify.
Joe Jackson: Michael's father, 84, is on the witness list for the trial and may testify. The Jackson family patriarch, who lives in Las Vegas separately from his wife, has suffered several ministrokes in the last year, which some close to him say have affected him.
Prince Jackson: Michael's oldest son is considered a key witness in the Jacksons' case against AEG Live, since he is expected to testify about what his father told him about the concert promoter in the last days of his life. Prince, who turned 16 in February, is becoming more independent -- he now has a driver's license and jobs.
Paris Jackson: Michael's daughter, who turned 15 on April 3, is on the list of witnesses and was questioned by AEG Live lawyers for several hours on March 21 about her father's death. Paris is an outspoken teen who often posts messages to her 1 million-plus Twitter followers.
Blanket Jackson: Although AEG Live asked the judge to order Blanket, 11, to sit for a deposition, and he is one of the four plaintiffs suing them, Michael's youngest son will not be a witness in the trial. His doctor submitted a note to the court saying it would be "medically detrimental" to the child.
Randy Phillips: He's president of AEG Live, the concert promoter that contracted with Michael Jackson for his "This Is It" comeback shows set to start in London in July 2009. The Jackson lawsuit says Phillips supervised Dr. Conrad Murray's treatment of Jackson in the weeks before his death, making the company liable for damages. E-mails between Phillips and other executives showed they were worried about Jackson's missed rehearsals and sought Murray's help getting him ready.
Kevin Boyle: The Los Angeles personal injury lawyer is leading the Jackson team of at least six attorneys in the wrongful death suit against AEG Live. One of his notable cases was a large settlement with Boeing on behalf of two soldiers injured when their helicopter malfunctioned and crashed in Iraq.
Perry Sanders, Jr.: Katherine Jackson's personal lawyer is helping steer the Jackson matriarch through her relations with her son's estate, probate court and the wrongful death suit. He is also known for representing the family of Biggie Smalls in their suit against the city of Los Angeles over the rapper's death investigation.
Marvin Putnam: He's the lead lawyer for AEG Live, defending against the wrongful death suit. The primary focus of his legal practice is "media in defense of their First Amendment rights," according to his official biography.
Philip Anschutz: The billionaire owner of AEG, parent company of AEG Live, is on the Jacksons' witness list. He is the force behind the effort to build a football stadium in downtown Los Angeles to lure a National Football League team to the city. He recently pulled his company off the market after trying to sell it for $8 billion.
Tim Leiweke: He was recently fired as AEG's president as Philip Anschutz announced he was taking a more active role in the company. The Jackson lawyers say Leiweke's e-mail exchanges with executives under him concerning Michael Jackson's health are important evidence in their case.
Paul Gongaware: The AEG Live co-CEO worked closely with Michael Jackson as he prepared for his comeback concerts. He testified at Dr. Conrad Murray's criminal trial that he contacted the physician and negotiated his hiring at the request of Jackson. AEG lawyers say it was Jackson who chose, hired and supervised Murray. Gongaware knew Jackson well, having been tour manager for the singer in previous years.
John Branca: He's one of two executors of Michael Jackson's estate. Branca was Jackson's lawyer until about seven years before his death. He said Jackson rehired him just weeks before he died.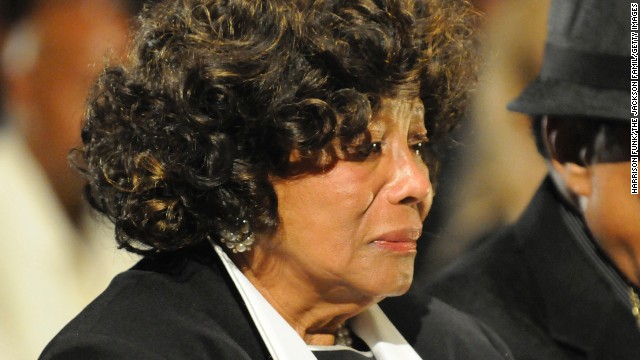 Who's who in Jackson trial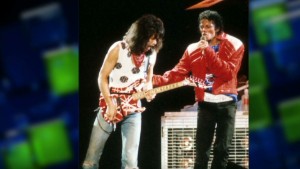 Van Halen on Michael Jackson: Sweet guy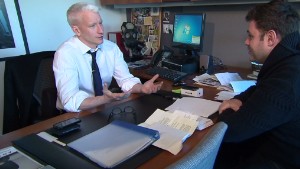 Cooper surprised by Murray's Santa song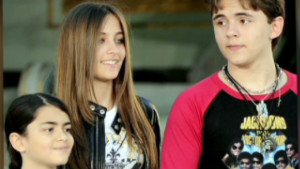 Joe Jackson: I see Michael in 'Blanket'
His last days
Faye, who traveled with Jackson on his "Bad," "Dangerous" and "History" tours, said she was concerned when she first saw the schedule for Jackson's 50 "This Is It" shows at London's O2 arena.
"On looking at that, I said, 'He can't do this,'" Faye testified. "The shows are far too close together. I knew what he needed between shows. I thought he might last a week."
When she raised the matter with show director Kenny Ortega, "he kind of fluffed it off," she said.
"Michael's adrenaline and what it takes for him to perform with that much effort and what he himself puts into a show, he needed a lot more time to at least get some rest and sleep, and to be healthy and maintain that kind of longevity," she said.
He was "very upbeat, but he was on the thin side" when she saw him in April as preparations for the start of the shows in July were under way, she said. "I thought he had plenty of time to put on some body mass and muscle mass."
Jackson appeared "very, very excited" in early production meetings, but "the first time he actually got up on stage and rehearsed, I saw the change in him."
"The turning point was when he had to get up on stage and actually start performing," she said.
Jackson hated live performances, she said. "It was just too hard on him."
Eventually, "they had to make him rehearse," she said. "They're insisting to the point of going to his home."
In Jackson's last days, Faye was pressured to ignore what Jackson told her to do and instead take her direction from Randy Phillips, AEG's CEO, she testified. She once was ordered to put Jackson on stage and place his earpiece in when he did not want it, she said.
"I was supposed to exhibit tough love" and not listen to what Jackson was telling her to do, Faye testified.
At one point, Jackson locked himself in a bathroom at his home, refusing to leave for rehearsals at the Forum. AEG Live Co-CEO Paul Gongaware, who was in charge of the production, was "angry and kind of desperate to get Michael to the Forum," she said.
She overheard a phone call in which Gongaware was telling Jackson's security guard "to get him out of the bathroom. Do you have a key? Do whatever it takes," she said Gongaware screamed.
At a rehearsal in mid-June, Jackson was "very stoic" and seem "frightened." He was talking to himself, she said. "When I was around, he was repeating himself an awful lot, saying the same thing over and over again."
"He kept repeating, 'why can't I choose,' it was one of the things he repeated over and over again," she said.
A show producer testified Wednesday that Jackson told Ortega "God keeps talking to me."
Faye said she suggested to Ortega that a psychologist should be brought in to assess Jackson.
Faye, who had to touch Jackson when she put on his makeup, said it was "like I was touching ice." At one rehearsal, she covered him with blankets and put a space heater next to him, she said.
"I've never seen him so emaciated," she said.
Faye said she raised her concerns once in June with Phillips. He told her, "Yeah, this is bad. It's not so good. I had to scrape Michael off the floor in London at the announcement because he was so drunk," she said.
Faye testified that Phillips told her at Jackson's funeral that "he tried to do everything he could."
Did she believe him, asked Jackson lawyer Brian Panish.
"Sir, Michael Jackson is lying in a casket only a few feet away from me," she said. "I had no words to respond. That's not everything you can do."
The dark days
Michael Jackson endured pain for years caused by head burns suffered while filming a Pepsi commercial in 1984 and a back injury from an onstage mishap during a concert in Munich, Germany, she said.
Faye, who witnessed both incidents, described them.
"His hair caught fire, but he kept dancing," she said, as jurors watched the infamous video of pyrotechnics igniting Jackson's head as he danced down stairs on a stage. "I was screaming and Miko (Brando) got through somehow and had to wrestle him to the ground, because he had no idea he was on fire. Miko put the fire out with his hand."
The fire burned off a section of hair, which doctors tried to repair with surgery to stretch his scalp, she said. Jackson suffered migraine headaches after that, she said.
Later, a bridge suspended above a stage collapsed as Jackson danced on top of it during a show in Munich, she said.
"When I saw what happened, I thought he could be dead," Faye testified. But Jackson held onto his microphone, stood up and finished the song. "He said 'I can't disappoint the audience,'" she said. So he finished the show finale but collapsed in the dressing room when it was over, she said.
"He suffered back pain from that moment on," she said.
Along with the pain, Jackson had trouble sleeping on tour.
Jackson "was so buzzed by his own adrenaline after a show" it would "take him 24 hours to relax his body and, sometimes it would take two days to be able to sleep," said Faye.
"As the tour went on, shows got closer and closer, and he would have trouble sleeping," she said. "It would start out OK, but it would get worse and worse. He tried to find ways to deal with it."
Dealing with it involved a series of doctors, she said.
"Michael always believed that a doctor had his best interest at heart," Faye said. "He believed if he got something through a doctor that it was safe and OK for him to use it."
Faye testified that nurse Debbie Rowe, who would later become Jackson's second wife and the mother of his two oldest children, would travel with them on the "Dangerous" tour in 1992 with "a little bag" of medications.
"Debbie Rowe asked me to learn how to give injections," she said. "I thought about it and said 'No.' I am not qualified to handle any kind of medications."
When the tour was on its way to Bangkok, Thailand, Faye was asked to carry a package she was told contained medicine patches for Jackson's pain, she testified. She refused to travel with it, she said.
Faye testified that the tour doctor, Dr. Stuart Finkelstein, later told her "I'm glad you weren't carrying it. It has vials and syringes. If you had brought this in, you might not be here." The implication was she could have been arrested for smuggling drugs.
Gongaware, now the Co-CEO of AEG Live, was in charge of logistics for the "Dangerous" tour and was involved in the incident, Faye said.
Finkelstein used "a balance of medications strong enough to overcome Michael's pain," Faye said.
Later in the tour in Singapore, Jackson stumbled into his dressing room before a show, she said. "He was having a very hard time walking," she said. "He was glazed over. He fell over a tree."
She told the tour doctor, whom she identified as Dr. David Forecast, that "Michael can't go on."
His show opened with him being thrust onto the stage by a "toaster," which requires him to "curl up and be shot up" from a small enclosure under the stage, she said.
"His arm could be severed," Faye said. "I feared for his safety, I feared for his life. I told Dr. Forecast, 'You can't make him go out. You can't take him.' And he said, 'Yes, I can.'"
The doctor "backed me up against the wall and put his hands around my neck and said 'You don't know what your doing,'" she testified. "I nearly fainted, and he grabbed Michael and took him to the stage."
The show, however, was eventually canceled, she said.
"Michael was under a lot of stress at that time because that's when the first child allegations were made public," Faye said. "Michael had to go on stage every night knowing that the whole world thought he was a pedophile. He had to stand up in front of all these audiences with the physical pain that he had and knowing that everybody in that audience is thinking that he was the vilest pedophile on earth. To this day I don't know how he did that."
The tour ended early when it reached Mexico City "because everybody knew Michael had a problem," she said. Elizabeth Taylor came down to Mexico to get Jackson, and "we all went home."
Faye later flew to England to join Michael at a rehab facility, which she described as a beautiful country home.
Michael's brighter days
Before Faye's darker testimony began, the courtroom was unusually relaxed with smiles and laughs throughout the jury box.
It started when Jackson lawyer Panish asked her "What is a makeup and hair artist?"
"Makeup and hair!" Faye responded, triggering loud laughter from jurors.
"Can you help me?" Panish joked.
Panish had Faye read to the jury the dedication note from the "Thriller" album: "This album is lovingly dedicated to Katherine Jackson."
Faye and Jackson became "very close" starting in the early 1980s, she said. "It was almost like a brother and sister relationship. If I was having trouble, I could call him and he could call me. You talk, you share, you become very close and imagine that over 27 years."
Jurors viewed a series of photos of Faye and Jackson together through the years, including one taken in January 1996, the day after Lisa Marie Presley filed for divorce from Jackson.
Jackson was upset because just before filing, Presley called him and begged him not to file for divorce, she said.
"She begged and begged, saying please don't file," Faye said. Jackson promised not to file, only to see "the next morning it was all over the press that she filed before him." The photo of Jackson out with Faye "was to give the press something to talk about" with Faye being "the mysterious blonde."
Jurors watched several videos that showed Jackson's talent and impact, a sharp contrast to all of the testimony about drug addiction and death.
They viewed several minutes of Jackson's "Thriller," which Faye pointed out was a short film, not just a music video.
Part of Jackson's 1993 Super Bowl halftime show was viewed, including his rendition of "We Are the World." "It was a very big deal, sir," Faye said. "I think it started the trend of having a big artist at the Super Bowl."
A clip from a Jackson concert in Bucharest, Romania, showed jurors how fanatical his fans were, dozens of them fainting as he sang "Man In the Mirror."
When his 1995 MTV awards performance was shown, Faye noted, "He can moonwalk in a circle."
Jackson's stamina during a show was remarkable, she said. "Some dancers would pass out, but Michael would be fine. He was able to do it."
Faye's testimony took all day Thursday and was set to resume Friday morning.