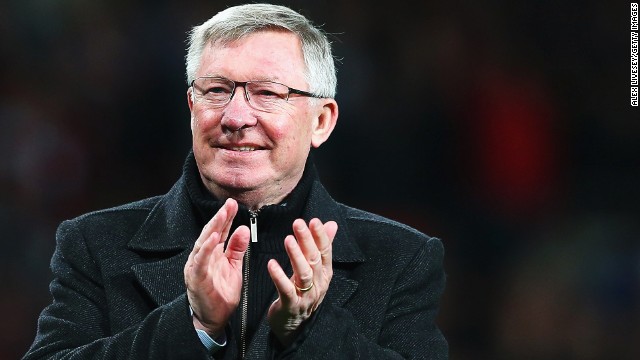 Alex Ferguson has announced he is retiring at the end of this season, having won his 13th English Premier League title in more than 26 years as manager of Manchester United.
The 71-year-old is the most successful and longest-serving manager in United's history, having also won two European Champions League crowns, five FA Cups and four League Cups.
Ferguson survived a difficult first four years at Manchester United before winning a title -- the 1990 FA Cup. Here he celebrates with Bryan Robson, who became the first United captain to lift the trophy three times after beating Crystal Palace 1-0 in the final replay.
Ferguson lifted the European Cup Winners' Cup for the second time in his career in 1991, when United beat Barcelona 2-1 in the final. He had previously won the now defunct tournament with Scottish club Aberdeen.
In 1993, United won the English title for the first time in 26 years, and Ferguson took the club on a tour of South Africa, where he met Nelson Mandela before the ANC leader became the country's first post-apartheid president.
Ferguson celebrates with his assistant Brian Kidd after United won the Premiership again in 1994, then went on to secure a domestic double by beating Chelsea in the FA Cup final. United repeated the feat in 1996.
Ferguson with his grandson Jake before the 1999 FA Cup final victory against Newcastle that sealed United's third double in six years.
Just four days later, United completed a treble with an incredible last-gasp win over Bayern Munich in the Champions League final. Ferguson and keeper Peter Schmeichel hold the trophy in Barcelona.
Ferguson tried to retire more than a decade ago, announcing at the start of the 2001-02 season that it would be his last. However, he changed his mind the following February but United failed to reach the Champions League final -- which was to be played in his native Glasgow.
Another European title followed in 2008, but Barcelona handed United disappointment in the 2009 and 2011 finals. However, Ferguson and his players still earned a parade the latter season after winning a record 19th English league title -- the Scot's 12th.
The next season, United commemorated Ferguson's 25 years as manager on November 5, 2011.
As a player, Ferguson was a prolific goalscorer for Scottish clubs St. Johnstone and Dunfermline, but his big move to Glasgow Rangers in 1967 proved disappointing and he left two years later. He ended his playing days at Ayr in 1974 without winning a major honor.
Ferguson made his name as a manager at Aberdeen. His fourth Scottish Cup win in 1986 was his last success with the Dons, having won three Scottish league titles and the 1983 European Cup Winners' Cup -- beating mighty Real Madrid in the final.
Ferguson, who briefly managed Scotland at the 1986 World Cup, overhauled the squad at Old Trafford and introduced some of the finest players to grace the EPL in the past two decades.
Arguably the most important signing was that of French forward Eric Cantona, a $1.9 million bargain from Leeds who led United's surge to dominance in the 1990s.
The 1993 addition of young midfielder Roy Keane in a then British record transfer fee of £3.75 million from Nottingham Forest provided United with a ferocious future captain.
Ferguson also introduced young talent such as David Beckham, Ryan Giggs, Paul Scholes and the Neville brothers Gary and Phil -- who all went on to become integral members of his team.
Ferguson played a key role in resurrecting the career of Beckham, who had been vilified by England fans after being sent off during the 1998 World Cup defeat by Argentina.
Ferguson famously beat United's rivals Manchester City to sign Giggs as a teenager, and the Welsh winger has repaid his faith by staying with the club until the present day.
Ferguson's signing of Cristiano Ronaldo in 2003 paid off as the Portugal forward fired United to Champions League glory in 2008 and was named world player of the year -- the first from the EPL to do so -- before joining Real Madrid in a record $130 million deal.
Ferguson is well known for his fiery temper and his motivational skills.
In 2003, he infamously kicked a boot into the face of Beckham in the dressing room after a match, but refused to apologize. "If I'd tried it 100 times or million times, it wouldn't happen again," he said. "If it did, I would carry on playing."
United striker Wayne Rooney said Ferguson's team talk ahead of the 2008 Champions League final against Chelsea in Moscow "made the hairs on the back of your neck stand up." United denied the London side a first European title after a penalty shootout.
United reached the final again the following season, but lost to Barcelona. Here Ferguson speaks with Britain's Prince William at the Stadio Olimpico in Rome, Italy.
Ferguson's last match on the European stage was a defeat by Ronaldo's Real Madrid in the Champions League Round of 16 second-leg match at Old Trafford on March 5, 2013.
In pictures: The reign of Alex Ferguson
In pictures: The reign of Alex Ferguson
In pictures: The reign of Alex Ferguson
In pictures: The reign of Alex Ferguson
In pictures: The reign of Alex Ferguson
In pictures: The reign of Alex Ferguson
In pictures: The reign of Alex Ferguson
In pictures: The reign of Alex Ferguson
In pictures: The reign of Alex Ferguson
In pictures: The reign of Alex Ferguson
In pictures: The reign of Alex Ferguson
In pictures: The reign of Alex Ferguson
In pictures: The reign of Alex Ferguson
In pictures: The reign of Alex Ferguson
In pictures: The reign of Alex Ferguson
In pictures: The reign of Alex Ferguson
In pictures: The reign of Alex Ferguson
In pictures: The reign of Alex Ferguson
In pictures: The reign of Alex Ferguson
In pictures: The reign of Alex Ferguson
In pictures: The reign of Alex Ferguson
In pictures: The reign of Alex Ferguson
In pictures: The reign of Alex Ferguson
In pictures: The reign of Alex Ferguson
In pictures: The reign of Alex Ferguson
STORY HIGHLIGHTS
NEW: Everton manager David Moyes is the odds-on favorite to succeed Alex Ferguson
NEW: Shares of Manchester United drop nearly 5% in early trading following the news
Ferguson is retiring after the last game of the season on May 19, after 26 years in charge
The decision to retire was not taken lightly, but this "is the right time," Ferguson says
Editor's note: Are you a Manchester United fan? Send us your reaction and team shirt photos.
London (CNN) -- Manchester United will name a replacement for Alex Ferguson -- English soccer's most successful manager -- on Thursday, according to widespread British media reports.
The 71-year-old Scot is retiring at the end of this season after more than a quarter of a century at the helm, the club announced Wednesday.
He has managed the newly-crowned Premier League champion, which is listed on the New York Stock Exchange and loved by millions of fans around the world, from Manchester to Manila and Montreal, since 1986.
Everton manager David Moyes is the bookmakers' favorite to succeed his compatriot, and the 50-year-old will reportedly be confirmed as the next United boss on Thursday -- though neither club has said such a statement is forthcoming.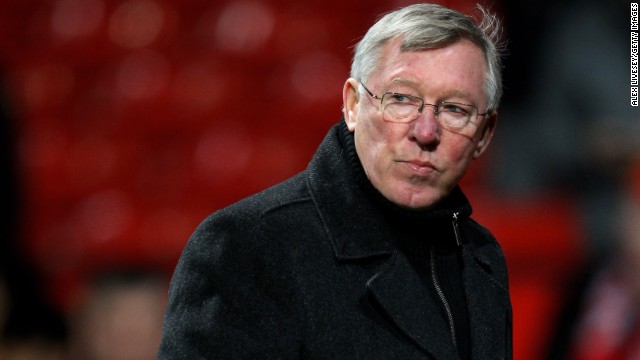 Manchester United Manager Sir Alex Ferguson announced he will retire at the end of the English Premier League season. Ferguson has managed the team for 26 years, making him the longest-serving manager in Premier League history.
Mike Krzyzewski, also known as Coach K, has coached Duke University's men's basketball team since 1980, putting him in his 33rd season as head coach.
Eddie Robinson served as Grambling State University's head football coach for 57 seasons from 1941 to 1997. Robinson -- here listening to the national anthem before his final game -- coached more than 4,000 players.
Al Arbour coached the New York Islanders for 20 years, with a year-long stint as vice president of player development for the team in 1987.
Andy Landers has coached the University of Georgia Lady Bulldogs basketball team since 1979 and continues to this day.
Head coach emeritus Pat Summitt of the Tennessee Lady Volunteers is the all-time winningest coach in NCAA history of either men's or women's teams. She coached for 38 years before stepping down in 2012 to fight early onset dementia.
Gregg Popovich is in his 17th year as coach of the San Antonio Spurs.
Tom Landry coached the Dallas Cowboys from 1960 to 1988 and turned the team into one of the most dominant in the National Football League until the early '80s.
Connie Mack managed the Philadelphia Athletics, now based in Oakland, California, from 1901 until his retirement at age 88 in 1950.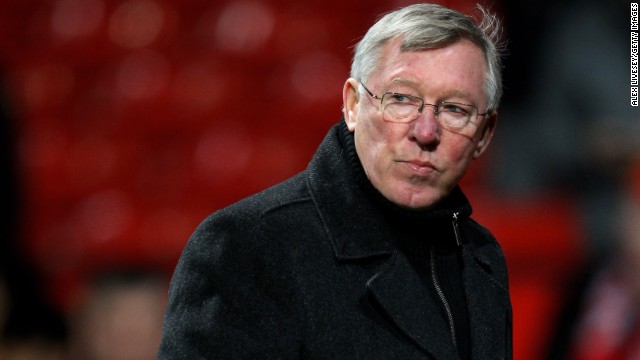 Photos: Longest-serving coaches in sports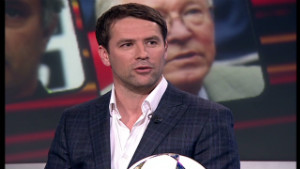 Will Mourinho replace Ferguson?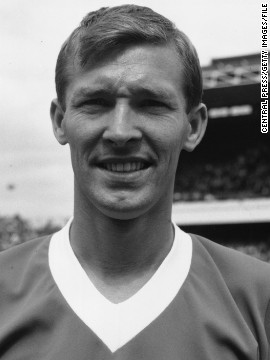 As a player, Alex Ferguson enjoyed a moderately successful career. A prolific striker, he scored 170 goals in 317 appearances including 25 goals in 41 appearances for Glasgow Rangers.
Ferguson was appointed manager of Aberdeen in 1978. In addition to three Scottish First Division titles, Ferguson guided the club to an impressive triumph over Real Madrid in the 1983 European Cup Winners' Cup.
Ferguson was assistant to Scotland coach Jock Stein during the qualifying campaign for the 1986 World Cup. Scotland secured a 1-1 draw against Wales in their final game to reach the tournament, but Stein collapsed and died following the final whistle in Cardiff.
A late winner from substitute Mark Robbins in an FA Cup replay against Nottingham Forest in January 1990 allegedly spared Ferguson the sack. United went on to beat Crystal Palace at the second attempt in the final, giving Ferguson his first trophy at Old Trafford.
The Scot originally planned to retire from management at the end of the 2001-02 season. But, after helping the team recover from a slip in form which saw them drop as low as ninth in the Premier League table, Ferguson reversed his decision in February 2002 and signed a new three-year contract.
A boot flew into the face of Manchester United's star midfielder David Beckham after Ferguson lost his temper following a 2-0 FA Cup defeat to Arsenal in February 2003. Beckham had to be held back following the incident and he joined Real Madrid ahead of the following season.
Ferguson's finest hour arrived in Barcelona in May 1999, when his United team came from 1-0 down in the 90th minute to beat Bayern Munich 2-1 in the European Champions League final. The win completed an historic treble of titles won during the 1998-99 season, which included the Premier League title and the FA Cup.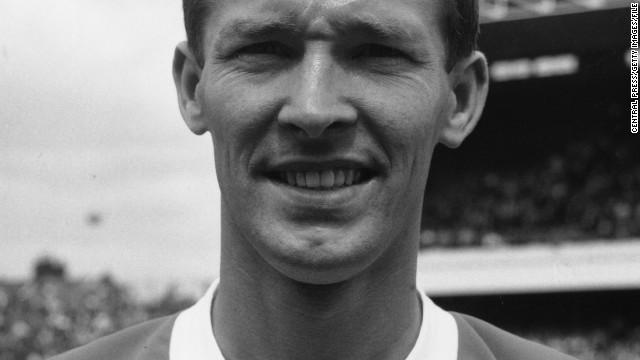 The seven moments which define Alex Ferguson
"David's contract is up in six weeks' time and he has a right to make his own decisions," Everton chairman Bill Kenwright told Sky Sports on Wednesday.
"He's served this club wonderfully well and he has a right to make his own decisions."
During his 26 years in charge, Ferguson -- a supporter of Britain's Labour Party who's renowned for dressing down players with the "hairdryer treatment" -- has won more than 30 trophies, including 13 league championships.
Many fans took to Twitter to voice their appreciation, using the handle #thankyousiralex. He became Sir Alex when knighted by the queen more than a decade ago for his services to the game.
'Thank you for everything,' say Manchester United fans
As well as dominating on the pitch, Ferguson has helped build the century-old soccer club into a huge business operation whose progress is followed on stock exchanges around the world.
Its shares dipped nearly 5% in early trading Wednesday.
The Old Trafford club is owned by the American Glazer family, who oversaw the club's listing on the New York Stock Exchange last August.
For the 2011-2012 season, United increased revenues by £14.2 million to £117.6 million ($182.4), the highest of any club in the Premier League.
But it lost the top spot as the world's most valuable sports franchise in this year's Forbes list to Spanish soccer club Real Madrid. Forbes valued Manchester United at $3.17 billion, still ahead of Barcelona, another Spanish soccer club, and two U.S. outfits, the New York Yankees in Major League Baseball and the Dallas Cowboys in the NFL.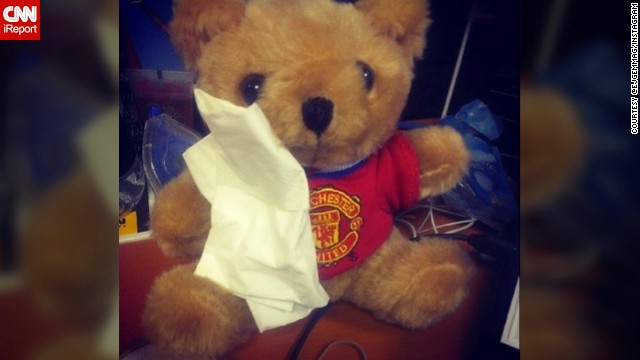 "Teddy is very sad," wrote Instagram user @ejgemmag In Manchester, England, of her toy after hearing news of United manager Alex Ferguson's retirement.
Instagrammer @johnwalker021, who is half English and half Swedish, displayed his shirt with pride and posted a football chant in honor of Ferguson: "So here's to Alex Ferguson. He'll take us all the way! We're on the road to glory now! Winning at home and away."
"I felt like I had been punched in the stomach and contemplated calling in sick to work," said Instagram user @jplubrani, in active service in the U.S. military from Los Angeles. "I got a tear in my eye ... All those emotions at once!"
"Lifelong fan" @alexbalding shows his red devil tattoo -- Red Devils is the club's nickname -- done the very morning of the announcement Ferguson was to retire. He said he was "devastated" by the news.
"The man will definitely be missed," said @sosogeed813, who shared this picture from his first Manchester United game. "It was an experience of a lifetime ... It is the beautiful game after all. Thanks Sir Alex Ferguson!"
In Oatley, Australia, @frankiegram1 showed off a sad look while wearing a Manchester United top (with help from his owner, Matt).
"It's going to be interesting without him," said Instagrammer @kurto12.
"Seeing my favorite team with another manager next season, that's going to be tough to get used to," said Instagrammer @shar316 from Kuala Lumpur, Malaysia.
Thai-Brit Instagrammer @KrisRedford posted a picture of himself proudly wearing his United team shirt.
Instagrammer @mrsagatha_sari's young son Waltteri wears his United jersey to play football in the southern Finland where they live, in this photo from last summer. She said she was "very sad" about Ferguson's retirement, but "I guess that change might even be good."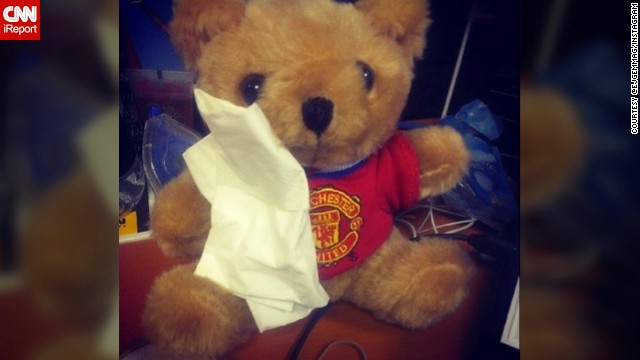 Fans wear shirts with pride for 'Fergie'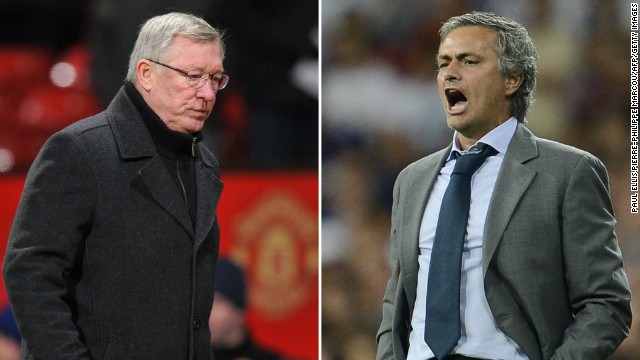 Jose Mourinho, right, had been widely expected to return to Chelsea if he leaves Real Madrid at the end of this season -- but Alex Ferguson's decision to retire has prompted a flood of bets from punters that the Portuguese coach will instead go to Manchester United.
Ferguson's fellow Scot, Everton manager David Moyes, had previously been the bookmakers' favorite to take over at Old Trafford. The 50-year-old Scot has impressed on a tight budget at the English Premier League club since his arrival in 2002.
Moyes is out of contract in the summer -- as is Bayern Munich coach Jupp Heynckes. This season the 68-year-old coach has guided Bayern to the Bundesliga title as well as the Champions League final - the Munich club will play German rivals Borussia Dortmund at Wembley on May 25. However, Heynckes will step down at the end of this season after Bayern opted to appoint Pep Guardiola on a three-year contract from July 1.
Jurgen Klopp is also among the bookies' frontrunners, having guided Borussia Dortmund to this month's European Champions League final. The 45-year-old coach helped Dortmund win the German Bundesliga title the previous two seasons.
Ferguson's former "supersub" Ole Gunnar Solskjaer is another linked with the job. The 40-year-old Norwegian, a Champions League winner with United in 1999, began his managerial career with Molde after injury ended his playing days, and has already won two domestic titles in his homeland. Before that he successfully coached United's reserves.
Michael Laudrup is also seen as a contender after a successful first season in the English Premier League with Swansea, guiding the Welsh club to the League Cup trophy. The former Barcelona star has previous managerial experience in Spain with Getafe and Mallorca, and in Russia with Spartak Moscow.
Paris Saint-Germain coach Carlo Ancelotti is another being backed to replace Ferguson. The 53-year-old Italian has won virtually every honor in the game as a player and manager with clubs including AC Milan, Roma and Chelsea. There has been intense speculation Ancelotti will leave French league leaders at the end of the season.
Former United captain Roy Keane was once seen as Ferguson's future successor, but the Irishman has focused on media work since being sacked by English second division team Ipswich in January 2011. He took Sunderland into the Premier League at the first attempt but quit in December 2008 after a run of poor results.
Rene Meulensteen, right, has been Ferguson's assistant since 2008, but the 49-year-old Dutchman is not expected to make the step up to the top job despite an association with United that started more than a decade ago as youth coach.
One of the outsiders is veteran United player Ryan Giggs, who has won 13 English league titles under Ferguson since his debut in 1991. The Welshman, who is 40 in November, has signed another one-year playing contract.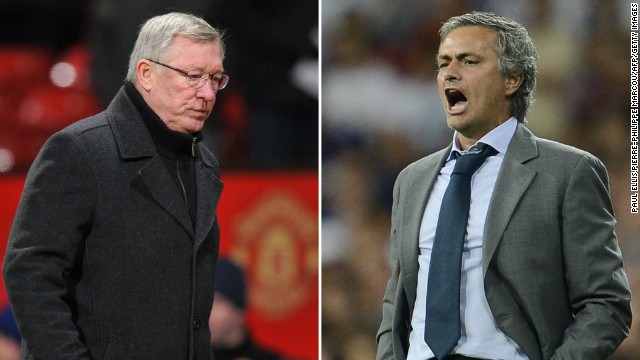 Who will replace Alex Ferguson?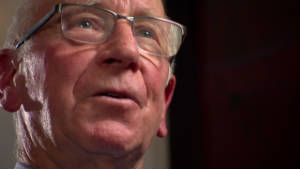 Bobby Charlton: Ferguson's best moment
Ferguson will bow out after the club's last game of the season, an away match against West Bromwich Albion, on May 19, according to a statement from Manchester United.
Before then he will have one more home game for the "Red Devils" at Old Trafford on Sunday, against Swansea City.
'A bright future'
Ferguson will join the club's board as a director and "ambassador," Manchester United said.
"The decision to retire is one that I have thought a great deal about and one that I have not taken lightly. It is the right time," Ferguson said.
"It was important to me to leave an organization in the strongest possible shape and I believe I have done so."
The quality of the team, the balance of the players' ages and its upcoming youth squad will contribute to its continued "success at the highest level" and "ensure that the long-term future of the club remains a bright one," he said.
Seven moments that defined Ferguson's managerial career
Ferguson paid tribute to the club's "players and staff, past and present," thanking them "for a staggering level of professional conduct and dedication that has helped to deliver so many memorable triumphs. Without their contribution the history of this great club would not be as rich."
He also expressed gratitude to his own family, the Glazer family, and the club's many supporters, at home and abroad.
"Alex has proven time and time again what a fantastic manager he is but he's also a wonderful person. His determination to succeed and dedication to the club have been truly remarkable," Joel Glazer said.
The club also quotes former Manchester United and England captain Bryan Robson as saying Ferguson is the "greatest there has ever been."
Alex Ferguson's Man U trophies collection

Premier League: 1993, 1994, 1996, 1997, 1999, 2000, 2001, 2003, 2007, 2008, 2009, 2011, 2013

FA Cup: 1990, 1994, 1996, 1999, 2004

League Cup: 1992, 2006, 2009, 2010

Champions League: 1999, 2008

Cup Winners Cup: 1991

Fifa Club World Cup: 2008

Uefa Super Cup: 1991

Inter-Continental Cup: 1999

FA Charity/Community Shield: 1990 (shared), 1993, 1994, 1996, 1997, 2003, 2007, 2008, 2010, 2011
'Extraordinary success'
Gavin Hamilton, editor of World Soccer magazine, told CNN he considers Ferguson to be unsurpassed as a manager in his time.
"In the modern era, where's he's dealt with the players on huge salaries and the corporate world that is now football, he has had extraordinary success," he said.
"He's tough and uncompromising and, I think, completely dedicated to being a winner."
Whoever takes over at Old Trafford has a hard act to follow, Hamilton said -- but Manchester United will have been planning carefully for this moment.
"There will definitely be someone in place, I think -- the big question now is who that person will be because it's been kept a secret from everyone until now," Hamilton said.
Whoever it will be has a daunting, if exciting, prospect ahead.
"It's the largest football club in the world, it's the biggest management job in the world, and on top of that is the task of following the most successful manager in the club's history," Hamilton said.
While Moyes is favored for the job after more than a decade with EPL club Everton, other names on the bookmakers' list include: Portuguese coach Jose Mourinho, formerly of Chelsea and currently at Real Madrid; Borussia Dortmund's Jurgen Klopp; Michael Laudrup of Swansea City; and former Manchester United striker Ole Gunnar Solskjaer, currently managing Norwegian team Molde.
Health concerns?
Fans' thoughts are bound to turn quickly to the 2013-2014 season, starting in September, as Manchester United prepares to defend its domestic title and attempts another win in Europe.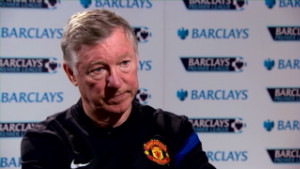 2012: Ferguson talks to CNN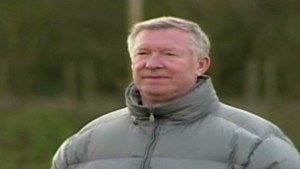 Ferguson's retirement 'a sad day'
As recently as last week, Ferguson suggested that he was fully involved in those future plans, promising the club would be "competitive" in the summer transfer market.
Speaking to Inside United, the club's official magazine, Ferguson said: "Hopefully the players we bring into the club in the next year or so will be of the quality we need."
Manchester United coasted to this year's English Premier League title with a 3-0 victory over Aston Villa in April, with four games in hand.
Ferguson is due to undergo hip surgery this summer, according to UK media reports, but it's not clear how much of a role health concerns have played in his decision to stand down.
"I think retirement's for young people because you can do something else. When you get to my age, if your health is good, you like to work," he told CNN in a 2010 interview.
Sports writer Mihir Bose said he was surprised by the timing of Ferguson's decision, despite his upcoming surgery, saying he had expected him to carry on as manager for another couple of years.
Ferguson -- who is seen as a kind of father figure by some of the young players he developed -- has "that ability to reach out to people," said Bose, but he is also a skilled political operator.
"He could be delightful but he was a man who made sure that he controlled the agenda," he told CNN. "If you crossed his path he made it very clear that he controlled everything at Manchester United."
Those who got the famous "hairdryer treatment" -- loud shouting directly in someone's face -- included many sports journalists over the years. Ferguson would also refuse to speak to reporters if he didn't like what they said.
Despite that thorny relationship, Ferguson will be remembered as an iconic figure in English football history, said Bose. The big challenge now is how Manchester United will manage the transition to ensure continued success, he added.
'A sad day'
Former Manchester United and Denmark goalkeeper Peter Schmeichel told CNN he was still trying to make sense of the news.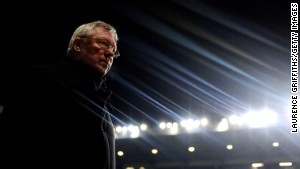 Alex Ferguson's football legacy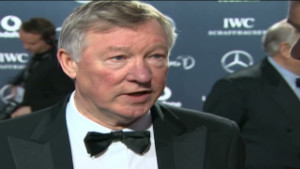 2012: Ferguson: 'Racism still exists'
"It is a sad day. I'm shocked, I'm sad, I'm disappointed. It's a day I think everyone who loves Manchester United, everyone who's worked with Sir Alex -- it's a day that we've been expecting, but I have to be honest I didn't think it would be now -- I thought it would be a couple of years down the line."
Schmeichel said he was certain that Ferguson had not been forced out but had made the decision himself, given his record of success and changes already happening on the club's board this summer.
He paid tribute to Ferguson's knowledge, skills and philosophy as a manager, particularly his ability to bring on young players.
Internationally known footballers like David Beckham, Ryan Giggs, Paul Scholes, Gary Neville and Nicky Butt were all created by Ferguson, Schmeichel said.
"He is the best manager in the world and he's the best guy as well. He's a really good friend as well."
Ferguson's talent has been in managing players individually rather than as a group, Schmeichel said.
"The end result is that everyone plays really well for the team," Schmeichel said. "Yes, he can be hard, he can be tough. ... In a way he becomes your second dad. He has to educate you in life, he has to prepare you for what comes next in life after football."
'Vision, energy, ability'
David Gill, who will step down as chief executive of Manchester United in June, said it had been a "tremendous pleasure" to work alongside Ferguson over the past 16 years.
"We knew that his retirement would come one day and we both have been planning for it by ensuring the quality of the squad and club structures are in first class condition," he said.
"Alex's vision, energy and ability have built teams -- both on and off the pitch -- that his successor can count on as among the best and most loyal in world sport."
Ferguson began his career on the soccer pitch, playing for Scottish clubs Queen's Park, St. Johnstone, Dunfermline, Glasgow Rangers, Falkirk and Ayr United.
But it was when he returned to the game as a manager, working at East Stirlingshire, St. Mirren and then Aberdeen that people really began to take notice.
He led Aberdeen to three Scottish titles, four Scottish cups, one League Cup and one European Cup Winners' Cup before moving to Manchester United in November 1986 following the dismissal of former manager Ron Atkinson.
It didn't take long for the Scotsman to start turning things round at a club that was then near the bottom of the league.
Since then, Ferguson has dominated the English game -- his string of victories making him, according to the Manchester United website, "the most successful manager in British football history."
CNN's Alex Thomas and Patrick Sung contributed to this report.