STORY HIGHLIGHTS
Fernando Alonso targeting home success on Sunday
Ferrari driver won in China earlier in the season
Sebastian Vettel hoping to increase lead at top of championship
Vettel won last time out in Bahrain
(CNN) -- Fernando Alonso is revved up and ready to go ahead of his home Grand Prix at Barcelona's Circuit de Catalunya Sunday.
The 31-year-old has not won on Spanish soil since triumphing with Renault in 2006 but is in confident mood after taking 47 points from the opening four races of the season.
And the Ferrari driver says the extra incentive of winning in front of his adoring supporters has given him an extra edge going into the first European race of the year.
Read: Ferrari strive for perfection
He told a press conference: "I think it motivates you to race at home and you give an extra 10% on what you normally do, to take care of every detail of the weekend, starting from practice into qualifying and into the race.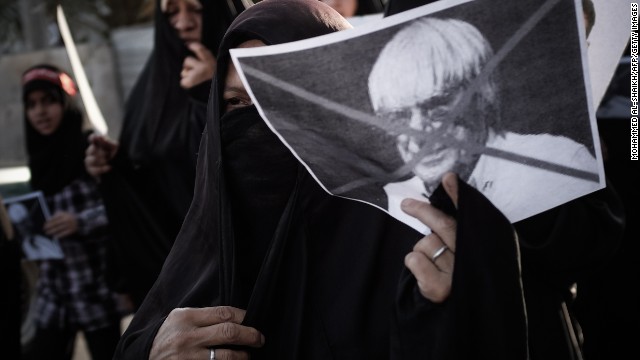 There have been protests against Formula One's arrival in Bahrain as the race returned in 2013. Some protesters, pictured here on April 16, wanted F1 chief Bernie Ecclestone to cancel the race.
Ecclestone and FIA president Jean Todt both attended the race in 2012 when it returned to the calendar after it was called off in 2011 because of civil unrest -- but this time only Ecclestone attended the grand prix.
Sebastian Vettel won the 2013 race for Red Bull as he went 10 points clear in the championship standings.
Vettel also won last year's race as the German went on to wrap up a third successive world title.
The Sakhir circuit was constructed in the desert outside the capital of Manama which means sand often blows across the track -- those conditions can be hard work for Formula One's engines and tires
The imposing Sakhir Tower looms over the cars as they race on the Bahrain International Circuit.
Nico Rosberg was fastest in Saturday qualifying to claim the second pole position of his career, and Mercedes' second in a row after Lewis Hamilton was quickest in Shanghai.
Lotus driver Kimi Raikkonen was the fastest man on the track during Friday's afternoon practice session, and finished second behind Vettel on Sunday despite starting from eighth place.
Inside the Formula One paddock, and away from the protests, the teams and drivers got on with business as usual. Ferrari driver Felipe Massa spoke to the press on Thursday as a two-time winner in Bahrain.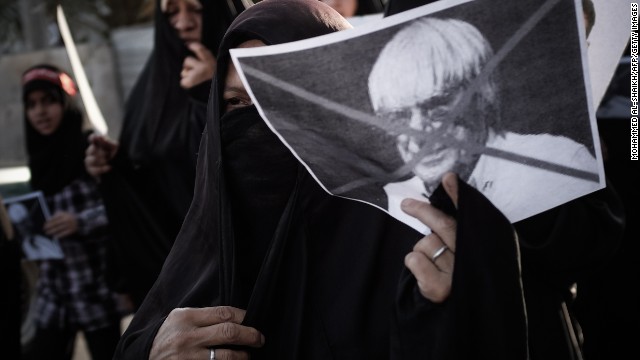 F1 makes uncertain Bahrain return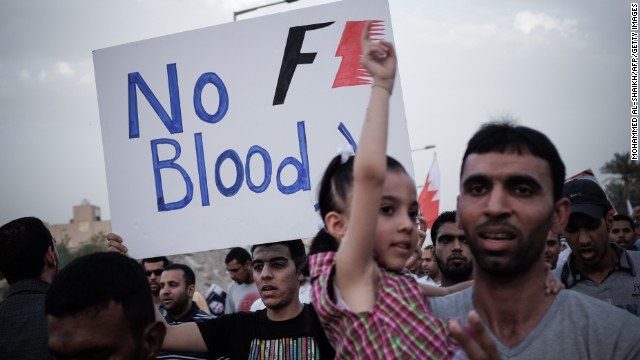 A Bahraini protestor holds up a poster against the country's upcoming Formula One Grand Prix during a demonstration in the village of Jid Ali, north-east of Isa Town. Protesters in Bahrain plan to step up demands for reform ahead of Sunday's race.
Tires placed on the road by anti-regime protestors burn during clashes with riot police in the village of Diraz, west of Manama. Bahrain riot police fired tear gas and stun grenades at protesters, who hurled petrol bombs during protests against the staging of the race.
Away from the protests, Lotus driver Kimi Raikkonen was the fastest man on the track during Friday afternoon's practice session.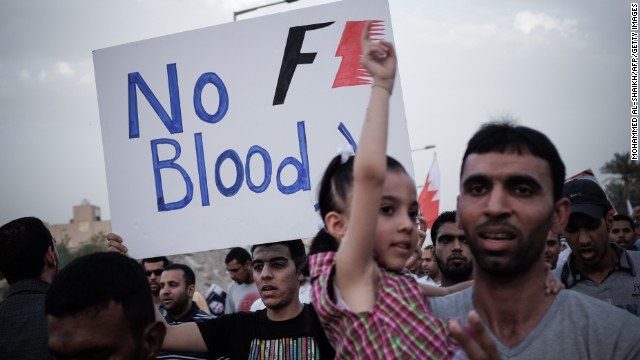 Bahrain Grand Prix: The protests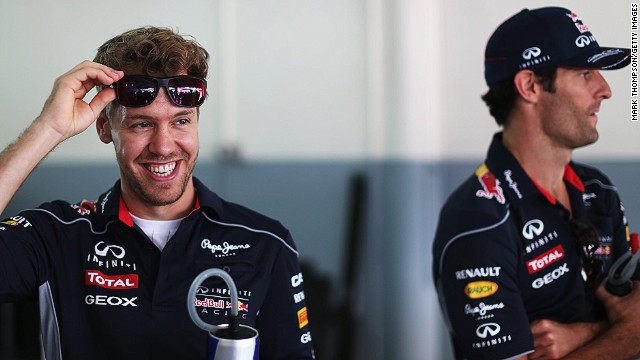 "Get him (Webber) out of the way, he is too slow," Sebastian Vettel disdainfully remarked over team radio at last month's Malaysia Grand Prix. The German was instructed not to challenge Webber, who was leading the race, but ignored orders and overtook the Australian with ten laps remaining. Vettel's tactics caused much consternation on social media and reopened the debate about the practicality of team orders in Formula 1.
Vettel leads Webber during the Malaysia Grand Prix in Sepang in March. It's not the first time team orders have caused rifts between drivers.
Awkward scenes on the podium at the 2010 German Grand Prix after Felipe Massa (left) surrendered the lead to his Ferrari teammate Fernando Alonso when the team told him that the Spaniard had the faster car.
Rubens Barrichello (right) looks far from content as teammate Michael Schumacher has a quiet word on the podium following the 2002 Austrian Grand Prix, which the German controversially won. The Brazilian, who spent six years as Schumacher's deputy at Ferrari, says he empathizes with Webber's position at Red Bull.
Barrichello led the 2002 Austrian Grand Prix before ceding position to his Ferrari teammate Michael Schumacher. Team orders were banned the following season.
"El Maestro" Juan Manuel Fangio (left) and Stirling Moss engaged in discussion following the 1957 Italian grand Prix at Monza, which the Englishman won. The pair were teammates at Mercedes in 1955. "The team has always been the most important thing," says Moss. "Once you're with a company you really have to do what they tell you to. It's a professional business with very big money, which it wasn't (when I drove). Drivers are being paid like film stars now."
Moss (left) trails behind Fangio at the Italian Grand Prix in 1956. "I'm glad I raced when I did and not now because the pleasure was so much more then and the racing certainly was purer," Moss says.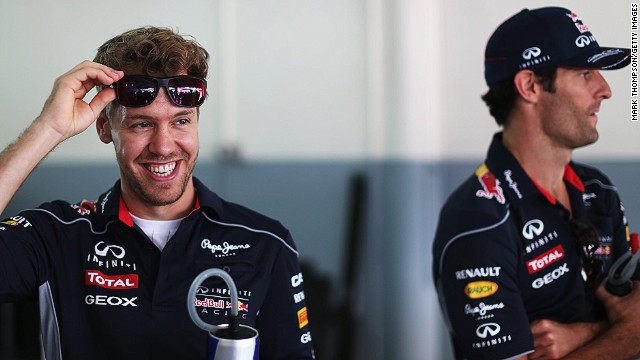 Team orders: needless or necessary?
"You try to do everything well, because you know that a nice result here, a nice podium finish or whatever will make you happy, will make the team happy and make many people in the grandstand happy.
"So, it's a special weekend, but after all those years I think you're OK with that extra motivation and it's not any more pressure.
"Now you've proved for many years that there's not a pressure or anything that will stop you doing well."
Read: CNN guide to Circuit de Catalunya
If Ferrari are to succeed in seeing off Red Bull and Lotus, then the team will need to avoid any trouble on the track -- a point not lost on Alonso.
"I think that maybe it's the first time we arrive with a competitive car, but that doesn't mean you will fight for top places if you don't do everything right and don't put together a good weekend," the double world champion added.
"In the first four races we were competitive. We thought we could fight for the top places if the race was without problems.
"We will try here to have a clean race with no problems and if that will be enough to put us in contention for the victory, it would be nice.
"But if it's not possible then we will try and be as high as possible. It is a weekend we approach with a positive mentality -- and not a defensive mentality like the first three years for me at Ferrari."
Read: Bahrain clash ahead of Vettel's F1 victory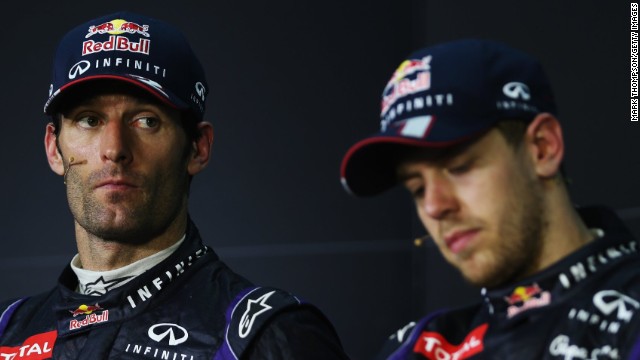 An unhappy Mark Webber, left, with Red Bull teammate Sebastian Vettel at the postrace press conference in Malaysia.
Webber had led after coming out of his final pit stop with 13 laps to go in Sepang, but Vettel claimed victory after defying team orders to overtake while the Australian was following instructions to conserve his car.
They shared the podium with third-placed Lewis Hamilton, whose Mercedes teammate Nico Rosberg obeyed team orders and did not attack the English driver even though he felt he was quicker.
Fernando Alonso won the race last year, but his 200th career grand prix was less successful. The Ferrari driver damaged his front wing early on and then made the mistake of staying out on the track too long and was not able to finish.
Jenson Button's car is pushed back to the pit area after his crew let the McLaren leave with a loose front wheel. It ruined the 2009 world champion's chances of earning points and he retired before the end of the race. However, his new Mexican teammate Sergio Perez finished ninth.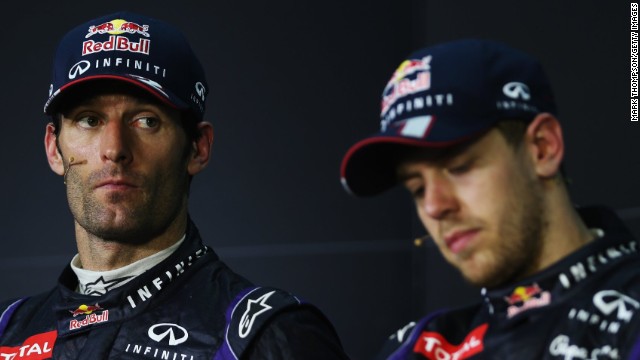 Vettel defies team orders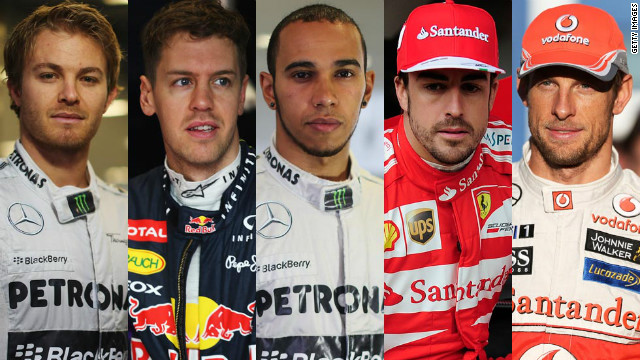 After 15 years with McLaren, Lewis Hamilton has flown the nest and landed in the Mercedes garage. The 2008 world champion is being tipped for success in 2013, with his new teammate Nico Rosberg showing in preseason that the new Mercedes is capable of topping the timesheets.
But if Hamilton is to win a second drivers' championship, he will have to overcome triple world champion Sebastian Vettel. The German has taken the title in each of the last three years, with his Red Bull team also leaving other manufacturers trailing in their wake.
The title race will not be as simple as Vettel vs. Hamilton. A fired-up Fernando Alonso missed out on the 2012 crown by just three points, and the double world champion will be looking to challenge at the front of the grid given the improvements in his Ferrari following last season's design problems.
Five rookies will be on the grid at the Australian Grand Prix, including Valtteri Bottas (pictured) who will be behind the wheel for Williams. Caterham drafted in Giedo van der Garde, while Esteban Gutierrez makes his debut for Sauber and Marussia boast an all-rookie line up of Jules Bianchi and Max Chilton.
Pirelli will serve as the official tire supplier in the final season of its three-year contract. The new tire is made of a softer rubber than its 2012 equivalent, with lap times expected to increase by up to half a second.
There will be 11 teams lining up for the first race in Melbourne following the collapse of Spanish outfit HRT after three seasons without scoring a point.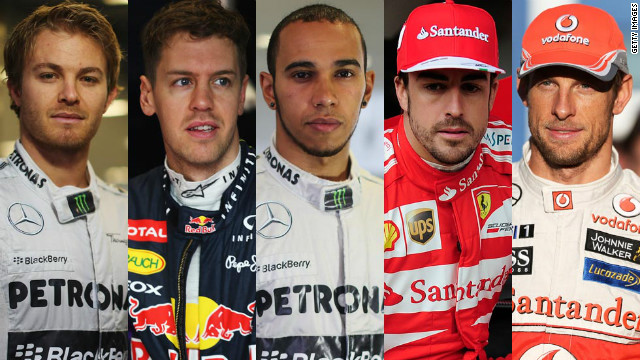 F1: 2013 season preview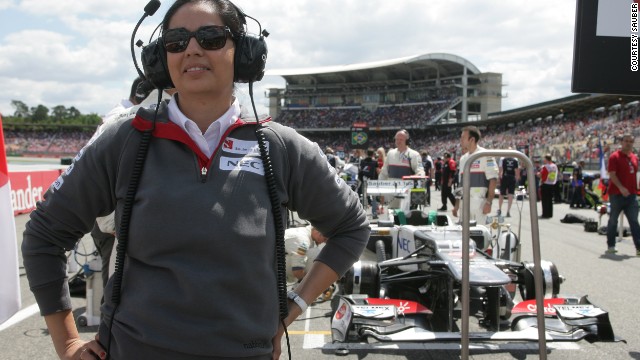 Monisha Kaltenborn, seen here at the German Grand Prix at Hockenheim in July 2011, is the first woman to become CEO and team principal of a Formula 1 team.
Kaltenborn said she grew up watching Grand Prix as a child but never imagined it would become her career.
"The first time I came to the factory and saw what it takes to make a Formula 1 car, it became a passion," said Kaltenborn.
Even before taking over as team principal, Kaltenborn played a key trackside role in Grand Prix races.
Kaltenborn said she is not disturbed by the use of "grid girls", seen here at the 2011 Korean Grand Prix, in Formula 1. "I think girls are prettier to look at than if you had men in those roles," she said.
Kaltenborn, seen here at a school in Delhi, India, is involved in the FIA's F1 In Schools project, which teaches students about all roles in motorsport from engineering to marketing to finance.
Kaltenborn with Japanese driver Kamui Kobayashi at the 2011 Brazilian Grand Prix. Kobayashi competed for Sauber from 2010 to 2012, but has now been replaced by Esteban Gutierrez and Nico Hulkenberg.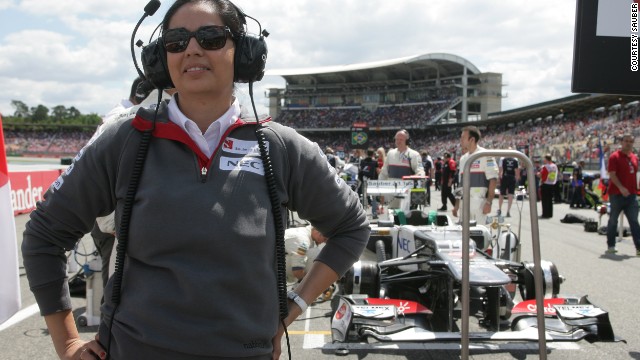 Monisha Kaltenborn
One man who Alonso will need to be wary of is triple world champion Sebastian Vettel, who currently sits 30 points clear of the Spaniard.
Vettel, who won last time out in Bahrain, is expecting a difficult challenge with just ten points separating him from Lotus' Kimi Raikkonen.
"It is much too early to make any predictions," Vettel said.
"Who would be so bold as to predict the outcome of a 19-race championship after only four races?
"This weekend we have to concentrate on the modified tires and the work that we have to do before Sunday to get our car right."
Read: Raikkonen claims 'easy' victory
Raikkonen, a two-time winner in Barcelona, finished second in Bahrain after coming home behind Vettel's Red Bull.
And the Finn insists his team has much to do if they are to bridge the gap and claim a second victory of the season.
"To catch the leaders, we have to work twice as hard as they are," he told the Lotus website.
"It's no secret that we want more speed from the car in qualifying; it's so tight up there at the front and we really need to be on the first two rows to fight for victories every time.
"It's good to be able to start the European season where we are as this is when you see teams starting to push on with lots of new parts for the cars.
"It's still early days, but to have scored strong points since the start of the year is obviously better than not having them.
"We need to keep scoring points in the same way; even if it's a bad weekend for us, we need to keep finishing as well as we can. That's how we will fight to the end of the season."