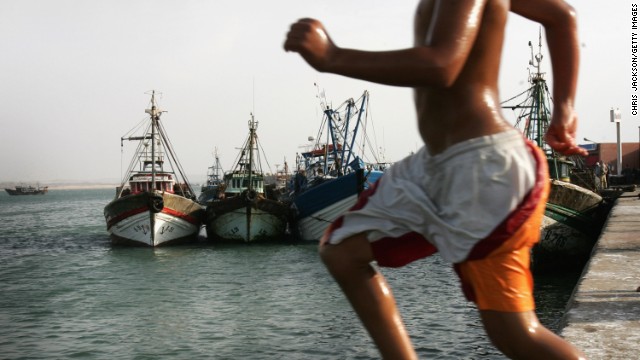 Fishing boats bob in the background as a young boy jumps off the harbor wall in Essaouira, Morocco, on August 1, 2007. Tourists are drawn to the North African nation's vibrant culture and rich history.
Fish are for sale outside a harborside restaurant in Essaouira on August 1, 2007.
A customer waits to be served at a fruit market in Rabat on June 24.
A man sips a drink on April 18, 2012, at the Cafe de France in Casablanca. The historic Moroccan port was immortalized in the 1942 namesake film.
The Djemaa el Fna marketplace is seen at night in Marrakech on October 30, 2011.
Members of a Gnaoua troupe parade along a street in Essaouira on June 21 ahead of the start of the annual Gnaoua World Music Festival.
A nomad rides a camel during the Taragalte Music Festival in Mhamid El-Ghizlane near Zagora on November 9.
A competitor runs down a sand dune on April 10 during the 28th annual Marathon des Sables. Participants from around the world traverse the Moroccan Sahara for seven days with all their equipment and food on their backs. The ultramarathon is considered the toughest foot race on Earth.
A street performer shows off a fire installation at Oudayas Kasbah in Rabat on March 30.
A tourist looks out from the Hercules Grotto near Tangier on November 25, 2007.
The Roman ruins of Volubilis are seen near Meknes on October 24, 2011.
Carpet sellers speak with customers in the old town of Rabat on October 31, 2011.
Women work at a textile factory in Tangier on November 10, 2010.
An aerial view over Marrakech shows the Djemaa el Fna marketplace and the Koutoubia mosque on September 29, 2001.
Surfers compete during a local championship in Taghazout on December 30.
A woman gathers red seaweed in the coastal town of Moulay Abdellah on August 9, 2009. The algae is treated and used as a stabilizing agent in meat and fish, baked goods and dairy products.
Seagulls land on the fortification walls of the 16th-century Portuguese fortress in Essaouira on October 29.
A woman works in the fields outside the village of Tizi Oussme, near Imlil, on July 29, 2007.
A man works on the roof of a traditional Berber house in Tisgui Ntknt on July 25, 2007. The village sits high in the Atlas Mountains of Morocco.
Goats climb an argan tree to get to its fruit near Essaouira on August 26.
A tour of Morocco
A tour of Morocco
A tour of Morocco
A tour of Morocco
A tour of Morocco
A tour of Morocco
A tour of Morocco
A tour of Morocco
A tour of Morocco
A tour of Morocco
A tour of Morocco
A tour of Morocco
A tour of Morocco
A tour of Morocco
A tour of Morocco
A tour of Morocco
A tour of Morocco
A tour of Morocco
A tour of Morocco
A tour of Morocco