NASA: International Space Station has ammonia leak in cooling system
May 10, 2013 -- Updated 0943 GMT (1743 HKT)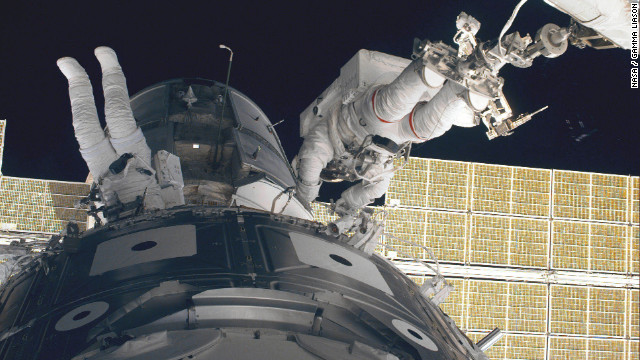 Look back at notable moments in the history of the International Space Station. Here in 1998, the Space Shuttle Endeavour crew attaches the Unity module, initiating the first ISS assembly sequence.
The Space Shuttle Endeavour crew, on mission STS-97, installs the first set of U.S. solar arrays on the station in 2000.
Carrying supplies and equipment in 2001, Leonardo is the first Multipurpose Logistics Module.
In 2006, Space Shuttle Atlantis docks with the ISS, delivering the P3/P4 truss and its solar wings.
Cmdr. Sergei Krikalev tests new hardware in anticipation of the unmanned cargo ship Jules Verne in 2008.
In 2008, Discovery undocks with the ISS after its crew successfully delivers and installs the Japanese-built Kibo lab.
In 2012, the unmanned SpaceX Dragon spacecraft connects to the ISS, the first private spacecraft to successfully reach an orbiting space station.
International Space Station
International Space Station
International Space Station
International Space Station
International Space Station
International Space Station
International Space Station
STORY HIGHLIGHTS
The ammonia is leaking from a cooling loop on a solar array
Crew tried to fix a leak in the same system in November
NASA says there is no danger to the space station crew
Three crew members are scheduled to end their mission on Monday
(CNN) -- Crew members aboard the International Space Station are awaiting word on how to deal with leaking ammonia from an outside cooling system, NASA said Thursday in a news release.
The six-man crew is not in danger, NASA said.
The space station crew reported seeing small white flakes floating away from the station, the space agency said. NASA helped locate the leak with external cameras while the crew used hand-held cameras pointed out windows.
The leak was in a cooling loop in a solar array that has leaked before. NASA said crew members tried to fix the leak in November. It is unclear whether this is the same leak or a new one.
The cooling system could shut down within 24 hours, it said. It is devising a plan to reroute other sources of power so that all systems remain fully operational.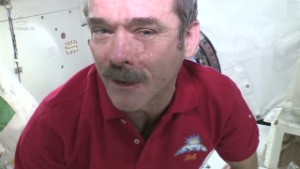 What happens if you cry in space?
Ammonia is used to cool each of the solar arrays that provide electricity to station systems, NASA said.
Three crew members -- commander Chris Hadfield of Canada, NASA astronaut Tom Marshburn and Russian cosmonaut Roman Romanenko -- are scheduled to leave the station on Monday at 7:08 p.m. ET.
Hadfield asked NASA if the leak will affect the undocking. Capsule Communicator Doug Wheelock said officials at the Mission Control Center in Houston don't see anything that they can't overcome technically, but they would have more information in the morning.
Three crew members, NASA astronaut Chris Cassidy and Russian counterparts Alexander Misurkin and Pavel Vinogradov, will remain on the space station when the others leave.
They will be joined at the end of the month by three new crew members -- NASA astronaut Karen Nyberg, Russian cosmonaut Fiyodor Yurchikhin and European Space Agency astronaut Luca Parmitano, who are due to launch aboard a Russian Soyuz spacecraft on May 28.
The space station is operating normally aside from the leak, NASA said.

Part of complete coverage on
April 18, 2014 -- Updated 1439 GMT (2239 HKT)

Tethered to an IV drip, 71-year-old Shin Young Ja lies under a thin fleece blanket, nursing a broken back and wracked with survivor's guilt.
April 18, 2014 -- Updated 1123 GMT (1923 HKT)

Family members of the missing passengers are pinning slim hopes on floundering air pockets.
April 17, 2014 -- Updated 1614 GMT (0014 HKT)

An Iranian mother slaps and then forgives her 17-year old son's murderer in dramatic scenes at the gallows.
April 16, 2014 -- Updated 1135 GMT (1935 HKT)

An "extraordinary" video shows what looks like the largest and most dangerous gathering of al Qaeda in years.
April 14, 2014 -- Updated 1230 GMT (2030 HKT)

Explore each side's case, reconstructed from Pistorius' court affidavit and the prosecution's case during last year's bail hearing.
April 16, 2014 -- Updated 1237 GMT (2037 HKT)

Mentions of the 1989 Tiananmen Square student protests or political reform are still censored in China.
April 18, 2014 -- Updated 0934 GMT (1734 HKT)

The Hadza are one of the last communities of hunter-gatherers in the world -- but losing their land.
April 19, 2014 -- Updated 0122 GMT (0922 HKT)

In choosing to change a traditional practice, Francis is being as radical as Jesus was in his own time.
April 18, 2014 -- Updated 1113 GMT (1913 HKT)

Too weak. Can't handle pressure. Unattractive to sponsors. Susie Wolff has heard it all.
April 19, 2014 -- Updated 0356 GMT (1156 HKT)

Browse through images you don't always see on news reports from CNN teams around the world.
April 18, 2014 -- Updated 1230 GMT (2030 HKT)

It's like finding a needle in a universe-wide haystack. Researchers have located a planet roughly the size of Earth that could be habitable.
April 18, 2014 -- Updated 0940 GMT (1740 HKT)

Dubai, long champion of all things biggest, longest and most expensive, will soon have some competition from a neighboring country.

Today's five most popular stories