NASA: International Space Station has ammonia leak in cooling system
May 10, 2013 -- Updated 0943 GMT (1743 HKT)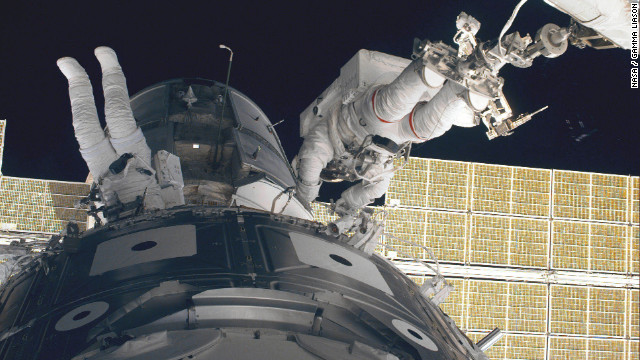 Look back at notable moments in the history of the International Space Station. Here in 1998, the Space Shuttle Endeavour crew attaches the Unity module, initiating the first ISS assembly sequence.
The Space Shuttle Endeavour crew, on mission STS-97, installs the first set of U.S. solar arrays on the station in 2000.
Carrying supplies and equipment in 2001, Leonardo is the first Multipurpose Logistics Module.
In 2006, Space Shuttle Atlantis docks with the ISS, delivering the P3/P4 truss and its solar wings.
Cmdr. Sergei Krikalev tests new hardware in anticipation of the unmanned cargo ship Jules Verne in 2008.
In 2008, Discovery undocks with the ISS after its crew successfully delivers and installs the Japanese-built Kibo lab.
In 2012, the unmanned SpaceX Dragon spacecraft connects to the ISS, the first private spacecraft to successfully reach an orbiting space station.
International Space Station
International Space Station
International Space Station
International Space Station
International Space Station
International Space Station
International Space Station
STORY HIGHLIGHTS
The ammonia is leaking from a cooling loop on a solar array
Crew tried to fix a leak in the same system in November
NASA says there is no danger to the space station crew
Three crew members are scheduled to end their mission on Monday
(CNN) -- Crew members aboard the International Space Station are awaiting word on how to deal with leaking ammonia from an outside cooling system, NASA said Thursday in a news release.
The six-man crew is not in danger, NASA said.
The space station crew reported seeing small white flakes floating away from the station, the space agency said. NASA helped locate the leak with external cameras while the crew used hand-held cameras pointed out windows.
The leak was in a cooling loop in a solar array that has leaked before. NASA said crew members tried to fix the leak in November. It is unclear whether this is the same leak or a new one.
The cooling system could shut down within 24 hours, it said. It is devising a plan to reroute other sources of power so that all systems remain fully operational.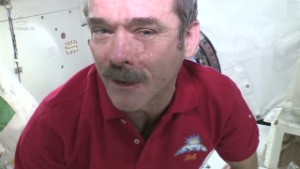 What happens if you cry in space?
Ammonia is used to cool each of the solar arrays that provide electricity to station systems, NASA said.
Three crew members -- commander Chris Hadfield of Canada, NASA astronaut Tom Marshburn and Russian cosmonaut Roman Romanenko -- are scheduled to leave the station on Monday at 7:08 p.m. ET.
Hadfield asked NASA if the leak will affect the undocking. Capsule Communicator Doug Wheelock said officials at the Mission Control Center in Houston don't see anything that they can't overcome technically, but they would have more information in the morning.
Three crew members, NASA astronaut Chris Cassidy and Russian counterparts Alexander Misurkin and Pavel Vinogradov, will remain on the space station when the others leave.
They will be joined at the end of the month by three new crew members -- NASA astronaut Karen Nyberg, Russian cosmonaut Fiyodor Yurchikhin and European Space Agency astronaut Luca Parmitano, who are due to launch aboard a Russian Soyuz spacecraft on May 28.
The space station is operating normally aside from the leak, NASA said.

Part of complete coverage on
December 5, 2013 -- Updated 1625 GMT (0025 HKT)

Mohammed Jamjoon interviews the American performer who stunned the Arab world by singing in Arabic.
December 5, 2013 -- Updated 1532 GMT (2332 HKT)

"Sometimes it just takes one incident to galvanize a society," says CNN's Sumnima Udas.
December 5, 2013 -- Updated 1426 GMT (2226 HKT)

Drones hover like a bee, flap like a bird and bounce like a ball. These awesome flying robots are taking unmanned flight in new directions.
December 5, 2013 -- Updated 1225 GMT (2025 HKT)

The mysterious "catacomb saints" were venerated by the Catholic Church and encrusted with gold and jewels -- before disappearing for centuries.
December 5, 2013 -- Updated 1228 GMT (2028 HKT)

A report in 1972 made the initial connection between cannabis and gynecomastia, otherwise known as "man boobs."
December 5, 2013 -- Updated 1315 GMT (2115 HKT)

The KAZA conservation area is working to make it easier to cross borders.
December 5, 2013 -- Updated 1256 GMT (2056 HKT)

He started his first business venture with capital of just $200 but today, he is one of Liberia's most prominent businessmen.
December 5, 2013 -- Updated 0009 GMT (0809 HKT)

North Korea is showing no signs of scaling back its fearsome labor camp system, says human rights group Amnesty International.
December 5, 2013 -- Updated 0501 GMT (1301 HKT)

A yellow jumpsuit worn by martial arts legend Bruce Lee in one of his final fight scenes goes on sale in Hong Kong on Thursday.
December 5, 2013 -- Updated 1051 GMT (1851 HKT)

Meet 24-year-old Marita Cheng: the talented technician bringing robots to your home.
December 5, 2013 -- Updated 0323 GMT (1123 HKT)

Japanese blogger Keisuke Jinushi started the "hitori date" (one-man date) blog two years ago.
December 4, 2013 -- Updated 2128 GMT (0528 HKT)

Even by the standards of supercars, the Porsche Carrera GT is something remarkable.

Today's five most popular stories