STORY HIGHLIGHTS
Angie Gregg describes the strange behavior of her father, Ariel Castro
When she visited him, he took forever to answer the door, she says
She also says the basement was always locked, and he wouldn't let her go upstairs
Ariel Castro beat his wife, his daughter says
Cleveland (CNN) -- Seldom does a daughter use such harsh words to describe her own father.
Ariel Castro's daughter called him "the most evil, vile, demonic criminal" she ever heard of during a CNN exclusive interview Thursday.
"He is dead to me," Angie Gregg said of the father police say kidnapped, held captive, raped and beat three young women in Cleveland for about a decade.
She had known her "daddy" as a "friendly, caring, doting man."
Now shocked and in disbelief, Gregg says she never wants to see him again.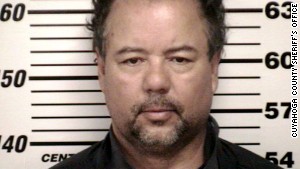 Castro's mother: My son is sick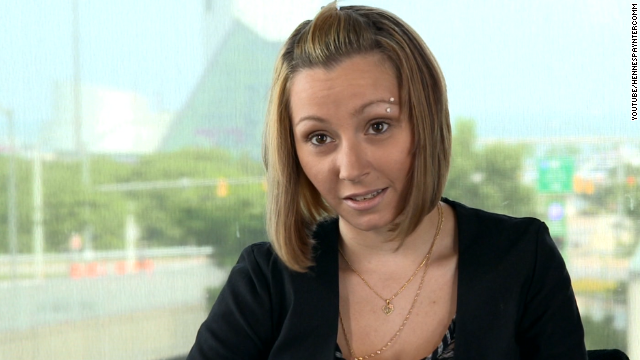 Amanda Berry speaks in a video released on YouTube on Monday, July 8, thanking people for support and privacy. Berry, Gina DeJesus and Michelle Knight escaped from a Cleveland home on May 6, 2013, after being held captive for nearly a decade.
Amanda Berry vanished a few blocks from her Cleveland home on April 21, 2003. She was 16.
Gina DeJesus speaks in the YouTube video.
Georgina "Gina" DeJesus was last seen in Cleveland on April 2, 2004, on her way home from school. She was 14 when she went missing.
Michelle Knight speaks in the YouTube video.
Knight was last seen on August 22, 2002, when she was 21.
In a handwritten note, Knight thanked Cleveland police for their efforts, saying she was overwhelmed with the support she had received from "complete strangers." The note was posted Wednesday, July 31, on the police's Second District Community Relations Committee Facebook page.
Residents gather outside a community meeting at Immanuel Lutheran Church on Thursday, May 9, to talk about the kidnapping case in Cleveland. Balloons were released as part of the ceremony.
FBI agents and other law enforcement officers stand outside suspect Ariel Castro's home in Cleveland on May 9. Castro, a former school bus driver, has been accused of holding three women captive for a decade in his house. He has also been charged with rape.
Castro hangs his head low while talking with his public defender, Kathleen DeMetz, during his arraignment on May 9.
Ada Colon prays during a vigil held in honor of the kidnapping victims in Cleveland on Wednesday, May 8.
Relatives of kidnapping victim Georgina "Gina" DeJesus hug after she returned to her parents' home in Cleveland on May 8.
Friends and neighbors cheer as a car carrying Amanda Berry arrives at her sister's house in Cleveland on May 8.
Gina DeJesus gives a thumbs up as she arrives at her family's house in Cleveland on May 8.
Ariel Castro was charged on May 8 with kidnapping the three women.
The family house of Gina DeJesus has been decorated by well-wishers on Tuesday, May 7.
Friends and relatives gather in front of the family house of DeJesus on May 7.
Well-wishers visit the home of the sister of Amanda Berry on Monday, May 6.
Investigators remove evidence from the house on Seymour Avenue in Cleveland where the three women were held.
An FBI forensics team meets outside the house where three women were held as they investigate the property.
An FBI forensics team member removes evidence from the house.
A relative of DeJesus brings balloons to the home of Amanda Berry's sister in Cleveland on May 7.
Children hold a sign and balloons in the yard of Gina DeJesus' family home in Cleveland on May 7.
Bystanders and media gather on May 7 along Seymour Avenue in Cleveland near the house where the three women were held captive.
A bystander shows the front page of The Plain Dealer newspaper to a friend outside of the house on Seymour Avenue on May 7.
Cleveland Deputy Chief of Police Ed Tomba, center, speaks at a news conference to address details of the developments.
The house where the three women were held captive in Cleveland was the home of Ariel Castro, who was arrested and is being held pending charges in the case.
FBI agents remove evidence from the house May 7.
A police officer stands in front of the broken front door of the house on May 7, where the kidnapped women escaped.
Neighbor Charles Ramsey talks to media as people congratulate him on helping the kidnapped women escape on Monday, May 6. He helped knock down the door after he heard screaming inside.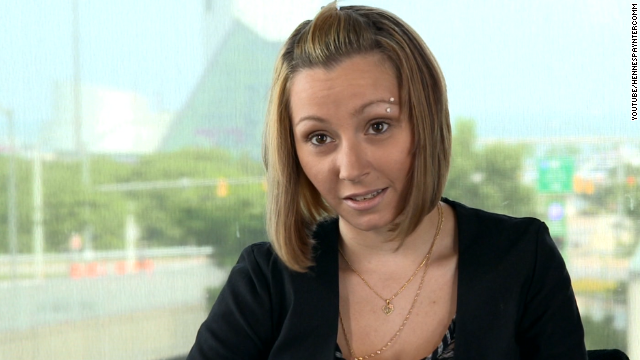 Photos: Kidnapped teens rescued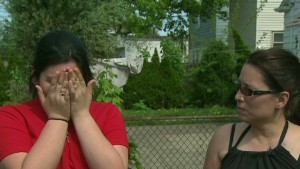 Former in-laws: Castro is a monster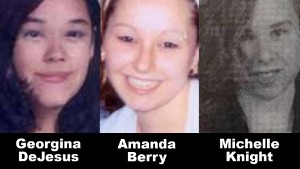 Ohio victims detail life in captivity
"There will be no visits; there will be no phone calls," she said. "He can never be Daddy again. I have no sympathy for the man."
As she mulled the accusations against him, she asked, "How could you?"
"I wonder this whole time, how he could be so good to us, but he (allegedly) took young women, little girls, someone else's babies, away from these families and over the years never felt enough guilt to just give up and let them free."
Gregg did not think anything out of the ordinary was going on in her childhood home.
All that changed Monday when Amanda Berry broke loose. Police freed her fellow captives Georgina DeJesus and Michelle Knight, divulging the secret locked up inside the house at 2207 Seymour Ave.
Snapshots: Who are the three women freed in Cleveland?
When she first heard the news about their captivity, Gregg said, she "just wanted to die."
She had known Berry and DeJesus from her school days.
Peculiarities she noticed about her father over the years started falling into place in a new, grim light, and they are making her feel "horrified," she said.
"This was going on right under my nose."
An odd place to visit
When she came calling, "he would take forever to come to the door," she said. He always had the house locked up tight.
Standing at a window, Castro would often give her a hand signal indicating to her to wait. Then he'd wave her around to the back door, not letting her in through the front of the house.
Once inside, visits were fun and cordial. Gregg, her husband and Castro "ate, looked at photos and listened to music," she said. "He appeared to be happy to see us and never rushed for us to leave."
At times, he would disappear from dinner and give no explanation for his absence.
The music was usually turned up loud, but Gregg thought this to be fitting since Castro was a musician.
Once she asked if she could go upstairs to see her childhood bedroom. Castro coaxed her out of the idea, telling her, "Oh, honey, there's so much junk up there. You don't want to go up there," she said.
Again, she thought nothing of it, "besides him being a pack rat."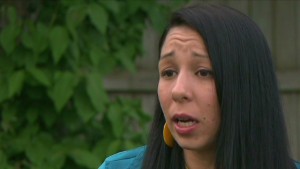 Castro's daughter: I'm disgusted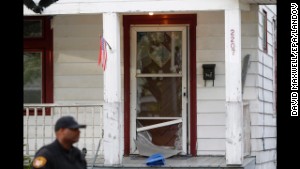 Source: Women helped each other survive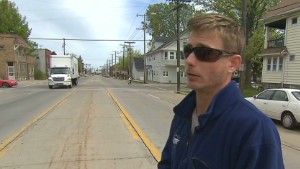 Man: I saw DeJesus before she vanished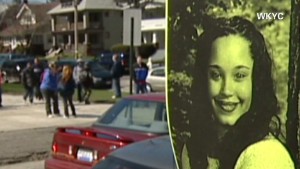 Disturbing ties between Castro and victims
The basement was always locked.
Prosecutor: 'Kidnapper operated torture chamber'
Clinging to the house
The list of oddities continued.
Castro clung to home, never wanting to leave for more than a day, even to visit Gregg out of state when she lived with her family in Indiana.
"He was adamant in the fact that he wanted to leave home early morning and he had to be back by evening," Gregg said.
Her family often made travel plans with Castro that they then had to cancel because of her father's obsession with his own four walls.
Gregg said that she never saw signs of the 6-year-old at her father's house and that she never saw her with him. But about two months ago, he showed her a picture in his cell phone.
Gregg asked who it was.
Her father told her that the girl was his girlfriend's child by somebody else.
"I figured at the most he had an illegitimate child out there, you know, and I would find out eventually," Gregg said.
She asked him to get a paternity test. She wanted to know if she had another sister out there somewhere.
Now she knows that she does.
Daughter Emily Castro in prison for slashing baby's throat
Domestic violence
Gregg recalled fond memories of growing up in the house and fun times with her father. He lined up the children in the backyard and trimmed their bangs himself, she said. He took her for rides on his motorcycle.
And he never abused her, she said, or her sisters, as far as she knows.
But he beat their mother, Grimilda Figueroa, whom he accused of fooling around with neighbors. He was very jealous, Gregg said.
"When Mom and Dad were fighting, it's like I just wanted to melt into the ground," she said. "I've seen him basically stomp on her like she was a man," Gregg remembered.
Then after a bludgeoning, her mother had enough, and the family split up. The other children left with her mother, but Gregg stuck by Castro, believing the excuses he made for the violence. She finished growing up under his roof, she said.
How this case differed from the 'House of Horrors'
A daughter divorced
Gregg is through believing in her father and is appalled at the extent of his alleged deception and cruelty.
"To go to the vigils, to show these girls the footage of their parents' pleas for their return, to rape, starve and beat innocent human beings ... I am disgusted."
Gregg wants the girls who suffered in captivity to get the treatment they need, recover as well as they can and have the best lives possible. It was the first thing she mentioned during the interview.
She is relieved to see them and the little girl, her new sister, return to their families.
She hopes they can understand her father's actions are not a reflection on her family.
"We don't have monster in our blood," she said.
Gregg's mother died in 2012 after a bout with brain cancer. Now she has lost her father, too. She still cries for her mother, she said.
"I don't cry for him."
Get all the latest developments in the Cleveland case
CNN's Laurie Segall and Erica Fink reported from Cleveland; Ben Brumfield and Dana Ford wrote in Atlanta.