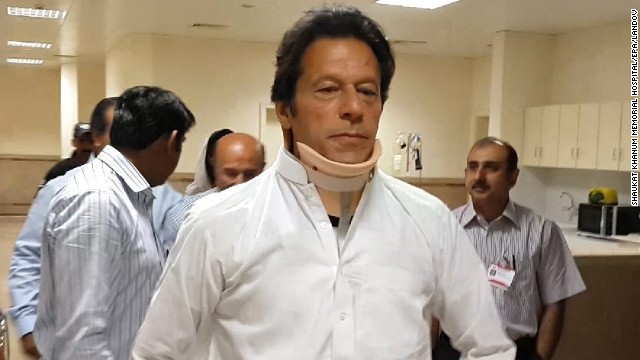 Imran Khan, head of Pakistan's Tehreek-e-Insaf party, leaves the hospital in Lahore, Pakistan, on Wednesday, May 22. Khan suffered spinal fractures and a head injury when he toppled from a forklift that was raising him up to a stage as he campaigned in Lahore for elections held on May 11. Victory in the elections went to Nawaz Sharif, a two-time former prime minister, and his party, the Pakistan Muslim League.
Pakistani supporters of Imran Khan take part in a protest on Monday, May 20, against the killing of Zohra Hussain in Karachi. Hussain, a politician who had alleged vote-rigging in the May 11 elections, was shot dead on Saturday, May 18. There was a re-poll on Sunday, May 19, after accusations of vote-rigging.
Pakistan's incoming prime minister, Nawaz Sharif, speaks in Lahore on May 20.
Voters and army troops gather outside a polling station during a revote in Karachi, Pakistan, on Sunday, May 19. A new vote was ordered after allegations of vote rigging in the May 11 elections, which former Prime Minister Nawaz Sharif's party appears to have won.
A Pakistani woman casts her ballot in Karachi on May 19.
Members of the Tehreek-e-Insaf party mourn the death of Zahra Shahid Hussain, vice president of the party, outside a hospital in Karachi, Pakistan, on Saturday, May 18. Hussain had alleged vote-rigging in the May 11 elections.
Pakistani rescuers carry Hussain's body on May 18 after she was killed in what was described as an execution-style attack.
Pakistani tanks deploy near a voting station on May 18 ahead of a new vote in Karachi, where complaints of rigging and irregularities were reported in the general election May 11. The army is set to be deployed at 43 polling stations ahead of voting on May 19, a media report said.
Female supporters of Pakistani Prime Minister-elect Nawaz Sharif offer special prayers for the victory of their party in Peshawar on Friday, May 17.
Supporters of politician Imran Khan shout slogans over allegations of election fraud during a protest in Hyderabad, Pakistan, on Monday, May 13.
Supporters of Nawaz Sharif dance and eat sweets as they celebrate the party's win in Lahore on Wednesday, May 15.
Khan's supporters stage a protest in Karachi on Sunday. Khan said his party would submit a report on alleged vote-rigging.
Supporters of Imran Khan shout slogans during a protest on May 12. Across the country, 29 people were killed in Election Day violence on May 11.
Khan supporters carry their party flags in a rally in Rawalpindi on May 12.
Supporters of Pakistan Muslim League Nawaz, Nawaz Sharif's party, celebrate election results in front of a party office in Lahore on election night, Saturday, May 11.
Sharif's supporters celebrate May 11 in Lahore.
Soldiers cordon off the site of a bomb explosion in Karachi on Saturday, May 11. Four blasts hit Karachi as people voted, causing 14 deaths and dozens of injuries.
A bomb disposal expert examines the site of a detonation in Karachi, Pakistan on May 11.
Men move a stretcher carrying an injured man at a hospital, following a bomb explosion in Karachi, Pakistan on May 11.
Volunteers move an injured boy to a hospital following a bomb explosion in Karachi on May 11.
Volunteers gather beside the bodies of blast victims outside a hospital on May 11.
Election officials count ballot papers at the end of polling in Quetta, Pakistan on May 11.
Pakistani supporters of Islamic party Jammat-e-Islami stage a protest in front of a provincial election commission office in Karachi on May 11.
Voters line up for their turn to vote as gaurds stand watch at a polling station in Karachi on May 11.
A Pakistani election official marks a voter's thumb at a polling station during the general election in Rawalpindi, Pakistan, on May 11.
Pakistani women jostle to receive their ballot papers prior to casting their ballot at a polling station on May 11, in the Old City of Lahore, Pakistan.
Voters in Rawalpindi gather around an election presiding officer to cast their ballots on May 11, 2013.
Pakistani voters queue for their turn to cast their ballots outside a polling station in Karachi on May 11, 2013.
Pakistani army soldiers stand guard outside a distribution center for election materials in Karachi on May 10, 2013. The nation's military will have 75,000 troops out around the country.
Supporters of former PM Nawaz Sharif turned out for one final rally in Lahore ahead of Pakistan's parliamentary elections on May 11. It's the first time in the country's history that an elected government will take over from another elected administration.
Another frontrunner for prime minister, Imran Khan, has been campaigning from his hospital bed after he was injured falling from a lift at a campaign rally on May 7.
Khan, a charismatic former cricketer, has proved a popular candidate among Pakistan's young, urban middle class.
Politics is a bloody affair in Pakistan, and this leadership struggle is no exception. Dozens have been killed in attacks in the weeks leading up to Saturday's election.
The most deadly attack, an explosion during a rally in the Kurram tribal district on May 6, killed 18 people and wounded 55.
Ali Haider Gilani, a son of former Pakistani Prime Minister Yousuf Raza Gilani, was kidnapped by gunmen while canvassing for votes in Multan on the final day of campaigning.
The leader of the Pakistan People's Party, Bilawal Bhutto Zardari, has been absent from rallies in the lead-up to the elections. The 24-year old, who became chairman after his mother, Benazir Bhutto, was assassinated, is not yet old enough to run for parliament.
Former president Pervez Musharraf announced plans to run in the elections after returning from exile last month, but was disqualified from the race amid claims he illegally placed senior judges under house arrest during his rule.
For the first time, women in tribal regions are running for office. 43-year-old Nusrat Begum is challenging the Taliban for a seat in Lower Dir.
High turnout, violence mark Pakistan elections
High turnout, violence mark Pakistan elections
High turnout, violence mark Pakistan elections
High turnout, violence mark Pakistan elections
High turnout, violence mark Pakistan elections
High turnout, violence mark Pakistan elections
High turnout, violence mark Pakistan elections
High turnout, violence mark Pakistan elections
High turnout, violence mark Pakistan elections
High turnout, violence mark Pakistan elections
High turnout, violence mark Pakistan elections
High turnout, violence mark Pakistan elections
High turnout, violence mark Pakistan elections
High turnout, violence mark Pakistan elections
High turnout, violence mark Pakistan elections
High turnout, violence mark Pakistan elections
High turnout, violence mark Pakistan elections
High turnout, violence mark Pakistan elections
High turnout, violence mark Pakistan elections
High turnout, violence mark Pakistan elections
High turnout, violence mark Pakistan elections
High turnout, violence mark Pakistan elections
High turnout, violence mark Pakistan elections
High turnout, violence mark Pakistan elections
High turnout, violence mark Pakistan elections
High turnout, violence mark Pakistan elections
High turnout, violence mark Pakistan elections
High turnout, violence mark Pakistan elections
High turnout, violence mark Pakistan elections
High turnout, violence mark Pakistan elections
High turnout, violence mark Pakistan elections
High turnout, violence mark Pakistan elections
High turnout, violence mark Pakistan elections
High turnout, violence mark Pakistan elections
High turnout, violence mark Pakistan elections
High turnout, violence mark Pakistan elections
High turnout, violence mark Pakistan elections
High turnout, violence mark Pakistan elections