'I couldn't walk': Woman loses 276 pounds
Join the conversation
CNN iReport
May 10, 2013 -- Updated 1107 GMT (1907 HKT)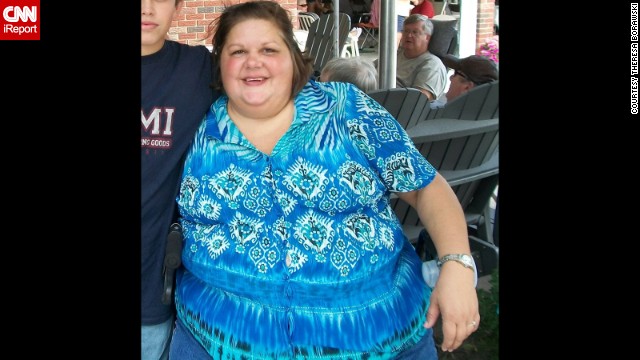 At her heaviest, Theresa Borawski weighed 428 pounds. She had a "sugar addiction" and was drinking up to 1,200 calories in soda a day.
rheumatoid arthritis
. Her professor and friend Chuck Bowden, seen here, says he worried about how limited her life would be at this weight.
When she graduated college as an nontraditional student, Borawski could barely walk across the stage to accept her diploma. Her doctor had diagnosed her with
Borawski used a cane and walker to get around. It took her an entire week to carry her groceries into the house because she could lift only a bag or two at a time. She had trouble standing in the shower long enough to wash her hair.
In March 2011, Borawski gave up soda and sweets and restricted her diet to 1,000 calories a day. Since then, she's lost more than 275 pounds.
Borawski now maintains her weight at around 150 pounds. She walks several times a week on a treadmill at her office's gym.
Borawski's rheumatoid arthritis has improved significantly. Her blood pressure and cholesterol have returned to normal. "Overall, I'm just feeling awesome," she says.
From using a walker to walking
From using a walker to walking
From using a walker to walking
From using a walker to walking
From using a walker to walking
From using a walker to walking
STORY HIGHLIGHTS
Theresa Borawski loses 14 pant sizes after spending years in a wheelchair
Borawski stopped eating sugar and cut out soda
Last month, she walked three miles for the first time without assistance
(CNN) -- Theresa Borawski sat down heavily on a neighbor's porch, somewhere in between her front door and her good friend's driveway. The distance between the two was less than half a mile. It might as well have been 20.
She had already taken a break on a tree stump near the road. This was the last stop, she told herself as she stood up from the porch slowly. She was going to make it.
Reaching her friend's house was like reaching the finish line of a much longer race.
"I was just like I had run in a marathon," Borawski remembers. "It was the biggest moment in my life."
"He had to bring me home because I couldn't walk back," she laughs, "but ..."
But the victory was sweet for a woman who just six months before had primarily relied on a wheelchair to get around, a woman who had lived in her house for two years without walking to the mailbox.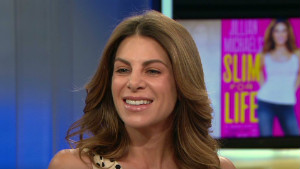 Jillian Michaels' 'Slim for Life' tips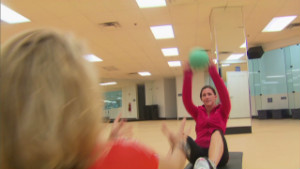 Sticking to weight loss goals
At her heaviest in March 2011, Borawski weighed 428 pounds.
"I could no longer participate in life's activities and was forced to become a spectator while people around me lived their life," she wrote on iReport.com. "Today, I am 276 pounds lighter, 14 jean sizes smaller, and no longer need a wheelchair, walker or cane to get around. I am a walking, talking miracle and have been given a second chance at life."
Borawski's father died when she was 8. Friends and family showed their sympathy with food. The lunch lady at school put extra fries on her tray; the neighbors gave her more candy at Halloween. Her grandparents were caterers, and their extended family got together often for exorbitant meals.
"I learned at a very young age that food makes the happy times better and the sad times more bearable," she says.
She was heavy throughout high school and college but says her weight never really affected her life until 2003, when a series of setbacks sent her into a downward spiral.
Borawski lost her chu