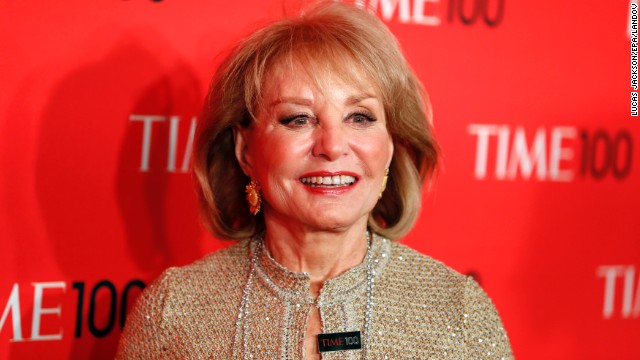 After a journalism career spanning a half century, Barbara Walters will retire from TV journalism in 2014, ABC reported late Sunday, May 12. We look back on the career of Walters, shown here at the Time 100 gala in New York City on April 23.
Walters poses for a photo with President Barack Obama, first lady Michelle Obama and Joy Behar on the set of "The View" in September 2012 in New York.
Walters' annual specials on the year's "most fascinating people" focused on big names in entertainment, sports, politics and popular culture. In 2012 she interviewed then-Secretary of State Hillary Clinton.
Only the possibility of war in Iraq in 2003 could cause the postponement of her annual pre-Oscars interview special. She attended ABC's 50th Anniversary Special at the Pantages Theatre that year.
In 2005, Walters met with President George W. Bush and first lady Laura Bush for their first joint interview since winning the November 2004 election.
Walters and Elmo attended the Third Annual Sesame Workshop Benefit Gala at Cipriani 42nd Street in 2005 in New York.
"The View" hosts Elisabeth Hasselbeck, Whoopi Goldberg, Barbara Walters, Joy Behar and Sherri Shepherd attended the New York Times Art and Leisure Weekend at TheTimesCenter in 2009 in New York. The group became known for their spirited conversations on the show.
Katie Couric and Barbara Walters attended the 30th annual News & Documentary Emmy Awards at Frederick P. Rose Hall in 2009 in New York.
Walters knows celebs like no one else. She and George Clooney attended the Bloomberg & Vanity Fair cocktail reception after the 2012 White House Correspondents' Association Dinner at the residence of the French ambassador in Washington.
The women of the view became stars in their own right. Here, Lisa Ling, Star Jones, Joy Behar, and Walters are interviewed by Jay Leno on "The Tonight Show."
Her reporting has made Walters an international star. She and actor Richard Gere greeted the Dalai Lama when he visited St. John the Divine in New York in 1992.
NBC News' Jim Hartz and Walters reported during the 1976 New Hampshire Democractic Primary.
Donald Trump, Don King and Barbara Walters are shown in an undated photo.
Walters interviewed American novelist, short story writer and playwright Truman Capote for "Today" inside his New York apartment in 1967.
Walters was called "a former hostess of a morning TV show, an interviewer of the famous and all-around glamour girl personality in her own right" when "ABC Evening News with Harry Reasoner and Barbara Walters" debuted in 1976, making her television's first network anchorwoman.
Jack Lescoulie, Hugh Downs, Walters and Frank Blair conduct a discussion on NBC's "Today Show," in New York. She worked for the show from 1961 to 1976.
Walters takes a phone call at her desk in New York in 1962.
A promotional portrait from 1976 shows Walters on the set of the "Today Show."
From left, Gene Shalit, Walters, and Frank McGee sit behind the news desk in a promotional portrait for the "Today Show" in 1973.
Barbara Walters' amazing career
Barbara Walters' amazing career
Barbara Walters' amazing career
Barbara Walters' amazing career
Barbara Walters' amazing career
Barbara Walters' amazing career
Barbara Walters' amazing career
Barbara Walters' amazing career
Barbara Walters' amazing career
Barbara Walters' amazing career
Barbara Walters' amazing career
Barbara Walters' amazing career
Barbara Walters' amazing career
Barbara Walters' amazing career
Barbara Walters' amazing career
Barbara Walters' amazing career
Barbara Walters' amazing career
Barbara Walters' amazing career
Barbara Walters' amazing career