Four Filipino peacekeepers in Syria released
May 13, 2013 -- Updated 1210 GMT (2010 HKT)
STORY HIGHLIGHTS
The four had been held nearly a week after being seized by armed men
State of their health is unclear after captivity
They are part of force that monitors the area between Syria and Golan Heights
(CNN) -- Four U.N. peacekeepers were released Sunday, five days after they were seized by armed men while patrolling between Syria and the Israeli-occupied Golan Heights, an army official from the Philippines said.
Maj. Ramon Zagala, a spokesman for the Philippine Armed Forces, said the Filipino peacekeepers were with the commander of that country's troops in the Golan Heights.
"Last week was a challenge and we are very thankful for their safe release," Zagala said.
He said he could not provide an update on their health. They will return to Camp Ziouani, where doctors will examine them.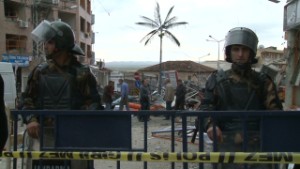 Syria-Turkey border tensions flare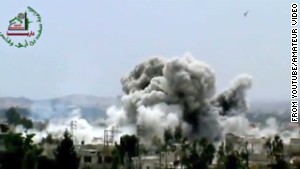 Possible solutions to Syria war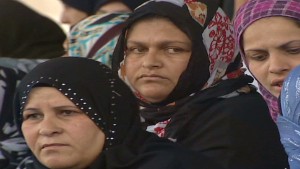 Syria's internally displaced
According to the U.N. news website, Secretary-General Ban Ki-moon released a statement thanking the government of Qatar for its role in the safe release of the hostages.
The United Nations Disengagement Observer Force monitors the area in accordance with the 1974 agreement between Syria and Israel negotiated after the Yom Kippur War.
In March, 22 peacekeepers were held for four days by rebels. The U.N. called on Syrian and rebel troops at that time to honor the impartiality of the U.N. troops.
Tensions in the area have been heightened recently and Israel conducted strikes against Syria twice.
The attacks, confirmed by a U.S. official last week, targeted a weapons storage site containing missiles and a Damascus research facility. The official stressed that Israel is concerned about Syria transferring weapons to the Lebanese militant group Hezbollah.

Part of complete coverage on
Syrian crisis
March 4, 2014 -- Updated 1328 GMT (2128 HKT)

Syria has submitted a revised proposal "that aims to complete the removal of all chemicals" from the country before the end of April.
February 18, 2014 -- Updated 1032 GMT (1832 HKT)

CNN's Arwa Damon reports on ISIS defector who says destroying ISIS as critical as defeating regime.
February 18, 2014 -- Updated 0353 GMT (1153 HKT)

The U.S. wants a United Nations resolution that will, among other things, bring humanitarian aid for refugees in Syria.
February 17, 2014 -- Updated 1259 GMT (2059 HKT)

When the radical Islamist militia ISIS arrived in the Syrian town of Addana a year ago, many welcomed them. What followed changed their minds.
February 17, 2014 -- Updated 1449 GMT (2249 HKT)

CNN obtained video clips from Syrian activists documenting the atrocities committed by members of the Islamic State in Iraq and Syria, known as ISIS.
February 18, 2014 -- Updated 2017 GMT (0417 HKT)

On Crossfire, Danielle Pletka discusses what the U.S. needs to do to resolve the Syria crisis.
February 6, 2014 -- Updated 0101 GMT (0901 HKT)

Her almond-shaped brown eyes shine through her sunken face as a doctor lifts her sweater to reveal a tiny rib cage pushing against her skin.
February 4, 2014 -- Updated 1746 GMT (0146 HKT)

The Zaatari refugee camp in Jordan is home to around 100,000 Syrian refugees. CNN spent several days meeting the residents of the camp.
January 22, 2014 -- Updated 1959 GMT (0359 HKT)

Renowned war crimes prosecutors and forensic experts have found "direct evidence" of "torture and killing" by the Assad regime.

Traumatized children who have witnessed the horrors of war are being helped to read -- and rebuild a normal life. CNN's Becky Anderson reports.
January 23, 2014 -- Updated 1207 GMT (2007 HKT)

A battle zone tour organized by the Syrian government for CNN and several other media outlets Wednesday was more than bizarre.
January 22, 2014 -- Updated 1735 GMT (0135 HKT)

CNN's Atika Shubert meets with the family of a little girl who was wounded in Syria, now living in a refugee camp.
January 27, 2014 -- Updated 1456 GMT (2256 HKT)

110 year old, Jabari Alawali walked for over 10 hours to reach Jordan from Syria.
Today's five most popular stories