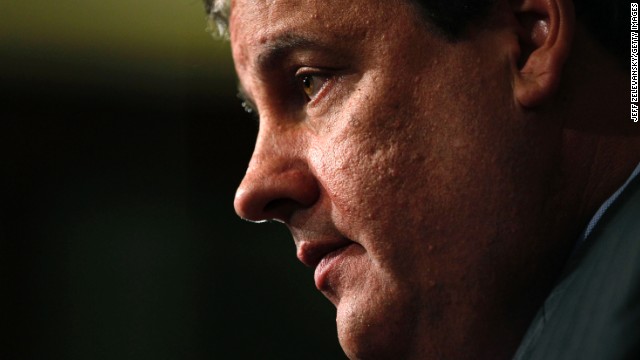 New Jersey Gov. Chris Christie has become a well-known face for the Republican party, but in his home state he's still the second-best-known Boss, next to Bruce Springsteen. Pictured above, Christie speaks at a news conference on October 4, 2011, in Trenton, the capital.
Christie signs the Overdose Prevention Act on May 2, 2013 in Paterson, New Jersey.
Christie addresses state legislators during his State of the State Address on January 8 in Trenton.
Christie tries to comfort Alice Cimillo, whose home was damaged by Superstorm Sandy, on November 1, 2012, in Moonachie, New Jersey.
President Barack Obama and Christie talk with local residents affected by Hurricane Sandy at the Brigantine Beach Community Center on October 31, 2012, in Brigantine, New Jersey, in this photo provided by the White House.
Christie speaks to the media before the start of the abbreviated first day of the Republican National Convention on August 27, 2012, in Tampa, Florida.
Former first lady Nancy Reagan, center, is recognized before Christie delivers remarks at the Reagan Library on September 27, 2011, in Simi Valley, California.
Christie lays a white rose on wreckage pulled from ground zero during the dedication for the Empty Sky Memorial at Liberty State Park on September 10, 2011, in Jersey City, New Jersey.
Christie speaks at a town hall meeting in Hammonton, New Jersey, on March 29, 2011.
Christie and his wife, Mary Pat Christie, arrive at the White House for a state dinner on January 19, 2011, in Washington.
Christie exits the voting booth after casting his vote on November 3, 2009, in Mendham, New Jersey. Christie beat incumbent Democrat John Corzine for the gubernatorial position.
Christie and his running mate, Sheriff Kim Guadagno, left, make phone calls to voters at Monmouth County Republican Headquarters on November 2, 2009, in Freehold, New Jersey.
Then U.S. Attorney for the District of New Jersey, Christie pauses on May 8, 2007, before a news conference concerning a thwarted terrorist plot to attack the U.S. Army's Fort Dix outside Trenton.
Christie works in his office in Newark on June 16, 2003.
Chris Christie: New Jersey's other Boss
Chris Christie: New Jersey's other Boss
Chris Christie: New Jersey's other Boss
Chris Christie: New Jersey's other Boss
Chris Christie: New Jersey's other Boss
Chris Christie: New Jersey's other Boss
Chris Christie: New Jersey's other Boss
Chris Christie: New Jersey's other Boss
Chris Christie: New Jersey's other Boss
Chris Christie: New Jersey's other Boss
Chris Christie: New Jersey's other Boss
Chris Christie: New Jersey's other Boss
Chris Christie: New Jersey's other Boss
Chris Christie: New Jersey's other Boss