STORY HIGHLIGHTS
NEW: 19-year-old who was trapped in rubble tells her story for the first time
At least 1,127 people were killed after a building collapsed on April 24
Survivor says clothes were torn from her body while she crawled to a basement
Officials say recovery efforts will end by Tuesday
Dhaka, Bangladesh (CNN) -- A Bangladeshi teen buried for 16 days under the rubble of a garment factory where she worked spoke for the first time Monday about her harrowing struggle to survive.
Nineteen-year-old Reshma vowed to never again work in the country's garment industry, where she was earning the equivalent of $60 a month.
Reshma spoke at a news conference as she was steadily recovering at a military hospital in Dhaka. Rescue workers saved her Friday.
She was found in the factory's basement in a pool of water, according to rescue official Lt. Col. Moazzem Hossain. It's unclear if water from recent rains or rescuers' hoses trickled to where she was trapped, breathing through an air pocket.
Firefighters had hosed down the area to extinguish a fire that erupted during another failed rescue attempt.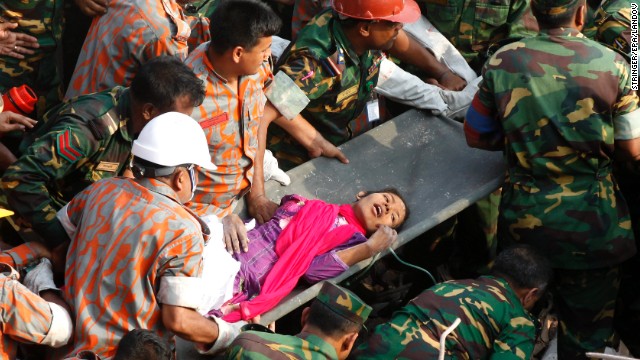 Seventeen days after a building collapsed in Savar, Bangladesh, rescuers pull Reshma Begum from the rubble on May 10. More than 1,000 people have died since the nine-story garment factory building fell on April 24.
An officer of the Italian cruise line Costa Concordia, Manrico Giampedroni, is found 36 hours after the ship ran aground off the Mediterranean island of Giglio on January 13, 2012. He broke his leg as the liner rolled was was found in a half-flooded dining room, suffering from hypothermia.
A baby, her mother and her grandmother are rescued in eastern Turkey on October 25, 2011, two days after a 7.2-magnitude earthquake killed more than 600 people. Dramatic video showed 2-week-old Arza Karaduman being carried from the debris of a multiple-story building.
More than 9 miles out at sea, a 60-year-old Japanese man is found clinging to the swept-away remnants of his home on March 13, 2011. Hiromitsu Shinkawa was drifting alone for more than two days after a massive Japanese earthquake and tsunami.
Anne Vos, 57, is rescued 24 hours after a five-story building where she worked collapsed during an earthquake in Christchurch, New Zealand, on February 22, 2011. She said she thought she was going to die and had called family and friends to say goodbye. She talked to international media while trapped.
After 69 harrowing days underground and a rescue mission costing up to $20 million, 33 Chilean miners are rescued on October 13, 2010. The mine collapsed on August 5, leaving the workers trapped 2,300 feet beneath the Earth's surface.
Digging through the mud, Chinese soldiers rescue Liu Ma Shendeng from the second story of an apartment building on August 10, 2010. The 52-year-old man was trapped for 60 hours after massive mudslides buried homes and ripped others apart in China's Gansu province. The death toll climbed to more than 1,400.
Nine-year-old Ruben van Assouw is the sole survivor of a plane crash in Tripoli, Libya, on May 14, 2010. His parents and brother are among the 103 people killed.
A man identified as Evan Muncie, 28, is found in the ruins of a marketplace, his family tells CNN, nearly a month after a 7.0-magnitude earthquake devastated Haiti on January 12, 2010. He suffered from extreme dehydration and malnutrition, but did not appear to have significant crushing injuries, doctors said.
A 13-year-old girl is found in the Indian Ocean clinging to plane debris after the Yemenia Airways Airbus A310 from France crashed on June 1, 2009. Bahia Bakari was the sole survivor of the crash. She had been flying with her mother.
Naqsha Bibi, 40, is recovered alive from the debris of her collapsed home in Kashmir on December 12, 2005. She reportedly survived on rainwater and rotting food for more than 60 days after an earthquake struck the region on October 8.
Rashida Farooq, a 45-year-old mother of three, is rescued from her home 105 hours after it collapsed in Muzaffarabad, Pakistan, on October 12, 2005. The 7.6-magnitude earthquake that hit the country killed 80,000 people.
A man identified as Jalil, 57, is rescued 13 days after an earthquake in Bam, Iran, on December 26, 2003. He was trapped under a closet and must have had access to water, an Iranian doctor told Reuters.
After being trapped for more than three days, nine miners are rescued from the Quecreek coal mine in Somerset, Pennsylvania, on July 28, 2002. They were caught in a 4-foot-high chamber 240 feet underground after breaching a wall separating their mine from an older, flooded shaft on July 24.
Genelle Guzman-McMillan is rescued from the debris of the World Trade Center 26 hours after the terrorist attack on September 11, 2001. She worked on the 64th floor of the north tower and was walking down a stairwell when the building collapsed. Her body was protected in an air pocket.
Shiran Franco, a 9-year-old Israeli girl, is rescued on August 21,1999, around 100 hours after a building collapsed on her during an earthquake in Cinarcik, Turkey. Her family had been on vacation. Shiran's twin brother, father and grandparents were found dead, but her mother survived after pulling herself from the building after 30 hours.
Three infants are pulled alive from the crumbled Benito Juarez Hospital seven days after a powerful earthquake hit the Mexican capital on September 19, 1985. With more than 10,000 people killed, the newborns became known as the "miracle babies" of Mexico City.
Sixteen people are rescued 72 days after a Uruguayan Air Force plane crashed in the Andes Mountains on October 13, 1972. They endured frigid temperatures and forced themselves to eat the flesh of dead friends to sustain themselves. A dozen of the 45 passengers on board died in the crash. Others later succumbed to their injuries.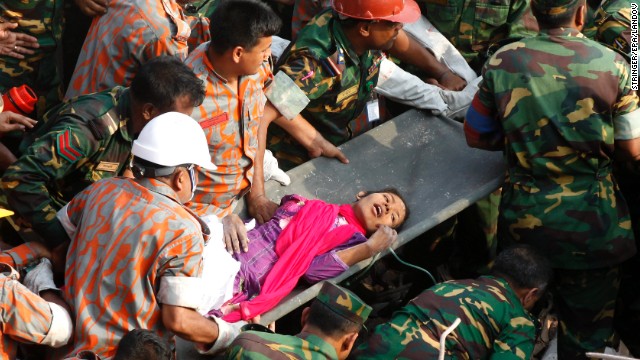 Survivors: Stories of hope amid disaster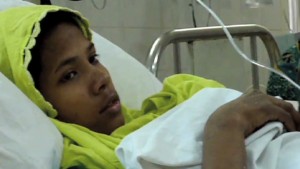 Bangladesh survivor remains in hospital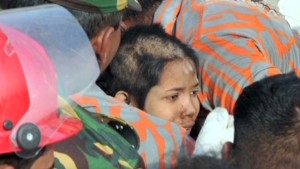 A miracle amid the rubble in Bangladesh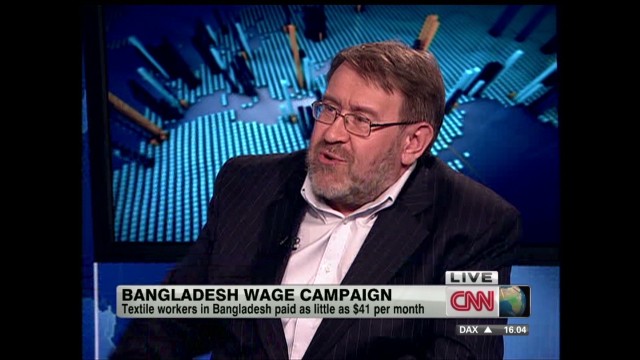 How to fix worker rights in Bangladesh
On April 24, the Rana Plaza collapse brought carnage. As each day passed, the death toll crept from the tens to the hundreds. On Friday, it had surpassed 1,000. Finding anyone alive seemed incredibly unlikely.
But then came the sound of an iron rod that Reshma had. And then her pleas.
"I'm alive," she shouted. "Please rescue me!"
The teen recalled that when the collapse of the nine-story building began, she was working on the third floor.
She managed to crawl to the basement. On the way down, some of her clothes were torn off. When she reached the basement, she found extra clothes in the garment factory. She put them on.
When cameras captured Reshma being laid on a stretcher Friday, she was wearing a bright pink scarf and a purple flowery top.
Read: Details on rescuing Reshma
Reshma is still struggling to remember everything that happened. But she said she's sure it was purely God's will that she survived.
Read: How could woman survive?
She will never go back to the factory job she started in April, she said.
The garment industry accounts for 77% of Bangladesh's exports -- a $20 billion industry for the nation. The Rana Plaza collapse, believed to be the deadliest in the history of the clothing industry in the nation, has trained an international spotlight on low pay and unsafe conditions in Bangladeshi garment factories that produce products for European and North American consumers.
The collapse occurred a day after cracks appeared in the structure of the building. Despite the danger, garment workers were told to report to work, CNN Money reported.
How much for a denim shirt in the U.S. and in Bangladesh?
The European Union, Bangladesh's largest trade partner, said last Tuesday that it was considering trade action against Bangladesh. U.S. State Department spokesman Patrick Ventrell said businesses that operated in the collapsed building "appear to have links to numerous companies in the U.S. and Europe."
He added they would work with U.S. companies on "improving working conditions, including in Bangladesh."
The Rana Plaza disaster has also prompted Bangladeshi officials to review how the garment industry operates. The owners of the factories in the plaza and the owner of the plaza have been arrested.
Tragedy spurs nationwide investigation of garment factories
Meanwhile, 100 factories in Ashulia, a suburban area near Dhaka, have been shut down for an indefinite amount of time, Shahidullah Azim, vice president of the Bangladesh Garments Manufacturers and Exporters Association, said Monday.
Also on Monday, the country's national news agency reported that the government's Cabinet approved a draft of the Bangladesh Labour Act aimed at protecting workers' rights and safety.
Cabinet Secretary M. Musharraf Hossain Bhuiyan told reporters the amendment would also "help increase productivity," according to BSS, the news agency.
Officials have also promised to reexamine how much garment workers are paid.
The news came on day 19 of the search for survivors. Authorities are reporting that 1,127 bodies have been recovered.
The army-led recovery operation is winding down, and authorities say they plan to end the recovery Tuesday.
CNN's Saeed Ahmed and Leone Lakhani reported from Bangladesh, and CNN's Ashley Fantz wrote this report in Atlanta. CNN's Elizabeth Joseph also contributed to this report.