The future of travel: From flying cars to shared vehicles
May 16, 2013 -- Updated 0216 GMT (1016 HKT)
STORY HIGHLIGHTS
Countries around the world are innovating to create new modes of transportation
From car sharing schemes and smart cities to flying cars, many possibilities within reach
Many progressive ideas come from outside of the U.S.
Editor's note: CNN contributor Andrew Keen organized and hosted an invitation-only Silicon Valley event called FutureCast. A group of entrepreneurs, investors, technologists and writers discussed the impact of the digital revolution on transportation. All this week CNN Business Traveller will bring you highlights from the debate. AT&T and Ericsson hosted the conference at the AT&T Foundry in Palo Alto.
(CNN) -- Does the best transport technology come from outside the U.S.? That was the question pondered at the FutureCast event last month. Guests from around the world were invited to guarantee that the conversation would not be too Silicon Valley centric.
Frost & Sullivan Chairman David Frigstad argued at the debate that much of the best innovation in transportation has come from outside the U.S. and even predicted that the building of what he called "a collision proof mobility system" would most likely be realized outside the United States.
"Other countries will probably get there first," Frigstad predicted of this kind of large-scale transportation project, "because some other leader will recognize this as an opportunity to revolution their economy."
Read more: Self-driving cars hit the road
As an example of non-American innovation, Frigstad spoke particularly highly about the work of Shai Agassi, the Israeli creator of the electric vehicle network Better Place which, he noted, is "far ahead" of anything created in the U.S.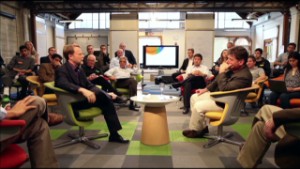 How self driving car changes everything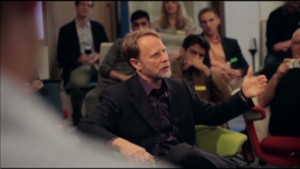 Transportation confronts its Kodak moment
But even Better Place pales in comparison to Songo, a $35 billion Korean city of the future built from the ground up.
As Bernard Moon, co-founder and general partner of the Korean-American venture fund Spark Labs noted, Songo is "basically a transportation lab where they are experimenting with various kinds of car sharing to bike sharing to water taxis and intelligent highways. Just everything."
Well perhaps not quite everything. Absent from the $35 billion Korean city of the future are flying cars.
But flying cars do actually exist. As Peter Laanan, International Trade Director at Netherlands Business Support Office, explained, they are being developed by a Dutch start-up, Pal-V.
"You need a helicopter license to drive that thing," Laanan said about the Pal-V flying car.
Read more: Transporation confronts its "Kodak moment"
But perhaps the strangest transportation innovation we learnt about at FutureCast comes from Russia. As Steve Lefever, who heads up Frost & Sullivan's Russian office, explained, car sharing exists in Moscow but with a twist.
"In Moscow you just wave down a car and they take you somewhere," Lefever told the FutureCast audience about a Russian version of the American car sharing network Sidecar.
"What's the business model?" I asked him.
"There is no business model," he said. Lefever explained about this truly collaborative Muscovite ride-sharing phenomenon: "It is individuals driving around finding individuals who need a place to go.

Today's five most popular stories
November 26, 2014 -- Updated 1110 GMT (1910 HKT)

Don't surprise Germans and stick to the agenda in Japan. What international road warriors need to know.
November 14, 2014 -- Updated 0633 GMT (1433 HKT)

Eurostar, the high-speed train company connecting London with Brussels and Paris, has just upped its game.
October 20, 2014 -- Updated 1407 GMT (2207 HKT)

Japan is set to make its mark in the skies with its first new commercial jet for over 50 years, the Mitsubishi Regional Jet, aka the MRJ.
October 4, 2014 -- Updated 0516 GMT (1316 HKT)

Think hotels are deliberately blocking your personal Wi-Fi networks so you'll buy theirs?
October 31, 2014 -- Updated 1749 GMT (0149 HKT)

How would you like to trim three hours off the current commercial jet flight time between Paris and Washington, D.C.?
October 3, 2014 -- Updated 1443 GMT (2243 HKT)

It's been a big week for makeovers in the world of aviation.
August 29, 2014 -- Updated 1525 GMT (2325 HKT)

Aviation isn't known as the most eco-friendly industry; running an airline produces an incredible amount of waste. But some are doing something about it.
August 19, 2014 -- Updated 1514 GMT (2314 HKT)

Airports aren't exactly stress-free zones, but drones, tracking and virtual reality could help make them better places.
August 12, 2014 -- Updated 0906 GMT (1706 HKT)

In many ways, airplanes are a retailer's dream come true. They serve a captive -- often bored -- audience with a disposable income.
July 30, 2014 -- Updated 1835 GMT (0235 HKT)

Takeoff on one of Airbus' new A350WXB test planes is a strangely quiet experience.