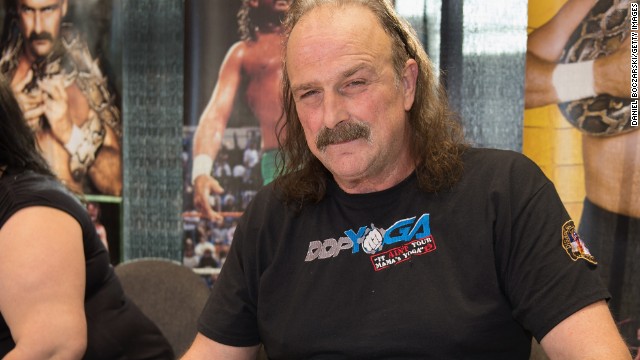 Jake "The Snake" Roberts is known for never backing down from a fight, and that now includes a battle against cancer.
According to TMZ
, the pro wrestler has a cancerous tumor behind his knee. Roberts isn't letting the news stop him, though. He's planning to have the tumor removed and then be ready to throw down March 14 for Jersey Championship Wrestling.
Famed journalist Tom Brokaw
Hugh Jackman posted a picture to Instagram in November showing his nose bandaged after his doctor found and removed a cancerous growth.
Getting a mammogram live on "Good Morning America" for cancer awareness month revealed to ABC's Amy Robach that she had breast cancer in November.
Radio personality Robin Quivers quietly battled cancer for months, but had happy news to share with "Howard Stern" listeners in September 2013. On the show, Quivers revealed that her doctors now believe she's cancer-free, after receiving treatment, including chemotherapy.
Singer Melissa Etheridge became
after being diagnosed
with stage 1 bile duct cancer in 2013.
Sharon Jones, performing here in 2011, held off plans to tour and release a new album with the Dap-Kings
some interesting insight
as to how he may have developed the throat cancer that he was diagnosed with in August 2010. Douglas later told the "Today" show that his tumor was gone.
Michael Douglas offered
Buffalo Bills Hall of Fame quarterback Jim Kelly has been
Doctors had diagnosed her
with cancer in her left breast and offered her the options of either radiation treatment and testing for the rest of her life or removal of both breasts.
Actress Christina Applegate had a bilateral mastectomy in 2008.
sat down with CNN's Elizabeth Cohen
in 2009, a year after his battle with breast cancer. The musician said he wanted to increase awareness of the fact that men can also get the disease.
KISS band member Peter Criss
joined the cast of Showtime's "The Big C,"
about a woman battling the disease, and portrayed a woman with cancer in the Broadway play "Wit" -- Nixon was diagnosed with breast cancer in 2006.
Cynthia Nixon not only
Sambolin said in May
that Angelina Jolie's New York Times opinion piece about undergoing the procedure gave her courage to share her story.
Zoraida Sambolin was diagnosed with breast cancer in April 2013, and chose to have a double mastectomy.
"Good Morning America" co-host Robin Roberts had been cancer-free for five years in 2012 after beating breast cancer when she revealed she had
spoke with CNN's Piers Morgan in 2012
about her stem cell surgery and her bout with breast cancer. She was diagnosed in 2001, which is when she began researching alternative methods to reconstructive surgery.
"Three's Company" star Suzanne Somers
Olivia Newton-John was diagnosed in 1992, and the singer has become an advocate for breast self-examination.
E! co-host Giuliana Rancic
didn't share news of her battle until 2012
, eight years after she was diagnosed with ovarian cancer.
Actress Kathy Bates
Australian singer Kylie Minogue was only 36 when she was diagnosed with breast cancer in 2005.
Celebrities and battles with cancer
Celebrities and battles with cancer
Celebrities and battles with cancer
Celebrities and battles with cancer
Celebrities and battles with cancer
Celebrities and battles with cancer
Celebrities and battles with cancer
Celebrities and battles with cancer
Celebrities and battles with cancer
Celebrities and battles with cancer
Celebrities and battles with cancer
Celebrities and battles with cancer
Celebrities and battles with cancer
Celebrities and battles with cancer
Celebrities and battles with cancer
Celebrities and battles with cancer
Celebrities and battles with cancer
Celebrities and battles with cancer
Celebrities and battles with cancer
Celebrities and battles with cancer