Berlin Barbie bummer; feminists protest Dreamhouse opening
May 15, 2013 -- Updated 1442 GMT (2242 HKT)
STORY HIGHLIGHTS
New 27,000-square-foot Barbie Dreamhouse showcases doll's Malibu lifestyle
Barbie is a bad role model for young women, say young protestors
Visitors can see 350 dolls, bake virtual cupcakes and walk a pink runway
(CNN) -- Guess it's a cultural thing.
While a Barbie-themed restaurant opening was hailed with general delight and fanfare in Taipei earlier this year, the opening of the blonde doll's new European digs is being met with quite a different reception in Germany.
Left-wing feminists are protesting the Barbie Dreamhouse Experience -- a 27,000-square-foot lifesized pink estate -- opening in Berlin on May 16.
Located off the shopping district of Alexanderplatz, the Berlin Dreamhouse is meant to show off Barbie's Malibu lifestyle.
The pink mansion is full of rooms showcasing how her makeup, kitchen and wardrobe are put together.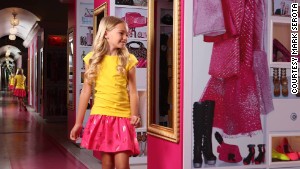 Barbie's pink digs display her extensive wardrobe and an apparent shopping addiction.
In addition to viewing 350 Barbie dolls and other displays, visitors can strut a long runway, "bake" virtual cupcakes in a pink kitchen or eat real ones in the cafe. And, of course, shell out for dolls and products in the gift shop.
Protestors from the Left Party are up in arms over the sexism and shallow materialism that they argue Barbie symbolizes.
"They present an image of cooking, primping and singing, as if it were in some way life-fulfilling," Socialist Alternative editor Michael Koschitzki, 27, told German newspaper Der Spiegel.
"The Barbie Dreamhouse is the expression of a conventional role model that isn't OK," he said.
Barbie has long been a subject of controversy -- with criticisms ranging from sexism to racism to creating body image issues for girls.
The Berlin movement has led to an "Occupy Barbie Dreamhouse" page on Facebook, which displays a cover image of a dark-haired girl saying, "I can't stand pink!" in German. The page currently has 1,761 likes and is updated every few hours.
The group behind the Facebook page has also announced it's planning a peaceful protest for opening day.
The Berlin mansion is Barbie's first Dreamhouse in Europe and will be dismantled to tour other European cities after August 25.
A U.S. Dreamhouse opened last week in a Florida shopping mall, to mixed reviews.
Barbie the Dreamhouse Experience, Voltairestraße 2a/Dircksenstraße, Berlin; +49 30 4799 7433; May 16-August 25, 2013; open 10 a.m.-8 p.m. daily; admission €15 for adults, €12 for children under 14
7 of the world's girliest hotel getaways

Part of complete coverage on
September 23, 2014 -- Updated 1007 GMT (1807 HKT)

Which cities provide the most memorable party times? A self-proclaimed "nightlife connoisseur" names his top 10.
September 22, 2014 -- Updated 0344 GMT (1144 HKT)

Whether you're looking for a post-meeting pint or a wild night out, creativity is on the menu at these hot Hong Kong venues.
September 23, 2014 -- Updated 1028 GMT (1828 HKT)

Artists and migrants are moving out as a once-crumbling neighborhood goes upscale.
September 20, 2014 -- Updated 0502 GMT (1302 HKT)

They irrigate our farms, are an important means of transport and a source of eco-friendly power.
September 19, 2014 -- Updated 0828 GMT (1628 HKT)

Open House festivals allow snooping in homes and landmarks normally closed to public
September 19, 2014 -- Updated 0422 GMT (1222 HKT)

Ancient competitions held and yurt town set up to rejuvenate nomadic cultures.
September 19, 2014 -- Updated 0102 GMT (0902 HKT)
Playful sea lions, fearless boobies and the only ocean-going lizards in the world -- these islands offer amazing experiences for naturalists and tourists alike.
September 18, 2014 -- Updated 1200 GMT (2000 HKT)

A foreign language can be the best aphrodisiac, so we traveled the world in search of the hottest accents.
September 23, 2014 -- Updated 0657 GMT (1457 HKT)

Hidden from the rest of the world for decades, Myanmar's Lethwei boxing is experiencing a revival globally.
September 17, 2014 -- Updated 1117 GMT (1917 HKT)

This aging cargo work whale makes more than 60 flights each week, carrying parts for all of the Airbus programs.
September 15, 2014 -- Updated 0026 GMT (0826 HKT)

Former brothels, public toilets and war bunkers now provide eccentric watering holes for those willing to drink deep.
September 12, 2014 -- Updated 0338 GMT (1138 HKT)

Whether filled with electric blue sulfur flames or hissing lava, these mega mountains offer incredible vistas.

Today's five most popular stories