Berlin Barbie bummer; feminists protest Dreamhouse opening
May 15, 2013 -- Updated 1442 GMT (2242 HKT)
STORY HIGHLIGHTS
New 27,000-square-foot Barbie Dreamhouse showcases doll's Malibu lifestyle
Barbie is a bad role model for young women, say young protestors
Visitors can see 350 dolls, bake virtual cupcakes and walk a pink runway
(CNN) -- Guess it's a cultural thing.
While a Barbie-themed restaurant opening was hailed with general delight and fanfare in Taipei earlier this year, the opening of the blonde doll's new European digs is being met with quite a different reception in Germany.
Left-wing feminists are protesting the Barbie Dreamhouse Experience -- a 27,000-square-foot lifesized pink estate -- opening in Berlin on May 16.
Located off the shopping district of Alexanderplatz, the Berlin Dreamhouse is meant to show off Barbie's Malibu lifestyle.
The pink mansion is full of rooms showcasing how her makeup, kitchen and wardrobe are put together.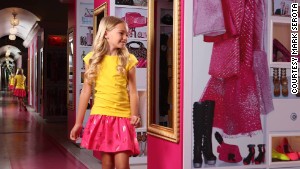 Barbie's pink digs display her extensive wardrobe and an apparent shopping addiction.
In addition to viewing 350 Barbie dolls and other displays, visitors can strut a long runway, "bake" virtual cupcakes in a pink kitchen or eat real ones in the cafe. And, of course, shell out for dolls and products in the gift shop.
Protestors from the Left Party are up in arms over the sexism and shallow materialism that they argue Barbie symbolizes.
"They present an image of cooking, primping and singing, as if it were in some way life-fulfilling," Socialist Alternative editor Michael Koschitzki, 27, told German newspaper Der Spiegel.
"The Barbie Dreamhouse is the expression of a conventional role model that isn't OK," he said.
Barbie has long been a subject of controversy -- with criticisms ranging from sexism to racism to creating body image issues for girls.
The Berlin movement has led to an "Occupy Barbie Dreamhouse" page on Facebook, which displays a cover image of a dark-haired girl saying, "I can't stand pink!" in German. The page currently has 1,761 likes and is updated every few hours.
The group behind the Facebook page has also announced it's planning a peaceful protest for opening day.
The Berlin mansion is Barbie's first Dreamhouse in Europe and will be dismantled to tour other European cities after August 25.
A U.S. Dreamhouse opened last week in a Florida shopping mall, to mixed reviews.
Barbie the Dreamhouse Experience, Voltairestraße 2a/Dircksenstraße, Berlin; +49 30 4799 7433; May 16-August 25, 2013; open 10 a.m.-8 p.m. daily; admission €15 for adults, €12 for children under 14
7 of the world's girliest hotel getaways

Today's five most popular stories
Part of complete coverage on
November 16, 2014 -- Updated 2326 GMT (0726 HKT)

Take a trip to the Chinese town that has more relics than people.
November 13, 2014 -- Updated 1742 GMT (0142 HKT)
You know about reggae and Usain Bolt -- but you probably aren't aware of these other Jamaican superlatives.
November 14, 2014 -- Updated 1152 GMT (1952 HKT)

Artist creates brilliant tribute to Dutch impressionist painter -- a cycle route that glows in the dark
November 14, 2014 -- Updated 0633 GMT (1433 HKT)

European airlines beware: These 320kph trains are upping the travel game with roomy seats and onboard wi-fi.
November 13, 2014 -- Updated 1053 GMT (1853 HKT)
For such a relatively small collection of islands, the UK packs in an phenomenal range of beautiful scenery.
November 12, 2014 -- Updated 2237 GMT (0637 HKT)

Rovos Rail's epic trips out of South Africa pamper passengers with fine dining, vintage comfort and even a bathtub.
November 18, 2014 -- Updated 0137 GMT (0937 HKT)

Self-taught Iranian photographer gains rare access to shoot religious buildings as they've never been seen.
November 11, 2014 -- Updated 0345 GMT (1145 HKT)

The subject of erotica has a way of making people uncomfortable.
November 7, 2014 -- Updated 0037 GMT (0837 HKT)

UK's Heathrow Airport pairs destinations with fragrances to evoke long distance travel. We do too.
November 6, 2014 -- Updated 2100 GMT (0500 HKT)

Bumper cars, a freefall simulator and robot bartenders are just a few of the cool features on Royal Caribbean's new Quantum of the Seas.
November 2, 2014 -- Updated 2258 GMT (0658 HKT)

Up in the mountains and across deep chasms, these bridges are both spectacular and terrifying.