Berlin Barbie bummer; feminists protest Dreamhouse opening
May 15, 2013 -- Updated 1442 GMT (2242 HKT)
STORY HIGHLIGHTS
New 27,000-square-foot Barbie Dreamhouse showcases doll's Malibu lifestyle
Barbie is a bad role model for young women, say young protestors
Visitors can see 350 dolls, bake virtual cupcakes and walk a pink runway
(CNN) -- Guess it's a cultural thing.
While a Barbie-themed restaurant opening was hailed with general delight and fanfare in Taipei earlier this year, the opening of the blonde doll's new European digs is being met with quite a different reception in Germany.
Left-wing feminists are protesting the Barbie Dreamhouse Experience -- a 27,000-square-foot lifesized pink estate -- opening in Berlin on May 16.
Located off the shopping district of Alexanderplatz, the Berlin Dreamhouse is meant to show off Barbie's Malibu lifestyle.
The pink mansion is full of rooms showcasing how her makeup, kitchen and wardrobe are put together.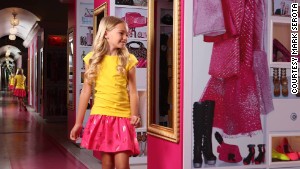 Barbie's pink digs display her extensive wardrobe and an apparent shopping addiction.
In addition to viewing 350 Barbie dolls and other displays, visitors can strut a long runway, "bake" virtual cupcakes in a pink kitchen or eat real ones in the cafe. And, of course, shell out for dolls and products in the gift shop.
Protestors from the Left Party are up in arms over the sexism and shallow materialism that they argue Barbie symbolizes.
"They present an image of cooking, primping and singing, as if it were in some way life-fulfilling," Socialist Alternative editor Michael Koschitzki, 27, told German newspaper Der Spiegel.
"The Barbie Dreamhouse is the expression of a conventional role model that isn't OK," he said.
Barbie has long been a subject of controversy -- with criticisms ranging from sexism to racism to creating body image issues for girls.
The Berlin movement has led to an "Occupy Barbie Dreamhouse" page on Facebook, which displays a cover image of a dark-haired girl saying, "I can't stand pink!" in German. The page currently has 1,761 likes and is updated every few hours.
The group behind the Facebook page has also announced it's planning a peaceful protest for opening day.
The Berlin mansion is Barbie's first Dreamhouse in Europe and will be dismantled to tour other European cities after August 25.
A U.S. Dreamhouse opened last week in a Florida shopping mall, to mixed reviews.
Barbie the Dreamhouse Experience, Voltairestraße 2a/Dircksenstraße, Berlin; +49 30 4799 7433; May 16-August 25, 2013; open 10 a.m.-8 p.m. daily; admission €15 for adults, €12 for children under 14
7 of the world's girliest hotel getaways

Today's five most popular stories
Part of complete coverage on
October 20, 2014 -- Updated 1808 GMT (0208 HKT)

The guidebook asked staff, contributors and authors for well-known and lesser-known recommendations.
October 20, 2014 -- Updated 1607 GMT (0007 HKT)

An airport in Asia has stolen the crown from Manila's Ninoy Aquino, voted 'world's worst' three years in a row.
October 21, 2014 -- Updated 1620 GMT (0020 HKT)

It's time for a beef break, veal vacation, hog holiday or sinew sabbatical in a T-bone a-fide U.S. meatopolis.
October 20, 2014 -- Updated 1319 GMT (2119 HKT)

With so many awesome new attractions on the way, the next few years are going to be a roller coaster ride.
October 17, 2014 -- Updated 0107 GMT (0907 HKT)

Scientists are busy surveying Southeast Asia's Coral Triangle, home to 75 percent of all known coral species.
October 16, 2014 -- Updated 1350 GMT (2150 HKT)

Bounce Below transforms an abandoned slate mine into a surreal, springy world of fear and fun,
October 14, 2014 -- Updated 2316 GMT (0716 HKT)

With chopsticks or fingers? Wasabi or no? A double Michelin-starred Tokyo chef sets the record straight and shows us the sushi way.
October 13, 2014 -- Updated 2224 GMT (0624 HKT)

It may look like a gateway across time and space crafted with alien technology, but in reality it's a fruit and vegetable market.
October 13, 2014 -- Updated 0925 GMT (1725 HKT)

Based on the votes of over 330 industry experts, the 2014 winners include bars from 27 cities in 14 countries.
October 12, 2014 -- Updated 2231 GMT (0631 HKT)

Careening down an active volcano at 95 kph on a thin board? It happens only at Cerro Negro in Nicaragua.