Belize deputy PM calls for prosecutions in pyramid destruction
May 15, 2013 -- Updated 2149 GMT (0549 HKT)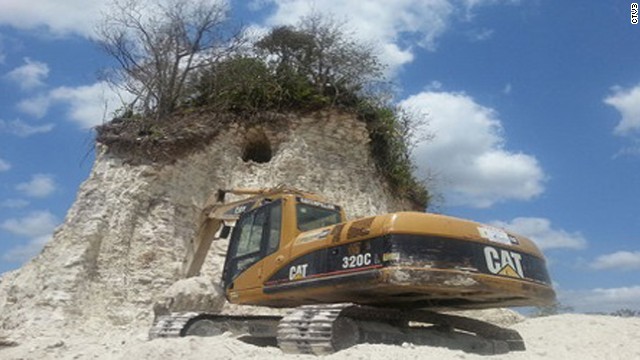 The 2,300-year-old Mayan pyramid at Noh Mul was destroyed to make fill for roads in Belize, local media report.
The limestone from which the pyramid is made is prized by local contractors for building and repairing.
The pyramid was overgrown with trees and shrubs, but archeologist John Morris said there was no mistaking the structure. The willful destruction of ancient sites or monuments carries a penalty of 10 years in prison or a $10,000 fine.
Archeologists in the area are outraged and hope to salvage artifacts from the rubble.
The pyramid, which stood 65 feet tall, was built around 250 B.C. with hand-cut limestone bricks. The pyramid probably contained living quarters as well as tombs for local residents.
Ancient pyramid destroyed for gravel
Ancient pyramid destroyed for gravel
Ancient pyramid destroyed for gravel
Ancient pyramid destroyed for gravel
Ancient pyramid destroyed for gravel
STORY HIGHLIGHTS
2,300-year-old Mayan pyramid ripped up for road fill
Tourism board alleges involvement by government officials
Tourism and culture ministy says full investigation ordered
(CNN) -- The deputy prime minister of Belize is calling for full prosecution of those responsible for destroying a 2,300-year-old Mayan pyramid to turn it into rock for roads.
"All those found responsible for the destruction of this site should be persecuted to the full extent of the law," read a statement from the office of Gaspar Vega, who is also the representative for the Orange Walk area in northern Belize where the Noh Mul pyramid was destroyed last week.
Only a small chunk of the pyramid, which stood about 65 feet tall and was the center of a settlement of about 40,000 people in 250 B.C., remains after backhoes and bulldozers began removing the limestone slabs with which it was built last week. The pyramid stood on private land.
The limestone is favored for building roads in the area, and the local chapter of the Belize Tourism Industry Association alleged in a statement that local government officials have been complicit in the destruction of ancient sites like Noh Mul.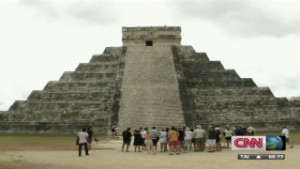 Mayan pyramid bulldozed to make gravel
"Noh Mul had been one of the ancient monuments with the greatest tourism development potential in northern Belize," the association said. "Unfortunately, such progress has been severely hampered due to the ignorance and greed of certain individuals."
"More sites have been destroyed in Orange Walk by the Ministry of Works and others for road fill material than in any other part of the country," the association said it was told by an unnamed senior government official.
In his statement, Vega denied any involvement.
"Minister Vega also emphatically repudiates the allegation and or perception that he was involved in any way with the destruction of the Noh Mul," the statement read.
In a separate statement, Belize's Ministry of Tourism & Culture said it had commissioned a full investigation of the Noh Mul destruction, calling it "callous, ignorant and unforgivable."
"Cultural landmarks such as Noh Mul are sacred artifacts of Belizean history and should be protected at all costs. This expressed disdain for our laws and policies is incomprehensible," the ministry statement said.
Archeologists had similar words for what happened to the pyramid.
"This is one of the worst that I have seen in my entire 25 years of archaeology in Belize," John Morris, an archaeologist with the country's Institute of Archaeology, told local channel 7NewsBelize. "We can't salvage what has happened out here -- it is an incredible display of ignorance."
The institute's director, Jaime Awe, called the destruction "one of the worse set of blows I have felt philosophically and professionally."
Archaeologists said they would ask police to take action against both the landowner and contractor, according to local media reports.
"It is against the law; it is against the nature act to willfully destroy an ancient monument," Awe told News5 in Belize. "Any willful destruction of an ancient site or monument has penalties of 10 years' imprisonment or $10,000 for this kind of destruction."

Part of complete coverage on
December 4, 2013 -- Updated 1338 GMT (2138 HKT)

Bolshoi Ballet artistic director Sergei Filin says no jail term for his attackers can give him back what he has lost: His eyesight.
December 4, 2013 -- Updated 1953 GMT (0353 HKT)

Michael Morton spent a quarter of a century in jail for killing his wife -- a crime he didn't commit.
December 4, 2013 -- Updated 1535 GMT (2335 HKT)
A fire that engulfed Paul Walker's Porsche did not erupt until a minute after the car crashed.
December 4, 2013 -- Updated 1236 GMT (2036 HKT)

When you've stood at the edge of space, regular life is always going to be a bit of a comedown.

Tensions between China and Japan are at their worst in half a century, the former top U.S. State Department official for East Asia told CNN's Amanpour.

Whatever business is generated in the West Bank seems to be derailed by the stalemate in peace talks and sporadic violence.
December 4, 2013 -- Updated 1048 GMT (1848 HKT)

How did an ex-mining town in northern France become an art haven?
December 4, 2013 -- Updated 1207 GMT (2007 HKT)

These photographic nuptials will either inspire, or mock, your own.

CNN's Amanda Davies gives her impression of the German Formula One racing driver and world champion.
December 3, 2013 -- Updated 1643 GMT (0043 HKT)

Heather Abbott is walking in four-inch heels seven months after losing her left leg in the Boston marathon bombing.
December 4, 2013 -- Updated 1208 GMT (2008 HKT)

Taking pot shots at Amazon's delivery drone ... CNN's Jeanne Moos reports on tickling the drone's funny bone.

Today's five most popular stories