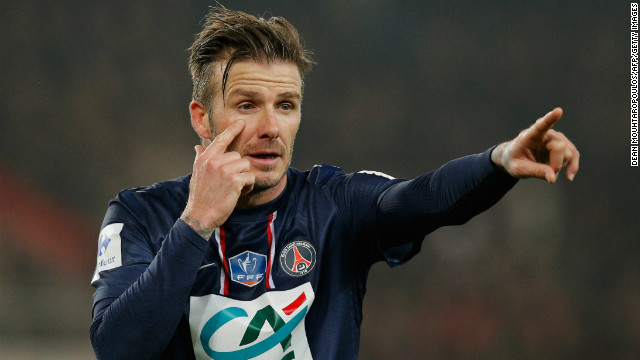 David Beckham made an immediate impact at Paris Saint-Germain, with victories in his first two appearances against French rivals Marseille.
He was unveiled at the Parc des Princes on the final day of the January 2013 transfer window, and announced that he will donate the pay he receives during his five-month contract to a children's charity in Paris.
Beckham celebrated his second MLS Cup success with Los Angeles Galaxy in December 2012, when he decided to leave with a year left on his contract as he sought one final career challenge in Europe.
David Beckham made his debut for English Premier League team Manchester United in 1993. By 1996, the midfielder was becoming renowned for his ability to score and create goals with his now legendary right foot. In a match against Wimbledon, Beckham stunned football fans by scoring from the halfway line.
Beckham swiftly progressed into the England team and was part of Glenn Hoddle's squad for the 1998 World Cup in France. In a second-round match against Argentina, Beckham was sent off for kicking out at Diego Simeone. England lost the match on penalties and were eliminated, with Beckham becoming a hate figure for some fans.
Beckham rebuilt his reputation and in 1999 was a key part of the Manchester United team which became the first English club to win the Premier League, FA Cup and European Champions League in the same season. The Old Trafford side, led by Alex Ferguson, secured the treble thanks to a stunning late comeback against Bayern Munich in the Champions League final.
Beckham's redemption was complete in 2000, when caretaker England manager Peter Taylor made him captain of the national team. He retained the role under Sven-Goran Eriksson, leading England at the 2002 and 2006 World Cups and the 2004 European Championships.
In 2003, after a turbulent final few months at United which involved Ferguson accidentally kicking a boot at Beckham, he joined Real Madrid's "Galacticos".
But Beckham's spell in Madrid didn't produce the trophy rush he had hoped for. His sole title came in 2007, under future England manager Fabio Capello, thanks to a win against Real Mallorca on the final day of the season.
Beckham made the switch to Los Angeles Galaxy in the U.S.'s Major League Soccer in 2007. His stated aim was to raise the profile of soccer in the country.
Four years after heading to the States, Beckham finally won the MLS Cup with Galaxy last season. Galaxy beat Houston Dynamo 1-0 in the final thanks to a goal from Landon Donovan.
Off the pitch, Beckham is famous for being one half of one of the world's most high-profile couples. He started dating Victoria Adams of British pop group Spice Girls in 1997. The pair married in 1999 and have four children, son Brooklyn, Romeo and Cruz and daughter Harper Seven.
Football fans wear masks depicting Beckham at the London 2012 Olympics. He was not picked for the GB team, but played a big role in his hometown being awarded the Games.
The career of David Beckham
Paris plan
Leaving LA
On the rise
Red mist
Treble
Redemption
Beckham's Real deal
Golden goodbye
Reborn in the USA
Glory with Galaxy
Posh and Becks
London lad
STORY HIGHLIGHTS
Former England captain David Beckham retires from football
The midfielder played 115 times for his country between 1996 and 2009
Beckham played for Manchester United, Real Madrid, AC Milan and LA Galaxy
The 38-year-old most recently played for French champions Paris Saint-Germain
Can you "bend it" like Beckham? Pay tribute to the footballer by recreating the move that made him famous.
(CNN) -- End it like Beckham. One of the most iconic football stars of his generation, David Beckham is to retire at the end of the season to bring down the curtain on a glittering career.
As well as winning over 100 caps for his England and lifting 19 trophies in two different continents, it was his ability to maximize the power of the "Beckham brand" that allowed the footballer to transcend his sport and appeal to a worldwide mass audience.
Beckham's marriage to former Spice Girl and fashion designer, Victoria, probably helped as well.
"Brand Beckham is dead, long live Brand Beckham!" sports business expert Simon Chadwick told CNN. "Beckham's transition from athlete commodity to sporting statesman and entrepreneur is now complete."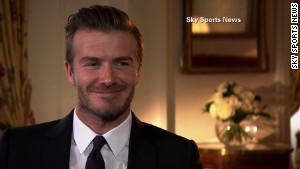 Beckham: I want to go out on top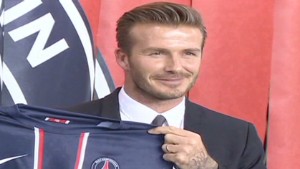 David Beckham calls it a career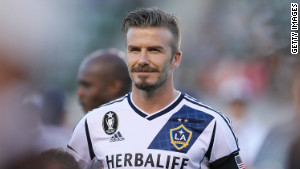 2011: Beckham: I always want to win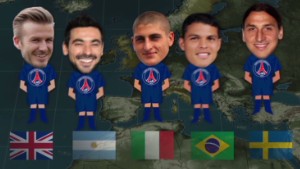 PSG: One year on
This year, Beckham became the first ever sportsman from outside of China to be invited to become the ambassador for the sport in the country.
He is estimated to be Britain's wealthiest sportsman, earning in excess of $46 million a year, according to France Football magazine.
"I wouldn't have achieved what I have done today without my family," said Beckham in a statement. "I'm grateful for my parents' sacrifice, which made me realise my dreams.
"I owe everything to Victoria and the kids, who have given me the inspiration and support to play at the highest level for such a long period."
Beckham's decision to retire comes days after the 38-year-old won his latest title with French club Paris Saint-Germain.
"I'm thankful to PSG for giving me the opportunity to continue but I feel now is the right time to finish my career, playing at the highest level," added Beckham.
The Englishman, who won the Champions League with Manchester United in 1999, also won league titles with Real Madrid and Los Angeles Galaxy before arriving in the French capital earlier this year after signing a short-term contract.
"If you had told me as a young boy I would have played for and won trophies with my boyhood club Manchester United, proudly captained and played for my country over one hundred times and lined up for some of the biggest clubs in the world, I would have told you it was a fantasy," said Beckham.
"I'm fortunate to have realized those dreams."
Despite playing for some of the world's top clubs, Beckham singled out captaining his country as one of his "proudest achievements".
"I knew every time I wore the Three Lions shirt, I was not only following in a long line of great players, I was also representing every fan that cared passionately about their country," said Beckham, who won 115 caps for England.
"I'm honoured to represent England both on and off the pitch. I want to thank all my team-mates, the great managers that I had the pleasure of learning from.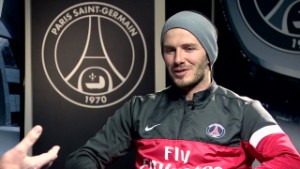 David Beckham's life in Paris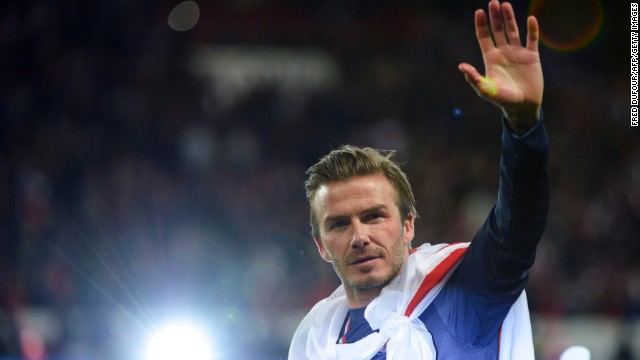 David Beckham waves after his team Paris St. Germain played Brest in his final home match in Paris on Saturday, May 18. Beckham signed on with the team just a few months ago, and now he is retiring. Click through for a look back at Beckham through the years.
Beckham poses with Paris Saint-Germain President Nasser Al-Khelaifi, left, and PSG sports director Leonardo during a press conference announcing his new gig in January 2013.
Beckham makes his England debut at a World Cup Europe Qualifying Round Group 2 match against Moldova in 1996.
Beckham celebrates his goal in the 1998 World Cup Finals versus Colombia in 1998.
Becks as a member of Manchester United cools down during the FA Charity Shield match against Arsenal at Wembley Stadium in London in 1998.
At the 1998 World Cup in France, in a second-round match against Argentina, Beckham was sent off for kicking out at Diego Simeone. England lost the match on penalties and was eliminated, with Beckham becoming a hate figure for some fans.
Beckham poses after a press conference in Awaji-shima Island, Japan, in 2002.
Beckham poses with Beyonce, left, and Jennifer Lopez during a presentation of the new Pepsi "Samourai" in Madrid in 2004.
Becks waves after a la Liga match between Real Madrid and Deportivo La Coruna in Madrid in 2007.
The midfielder celebrates with his sons in 2007 after Real Madrid won the Spanish League title by beating Mallorca.
Beckham makes an appearance to promote his fragrance "David Beckham Intimately Night" in Sydney in 2007.
Beckham reveals his new No. 32 Adidas jersey as part of an announcement of the start of his loan move to AC Milan from the Los Angeles Galaxy in 2008.
Beckham controls the ball during the 2010 FIFA World Cup qualifier of European Group 6.
Beckham unveils the new Emporio Armani underwear ad campaign for the fall/winter of 2009-2010.
Beckham, No. 23 of the Los Angeles Galaxy soccer team, walks toward the line judge to have a chat during Game 1 of the MLS Western Conference Semifinals against Chivas USA in 2009.
Becks arrives at Sydney International Airport in 2010.
David and Victoria Beckham arrive at the wedding of Prince William and Kate Middleton at Westminster Abbey in 2011.
The Beckhams attend the Vanity Fair Oscar Party in West Hollywood, California, in 2012.
Beckham celebrated his second MLS Cup success with the Los Angeles Galaxy in December 2012, when he decided to leave with a year left on his contract as he sought one final career challenge in Europe.
Beckham passes under Tower Bridge in a speedboat which carries the Olympic Torch and its torchbearer in 2012.
Beckham acts as England's captain during the 2004 European Nations Championship football match against Croatia in Lisbon, Portugal.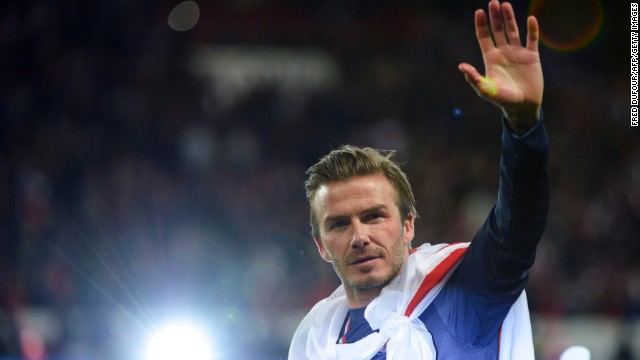 David Beckham through the years
"I also want to thank the fans who have all supported me and given me the strength to succeed.''
Beckham had the chance to join PSG in January 2012, but opted to stay in the U.S., ending his American mission with his second MLS Cup title before announcing that he would not fulfill the second year of his contract extension.
"Nothing will ever completely replace playing the game I love, however I feel like I'm starting a new adventure and I'm genuinely excited about what lies ahead," said Beckham.
"I'm fortunate to have been given many opportunities throughout my career and now I feel it's my time to give back."
Many of Beckham's former teammates and managers spoke of the positive impact his professionalism had on the clubs he played for.
"He was a great teammate and a role model for young players," said LA Galaxy Bruce Arena. "He had achieved so much, but wanted to keep on achieving."
Read: Beckham speaks of sacrifice
But former PSG winger David Ginola told CNN that he had had a conversation with Beckham a few weeks ago when the Englishman confided he had begun to question his fitness to play at the highest level.
Not that Beckham's playing career is quite over -- yet.
French Champions PSG's last two games are against Brest at the Parc des Princes in the French capital on Saturday and at Lorient the following Sunday.
Read: Beckham to donate PSG wages to children's charity
Meanwhile on Twitter, messages of congratulations poured in from some of his former teammates and clubs and even politicians.
"Best wishes as David #BeckhamRetires His magical free kicks for @MUFC and England will live long in the memory of all football fans," tweeted British Prime Minister David Cameron.