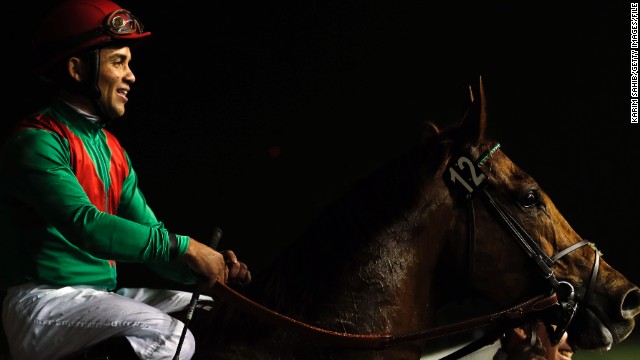 Introducing Joel Rosario. The top jockey in the United States, if not the world, will be one to watch at Saturday's Preakness Stakes.
The 28-year-old stormed to victory at the Kentucky Derby earlier this month -- the first race in America's prestigious Triple Crown. Rosario is trying to become the first jockey in 11 years to take the treble.
He has already won the world's richest race, the Dubai World Cup, and is now the favorite to win Preakness. Yet growing up in the Dominican Republic, he had very different sporting dreams...
As a boy he had hoped to be a professional baseball player, until his family convinced him to take up horse racing due to his diminutive stature. Today he is the only Dominican to have ever won the Kentucky Derby (pictured).
Rosario's success at the Dubai World Cup in March catapulted him onto the international stage. "I never thought I was going to win Dubai," the softly spoken jockey told CNN.
The hype surrounding Rosario is now at fever pitch, with many describing him as the most talented jockey to come along in more than two decades. Will his baseball-mad country also embrace its new sporting golden boy?
Here comes your man
Derby drama
Muddy mayhem
Rosario's 'Run for the Roses'
World stage
Media Storm
STORY HIGHLIGHTS
Baseball-mad Dominican Republic's sporting hero isn't who you'd think
Introducing Joel Rosario: America's top jockey, already won over $13 million this year
After winning prestigious Kentucky Derby, he eyes Saturday's Preakness Stakes
Rosario could be the first jockey in 11 years to win the U.S. Triple Crown
Editor's note: Winning Post is CNN's monthly horse racing show. Click here for program times and latest features.
(CNN) -- The best jockey in America, if not the world, is talking about a sport close to his heart -- baseball.
For a man who has just scooped the most prestigious horse race in the U.S. -- the Kentucky Derby -- Joel Rosario seems almost reluctant to talk about life on the track.
But get him onto baseball, and it's a whole other ball game for the all-conquering rider from the Dominican Republic -- a Caribbean island nation that has just one racing venue.
"I like to be a jockey. But I love baseball," the softly spoken 28-year-old told CNN.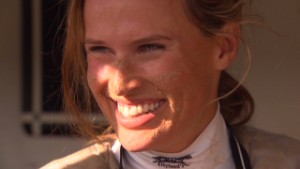 How does it feel to race on dirt?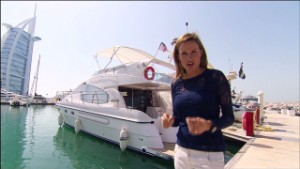 The richest day of horse racing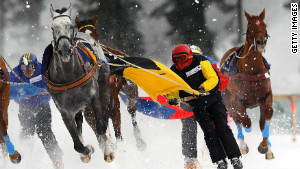 Man + horse + skis = ??
"Growing up I played a lot of baseball. But I was small and didn't weigh much. My family thought maybe I could be a jockey, so when I was 12 my half-brother took me to a jockey school."
Small stature, giddy heights
Fast forward 15 years and Rosario is now one of the most successful jockeys on the planet, in the space of just five weeks winning titles his counterparts spend a lifetime chasing.
The Latin American, who moved to the U.S. when he was 20, was catapulted to international stardom in March after winning the world's richest race, the $10 million Dubai World Cup, atop thoroughbred Animal Kingdom.
Read: Dubai World Cup -- space-age skyscrapers and sheiks
Weeks later he was kissing another coveted trophy, the Kentucky Derby, after conquering the mud-splattered Churchill Downs race course on three-year-old colt, Orb.
Notching up almost $14 million in prize money this year alone, Rosario has finished in the top three places in a remarkable 57% of his races.
"There's no doubt he's the best jockey in the U.S. today," said jockey agent Ron Anderson, who has been in the business 40 years and worked with such riding legends as Gary Stevens.
"He's one of those riders that only comes along every 25 years. He's so tremendously strong and has so much in rhythm with the horse -- it's almost like an instinct."
Triple Crown dreams
A jockey hasn't won America's prestigious Triple Crown -- which includes the Kentucky Derby, Preakness Stakes and Belmont Stakes -- in over a decade.
Rosario may be just the man to break that drought.
After scooping Kentucky -- the first race in the Triple Crown -- earlier this month, the hype surrounding him has reached a deafening pitch.
This Saturday all eyes will be on Rosario and wonder horse Orb as they attempt to take the second race in the coveted treble -- the Preakness Stakes.
They are the bookmakers' favorites to win, but Rosario remains a calm island in the middle of the media storm.
Growing up I played a lot of baseball. But I was small and didn't weigh much. My family thought maybe I could be a jockey
Joel Rosario
Read: Top five gambling stories of all time
"The Triple Crown is the biggest achievement in U.S. horse racing and just to win the first race is something very special to me," he said.
"Am I going to win on Saturday? I'm not sure. But I'm confident racing, and my horse has a good chance."
Cool, calm, collected
"Good chance" is an understatement. But it's also indicative of Rosario's remarkably relaxed attitude to racing.
While other jockeys wake at dawn and spend entire days at the stables, Rosario prefers to play his beloved baseball or golf in the afternoons.
The country's top earning jockey usually wakes around 7 a.m., trains for a few hours, races, and plays sport with his friends when he can.
"He's a very humble person, he doesn't think the sport revolves him," said Anderson.
"Anyone who does something 365 days a year might not be quite as good as they'd like. This is a different mindset -- it's about trying to keep fresh and excited about racing."
Ball games
That's not to say Rosario hasn't worked hard to get where he is.
But you get the feeling that if he'd had been just that little bit taller, he would have chosen professional baseball instead of the track.
"Every boy in the Dominican Republic plays baseball. And everyone thinks they're going to play professionally," said Anderson.
"They play it every day of the year. They get out of school and play it until it gets dark. So baseball is really embedded in the national psyche."
Read: The forgotten godfathers of black American sport
Growing up on a farm, Rosario was just five years old when he started riding horses. But it wasn't until he started jockey school that he first laid eyes on the country's one and only race track.
Once he did, he was focused on success, moving to San Francisco and working his way up to the top circuits.
Today he is the only jockey from the Dominican Republic to win the Kentucky Derby -- doing so just weeks after his nation also won the World Baseball Classic.
Now it seems that for the very first time, the country's most famous sports star may not be from the ball park after all.