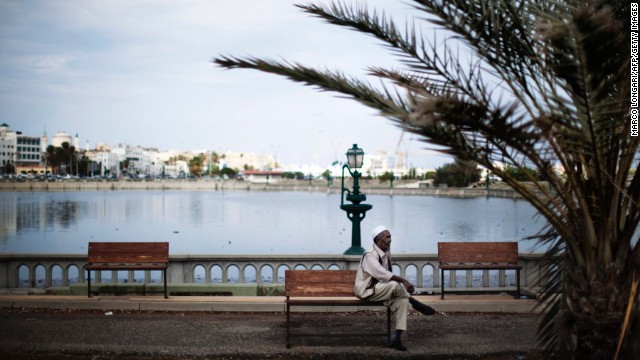 A man sits on a bench next to an artificial lake between the waterfront and Tripoli's iconic Martyrs' Square, formerly Green Square, on October 5, 2011.
A man inspects his fishing net in the port of Tripoli on November 3.
Muslims in Benghazi pray on November 6, 2011, the first day of Eid al-Adha, marking the end of the hajj pilgrimage to Mecca.
People ride motorcycles during the inauguration of the Libyan Motorcycles Association, the first of its kind for youth entertainment, in Benghazi on September 17.
Children walk past a stall at the Rashid Street market in the center of Tripoli on August 29, 2011.
A young man jumps into the waters of the Mediterranean Sea off the coast of Tripoli on April 30, 2012.
A vendor sells potatoes at the Rashid Street market in Tripoli on August 29, 2011.
A man relaxes in the vapor room of the Darguth Turkish bath in Tripoli on October 6, 2011.
Children climb the crumbling walls of a castle in the central western town of Brak on March 15.
A woman walks past graffiti in downtown Tripoli on October 24, 2011.
Mahamade Alsharif stands outside a house in Brak on March 15.
A man relaxes on the patio outside a mosque in Tripoli on October 26, 2011.
A security worker walks by an oil drill on March 23 at the al-Ghani oil field, owned by the Harouge Oil Operations company, near the city of Waddan.
Another side of Libya
Another side of Libya
Another side of Libya
Another side of Libya
Another side of Libya
Another side of Libya
Another side of Libya
Another side of Libya
Another side of Libya
Another side of Libya
Another side of Libya
Another side of Libya
Another side of Libya