Pilot training blamed for Bali airliner crash
May 16, 2013 -- Updated 0519 GMT (1319 HKT)
STORY HIGHLIGHTS
Preliminary report did not outline cause of the Bali crash
Issued several safety recommendations to Lion Air around pilot training
Plane missed runway, landed in water in April
(CNN) -- A preliminary investigation report into last month's Lion Air crash into the sea off Bali has called on the budget carrier to implement several safety and pilot training recommendations.
The report by Indonesia's National Transportation Safety Committee found the 24-year-old co-pilot, with 1,200 hours flying experience, could not see the runway upon approach and handed controls to the pilot at an altitude of 150 feet (45 meters) moments before the crash.
The plane, a Boeing 737-800 manufactured in February and only used by Lion Air since March, was found to be airworthy and had only 142 hours of flying time.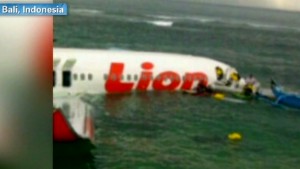 Plane misses runway
It missed the runway, landing on the sea just off Bali's international airport on April 13. The plane was carrying 101 passengers and seven flight crew. All were evacuated and four passengers were treated for serious injuries.
READ: Passengers escape water landing
The committee's report issued safety recommendations to the airline in order to ensure pilots were trained to follow correct procedure in handing over flight controls during critical moments and times. It also called on the airline to "review the policy and procedures regarding the risk associated with changeover of control at critical altitudes or critical times."
The altitude at which the co-pilot handed control of the plane to his colleague was below the minimum altitude considered safe to continue final descent.
The preliminary report did not indicate the exact cause of the crash, stating that the plane had maintained a constant course.
The airline, which operates under the official name Lion Mentari, is banned from European airspace due to safety concerns, according to the European Union.
Lion Air was a domestic airline virtually unknown outside of the archipelago nation of 6,000 inhabited islands until it struck two of the world's biggest ever aircraft orders.
In late 2011, Boeing made its largest single aviation sale -- 230 planes totaling $21.7 billion -- to Lion Air. In March this year it inked a deal with Airbus for 234 planes, totaling $24 billion.
Lion Air first took to the skies in 2000.

Today's five most popular stories
Part of complete coverage on
October 20, 2014 -- Updated 1808 GMT (0208 HKT)

The guidebook asked staff, contributors and authors for well-known and lesser-known recommendations.
October 20, 2014 -- Updated 1607 GMT (0007 HKT)

An airport in Asia has stolen the crown from Manila's Ninoy Aquino, voted 'world's worst' three years in a row.
October 21, 2014 -- Updated 1620 GMT (0020 HKT)

It's time for a beef break, veal vacation, hog holiday or sinew sabbatical in a T-bone a-fide U.S. meatopolis.
October 20, 2014 -- Updated 1319 GMT (2119 HKT)

With so many awesome new attractions on the way, the next few years are going to be a roller coaster ride.
October 17, 2014 -- Updated 0107 GMT (0907 HKT)

Scientists are busy surveying Southeast Asia's Coral Triangle, home to 75 percent of all known coral species.
October 16, 2014 -- Updated 1350 GMT (2150 HKT)

Bounce Below transforms an abandoned slate mine into a surreal, springy world of fear and fun,
October 14, 2014 -- Updated 2316 GMT (0716 HKT)

With chopsticks or fingers? Wasabi or no? A double Michelin-starred Tokyo chef sets the record straight and shows us the sushi way.
October 13, 2014 -- Updated 2224 GMT (0624 HKT)

It may look like a gateway across time and space crafted with alien technology, but in reality it's a fruit and vegetable market.
October 13, 2014 -- Updated 0925 GMT (1725 HKT)

Based on the votes of over 330 industry experts, the 2014 winners include bars from 27 cities in 14 countries.
October 12, 2014 -- Updated 2231 GMT (0631 HKT)

Careening down an active volcano at 95 kph on a thin board? It happens only at Cerro Negro in Nicaragua.