Pilot training blamed for Bali airliner crash
May 16, 2013 -- Updated 0519 GMT (1319 HKT)
STORY HIGHLIGHTS
Preliminary report did not outline cause of the Bali crash
Issued several safety recommendations to Lion Air around pilot training
Plane missed runway, landed in water in April
(CNN) -- A preliminary investigation report into last month's Lion Air crash into the sea off Bali has called on the budget carrier to implement several safety and pilot training recommendations.
The report by Indonesia's National Transportation Safety Committee found the 24-year-old co-pilot, with 1,200 hours flying experience, could not see the runway upon approach and handed controls to the pilot at an altitude of 150 feet (45 meters) moments before the crash.
The plane, a Boeing 737-800 manufactured in February and only used by Lion Air since March, was found to be airworthy and had only 142 hours of flying time.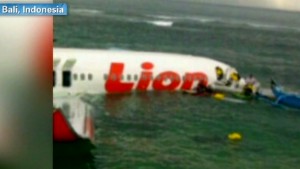 Plane misses runway
It missed the runway, landing on the sea just off Bali's international airport on April 13. The plane was carrying 101 passengers and seven flight crew. All were evacuated and four passengers were treated for serious injuries.
READ: Passengers escape water landing
The committee's report issued safety recommendations to the airline in order to ensure pilots were trained to follow correct procedure in handing over flight controls during critical moments and times. It also called on the airline to "review the policy and procedures regarding the risk associated with changeover of control at critical altitudes or critical times."
The altitude at which the co-pilot handed control of the plane to his colleague was below the minimum altitude considered safe to continue final descent.
The preliminary report did not indicate the exact cause of the crash, stating that the plane had maintained a constant course.
The airline, which operates under the official name Lion Mentari, is banned from European airspace due to safety concerns, according to the European Union.
Lion Air was a domestic airline virtually unknown outside of the archipelago nation of 6,000 inhabited islands until it struck two of the world's biggest ever aircraft orders.
In late 2011, Boeing made its largest single aviation sale -- 230 planes totaling $21.7 billion -- to Lion Air. In March this year it inked a deal with Airbus for 234 planes, totaling $24 billion.
Lion Air first took to the skies in 2000.

Today's five most popular stories
Part of complete coverage on
November 24, 2014 -- Updated 0118 GMT (0918 HKT)

These quirky and beautiful subway stops make standing cheek-to-cheek with 45 strangers almost seem fun.
November 21, 2014 -- Updated 1314 GMT (2114 HKT)

Luxury vintage Land Rover tours explore Bedouin backwaters without bashing up precious dunes.
November 20, 2014 -- Updated 0250 GMT (1050 HKT)

Cities around the world have closed the brew gap, but the Oregon city's innovative scene continues to lead the beer parade.
November 19, 2014 -- Updated 2249 GMT (0649 HKT)

From gourmet hotdogs to Sevillian tapas, the food served in these London restaurants is worth lining up for.
November 20, 2014 -- Updated 1545 GMT (2345 HKT)

Plans are underway to build the world's tallest -- and quite possibly most terrifying -- roller coaster at an Orlando, Florida, theme park due to open in 2017.
November 18, 2014 -- Updated 1932 GMT (0332 HKT)

The 7th Annual Cruise Critic Editors' Picks Awards highlight the top cruise lines for North American travelers in 18 categories.
November 19, 2014 -- Updated 0206 GMT (1006 HKT)

Joining the ranks of pilgrims tackling Adam's Peak rewards with a spiritual awakening, or at least a stunning sunrise.
November 18, 2014 -- Updated 1313 GMT (2113 HKT)

Beautifully designed travel document reveals image of Northern Lights when placed under UV light.
November 18, 2014 -- Updated 0525 GMT (1325 HKT)

New concept offering luxury rooms in ancient dwellings helps spare beautiful villages from falling into ruin.
November 21, 2014 -- Updated 2247 GMT (0647 HKT)

Are you the butcher or the cattle? Tainted meat-obsessed fans are following the tracks of their favorite "Walking Dead" survivors.
November 17, 2014 -- Updated 0521 GMT (1321 HKT)

People never cease to find amazing ways to make water more incredible than it already is. Here are some powerful examples