Pilot training blamed for Bali airliner crash
May 16, 2013 -- Updated 0519 GMT (1319 HKT)
STORY HIGHLIGHTS
Preliminary report did not outline cause of the Bali crash
Issued several safety recommendations to Lion Air around pilot training
Plane missed runway, landed in water in April
(CNN) -- A preliminary investigation report into last month's Lion Air crash into the sea off Bali has called on the budget carrier to implement several safety and pilot training recommendations.
The report by Indonesia's National Transportation Safety Committee found the 24-year-old co-pilot, with 1,200 hours flying experience, could not see the runway upon approach and handed controls to the pilot at an altitude of 150 feet (45 meters) moments before the crash.
The plane, a Boeing 737-800 manufactured in February and only used by Lion Air since March, was found to be airworthy and had only 142 hours of flying time.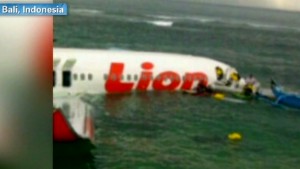 Plane misses runway
It missed the runway, landing on the sea just off Bali's international airport on April 13. The plane was carrying 101 passengers and seven flight crew. All were evacuated and four passengers were treated for serious injuries.
READ: Passengers escape water landing
The committee's report issued safety recommendations to the airline in order to ensure pilots were trained to follow correct procedure in handing over flight controls during critical moments and times. It also called on the airline to "review the policy and procedures regarding the risk associated with changeover of control at critical altitudes or critical times."
The altitude at which the co-pilot handed control of the plane to his colleague was below the minimum altitude considered safe to continue final descent.
The preliminary report did not indicate the exact cause of the crash, stating that the plane had maintained a constant course.
The airline, which operates under the official name Lion Mentari, is banned from European airspace due to safety concerns, according to the European Union.
Lion Air was a domestic airline virtually unknown outside of the archipelago nation of 6,000 inhabited islands until it struck two of the world's biggest ever aircraft orders.
In late 2011, Boeing made its largest single aviation sale -- 230 planes totaling $21.7 billion -- to Lion Air. In March this year it inked a deal with Airbus for 234 planes, totaling $24 billion.
Lion Air first took to the skies in 2000.

Part of complete coverage on
September 23, 2014 -- Updated 1007 GMT (1807 HKT)

Which cities provide the most memorable party times? A self-proclaimed "nightlife connoisseur" names his top 10.
September 22, 2014 -- Updated 0344 GMT (1144 HKT)

Whether you're looking for a post-meeting pint or a wild night out, creativity is on the menu at these hot Hong Kong venues.
September 23, 2014 -- Updated 1028 GMT (1828 HKT)

Artists and migrants are moving out as a once-crumbling neighborhood goes upscale.
September 20, 2014 -- Updated 0502 GMT (1302 HKT)

They irrigate our farms, are an important means of transport and a source of eco-friendly power.
September 19, 2014 -- Updated 0828 GMT (1628 HKT)

Open House festivals allow snooping in homes and landmarks normally closed to public
September 19, 2014 -- Updated 0422 GMT (1222 HKT)

Ancient competitions held and yurt town set up to rejuvenate nomadic cultures.
September 19, 2014 -- Updated 0102 GMT (0902 HKT)
Playful sea lions, fearless boobies and the only ocean-going lizards in the world -- these islands offer amazing experiences for naturalists and tourists alike.
September 18, 2014 -- Updated 1200 GMT (2000 HKT)

A foreign language can be the best aphrodisiac, so we traveled the world in search of the hottest accents.
September 23, 2014 -- Updated 0657 GMT (1457 HKT)

Hidden from the rest of the world for decades, Myanmar's Lethwei boxing is experiencing a revival globally.
September 17, 2014 -- Updated 1117 GMT (1917 HKT)

This aging cargo work whale makes more than 60 flights each week, carrying parts for all of the Airbus programs.
September 15, 2014 -- Updated 0026 GMT (0826 HKT)

Former brothels, public toilets and war bunkers now provide eccentric watering holes for those willing to drink deep.
September 12, 2014 -- Updated 0338 GMT (1138 HKT)

Whether filled with electric blue sulfur flames or hissing lava, these mega mountains offer incredible vistas.

Today's five most popular stories