Pilot training blamed for Bali airliner crash
May 16, 2013 -- Updated 0519 GMT (1319 HKT)
STORY HIGHLIGHTS
Preliminary report did not outline cause of the Bali crash
Issued several safety recommendations to Lion Air around pilot training
Plane missed runway, landed in water in April
(CNN) -- A preliminary investigation report into last month's Lion Air crash into the sea off Bali has called on the budget carrier to implement several safety and pilot training recommendations.
The report by Indonesia's National Transportation Safety Committee found the 24-year-old co-pilot, with 1,200 hours flying experience, could not see the runway upon approach and handed controls to the pilot at an altitude of 150 feet (45 meters) moments before the crash.
The plane, a Boeing 737-800 manufactured in February and only used by Lion Air since March, was found to be airworthy and had only 142 hours of flying time.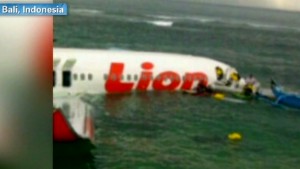 Plane misses runway
It missed the runway, landing on the sea just off Bali's international airport on April 13. The plane was carrying 101 passengers and seven flight crew. All were evacuated and four passengers were treated for serious injuries.
READ: Passengers escape water landing
The committee's report issued safety recommendations to the airline in order to ensure pilots were trained to follow correct procedure in handing over flight controls during critical moments and times. It also called on the airline to "review the policy and procedures regarding the risk associated with changeover of control at critical altitudes or critical times."
The altitude at which the co-pilot handed control of the plane to his colleague was below the minimum altitude considered safe to continue final descent.
The preliminary report did not indicate the exact cause of the crash, stating that the plane had maintained a constant course.
The airline, which operates under the official name Lion Mentari, is banned from European airspace due to safety concerns, according to the European Union.
Lion Air was a domestic airline virtually unknown outside of the archipelago nation of 6,000 inhabited islands until it struck two of the world's biggest ever aircraft orders.
In late 2011, Boeing made its largest single aviation sale -- 230 planes totaling $21.7 billion -- to Lion Air. In March this year it inked a deal with Airbus for 234 planes, totaling $24 billion.
Lion Air first took to the skies in 2000.

Today's five most popular stories
Part of complete coverage on
November 16, 2014 -- Updated 2326 GMT (0726 HKT)

Take a trip to the Chinese town that has more relics than people.
November 13, 2014 -- Updated 1742 GMT (0142 HKT)
You know about reggae and Usain Bolt -- but you probably aren't aware of these other Jamaican superlatives.
November 14, 2014 -- Updated 1152 GMT (1952 HKT)

Artist creates brilliant tribute to Dutch impressionist painter -- a cycle route that glows in the dark
November 14, 2014 -- Updated 0633 GMT (1433 HKT)

European airlines beware: These 320kph trains are upping the travel game with roomy seats and onboard wi-fi.
November 24, 2014 -- Updated 0819 GMT (1619 HKT)

For such a relatively small collection of islands, the UK packs in an phenomenal range of beautiful scenery.
November 12, 2014 -- Updated 2237 GMT (0637 HKT)

Rovos Rail's epic trips out of South Africa pamper passengers with fine dining, vintage comfort and even a bathtub.
November 18, 2014 -- Updated 0137 GMT (0937 HKT)

Self-taught Iranian photographer gains rare access to shoot religious buildings as they've never been seen.
November 11, 2014 -- Updated 0345 GMT (1145 HKT)

The subject of erotica has a way of making people uncomfortable.
November 7, 2014 -- Updated 0037 GMT (0837 HKT)

UK's Heathrow Airport pairs destinations with fragrances to evoke long distance travel. We do too.
November 6, 2014 -- Updated 2100 GMT (0500 HKT)

Bumper cars, a freefall simulator and robot bartenders are just a few of the cool features on Royal Caribbean's new Quantum of the Seas.
November 2, 2014 -- Updated 2258 GMT (0658 HKT)

Up in the mountains and across deep chasms, these bridges are both spectacular and terrifying.