Pilot training blamed for Bali airliner crash
May 16, 2013 -- Updated 0519 GMT (1319 HKT)
STORY HIGHLIGHTS
Preliminary report did not outline cause of the Bali crash
Issued several safety recommendations to Lion Air around pilot training
Plane missed runway, landed in water in April
(CNN) -- A preliminary investigation report into last month's Lion Air crash into the sea off Bali has called on the budget carrier to implement several safety and pilot training recommendations.
The report by Indonesia's National Transportation Safety Committee found the 24-year-old co-pilot, with 1,200 hours flying experience, could not see the runway upon approach and handed controls to the pilot at an altitude of 150 feet (45 meters) moments before the crash.
The plane, a Boeing 737-800 manufactured in February and only used by Lion Air since March, was found to be airworthy and had only 142 hours of flying time.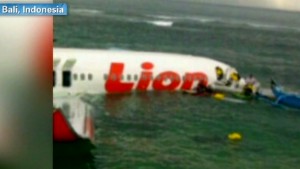 Plane misses runway
It missed the runway, landing on the sea just off Bali's international airport on April 13. The plane was carrying 101 passengers and seven flight crew. All were evacuated and four passengers were treated for serious injuries.
READ: Passengers escape water landing
The committee's report issued safety recommendations to the airline in order to ensure pilots were trained to follow correct procedure in handing over flight controls during critical moments and times. It also called on the airline to "review the policy and procedures regarding the risk associated with changeover of control at critical altitudes or critical times."
The altitude at which the co-pilot handed control of the plane to his colleague was below the minimum altitude considered safe to continue final descent.
The preliminary report did not indicate the exact cause of the crash, stating that the plane had maintained a constant course.
The airline, which operates under the official name Lion Mentari, is banned from European airspace due to safety concerns, according to the European Union.
Lion Air was a domestic airline virtually unknown outside of the archipelago nation of 6,000 inhabited islands until it struck two of the world's biggest ever aircraft orders.
In late 2011, Boeing made its largest single aviation sale -- 230 planes totaling $21.7 billion -- to Lion Air. In March this year it inked a deal with Airbus for 234 planes, totaling $24 billion.
Lion Air first took to the skies in 2000.

Today's five most popular stories
Part of complete coverage on
October 28, 2014 -- Updated 0149 GMT (0949 HKT)

Luxury Action will turn your travel scripts into reality and film them. As long as you're willing to travel to this country ...
October 27, 2014 -- Updated 0913 GMT (1713 HKT)

As entertainment capital of the world, Los Angeles draws some of the best comic talent on the planet. Here's where to see it live.
October 27, 2014 -- Updated 0342 GMT (1142 HKT)

Not many people choose flights based on the quality of an airline's catering -- but those who do should check out Saveur's Culinary Travel Awards.
October 27, 2014 -- Updated 0251 GMT (1051 HKT)

On the island of rice, curry, tropical fruit and fresh seafood, eating is an honor to the taste buds.
October 23, 2014 -- Updated 1558 GMT (2358 HKT)

Sparsely populated (by humans at least), this East Africa country offers so much more than just Mt. Kilimanjaro.
October 24, 2014 -- Updated 1432 GMT (2232 HKT)

It's crowded and outdated, but Berlin's hexagon-shaped Tegel air hub has won a place in the city's heart.
October 23, 2014 -- Updated 0847 GMT (1647 HKT)

Shrine to a dead cat and a homage to fromage among Dutch capital's eccentric exhibitions.
October 22, 2014 -- Updated 0603 GMT (1403 HKT)

Slovenian Kickstarter project encourages travelers to hop on their suitcase and cruise through terminals to connecting gates.
October 20, 2014 -- Updated 1808 GMT (0208 HKT)

The guidebook asked staff, contributors and authors for well-known and lesser-known recommendations.
October 20, 2014 -- Updated 1607 GMT (0007 HKT)

An airport in Asia has stolen the crown from Manila's Ninoy Aquino, voted 'world's worst' three years in a row.