The future of travel: The dark side of connected cars
May 17, 2013 -- Updated 0419 GMT (1219 HKT)
STORY HIGHLIGHTS
Despite the benefits of the connected car, the issue of privacy is a concern
One dilemma is whether drivers should be punished for speeding, when speed information can be transmitted
Driverless cars will make is possible to text while driving, but texting habits will likely not remain private either
Editor's note: CNN contributor Andrew Keen organized and hosted an invitation-only Silicon Valley event called FutureCast. A group of entrepreneurs, investors, technologists and writers discussed the impact of the digital revolution on transportation. All this week CNN Business Traveller will bring you highlights from the debate. AT&T and Ericsson hosted the conference at the AT&T Foundry in Palo Alto.
(CNN) -- Most of the conversation at FutureCast focused upon the benefits of the connected car. But for all the unquestionable upsides of networked transportation, there was one issue that darkened the horizon for some of the event's participants. That issue was privacy.
"I'm not sure I'm going to get inside one of those things," I myself remarked at FutureCast about driverless cars, "because -- just like Google Glass -- they are going to know where I am all of the time."
I certainly wasn't alone in my concern about the fate of personal data in the age of the intelligent car.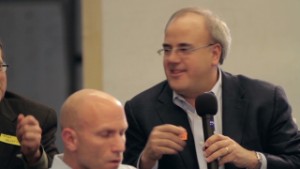 Are we falling out of love with cars?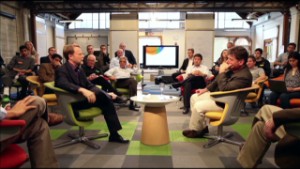 How self driving car changes everything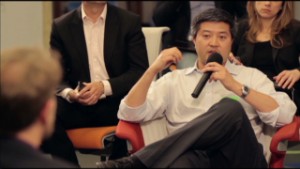 The future of transportation: Global View
"As for privacy, I do care about privacy," said Michael Fertik, the co-founder and CEO of Reputation.com. "I'm always nervous when data are collected without our real actual knowledge and sold and shared with people who we can't identify for purposes we will never know."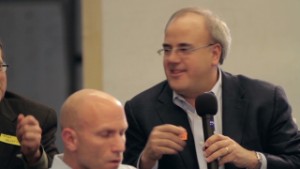 Are we falling out of love with cars?
Geoff Hollingworth, Head of Business Innovation at Ericsson, was more specific in his concern. "So all these cars are connected. They all know how fast they are going. They all know the speed zones they are running in," he said. "Should the car issue a ticket? Should it tell the police to issue a ticket if you are breaking the speed limit?"
Hollingworth's assumptions are very real. After all, as General Motors' Greg Ross acknowledged, "We are about to add connectivity in all our cars. High-speed connectivity."
Read more: Transportation confronts its "Kodak moment"
In this brave new world of transparent data, the dilemma about where to draw the line between respecting the privacy of individual drivers and punishing law breakers is complex. Hollingworth described this world as a "strange place" because we've never before "had the ability to actually validate the people who are always obeying or breaking the law."
"Hands up here, who texts when they drive?" Hollingworth playfully asked the FutureCast audience.
That kind of question may be redundant when we all drive connected cars. This intelligent automobile will, of course, be able to record exactly how fast we are driving and where are going. And it will also know the frequency of our texts, who we text and who texts us.
Hollingworth's "strange place" is, I fear, a scary place. The car, once that secluded place which guaranteed our privacy, is in danger of becoming a transparent hub of what some people are calling the "Internet of Things."
The dark side of the connected car is its transparency. Do we, I wonder, really want to drive these all-seeing things?

March 5, 2014 -- Updated 0218 GMT (1018 HKT)

Concorde is a thing of the past, but a number of companies are racing to release the first supersonic business jet.
March 3, 2014 -- Updated 0222 GMT (1022 HKT)

Though we're still in the early stages of 2014, it is already proving one of the most expensive years for the travel industry.
March 4, 2014 -- Updated 1715 GMT (0115 HKT)

At $83,200 a night, the Royal Penthouse Suite at Geneva's Hotel President Wilson is the most expensive hotel room in the world.
February 17, 2014 -- Updated 0348 GMT (1148 HKT)

From 'ascending rooms' and mini-bars to pillow menus and iPad-controls, discover the evolution of hotel room amenities.
February 17, 2014 -- Updated 1612 GMT (0012 HKT)

There's a new group of travelers in town -- and it hardly matters which town you're talking about.
February 13, 2014 -- Updated 0606 GMT (1406 HKT)

To fully appreciate all the A350 XWB promises to offer, your imagination needs to take a rather giant leap.
February 13, 2014 -- Updated 0457 GMT (1257 HKT)

It's Boeing vs. Airbus as the heavy-weight plane makers face off at the Singapore airshow.
February 10, 2014 -- Updated 0203 GMT (1003 HKT)

How airlines are making in-flight maps more interactive and monetizing them.
February 4, 2014 -- Updated 0103 GMT (0903 HKT)

What do new planes have to endure during cold weather testing?
January 28, 2014 -- Updated 0115 GMT (0915 HKT)

A look inside the hotel room that no one will ever stay in.
January 17, 2014 -- Updated 0128 GMT (0928 HKT)

As the world's busiest airport, Hartsfield-Jackson Atlanta is not the place for faint-hearted pilots.
January 9, 2014 -- Updated 1009 GMT (1809 HKT)

Frequent fliers on American Airlines and US Airways can now enjoy some benefits of both airlines' mileage programs.

Today's five most popular stories