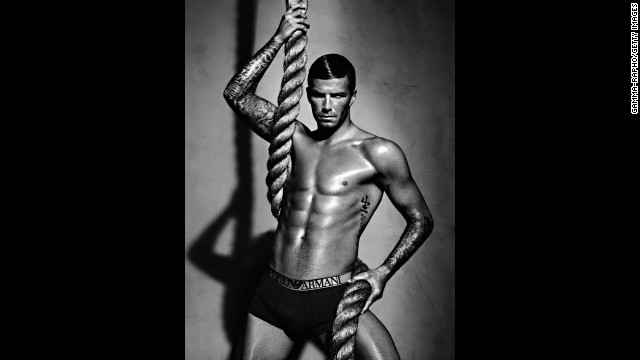 David Beckham is a man of many talents. Not only is he one of the most famous names in sports, but he's also one heck of a model. Tommy Hilfiger has now recognized the 38-year-old former soccer player
as the No. 1 underwear model of the century
. It's just one of several career highs for Beckham, seen here modeling Emporio Armani underwear in a 2009-2010 ad campaign.
Beckham makes his England debut at a World Cup qualifying match against Moldova in 1996.
Beckham celebrates his goal against Colombia in the 1998 World Cup.
As a player on Manchester United, Beckham cools down during the FA Charity Shield match against Arsenal in 1998.
At the 1998 World Cup, in a second-round match against Argentina, Beckham was sent off for kicking out at Diego Simeone. England lost the match on penalties and was eliminated, with Beckham becoming a hate figure for some fans.
Beckham poses after a news conference in Awaji-shima Island, Japan, in 2002.
Beckham poses with Beyonce, left, and Jennifer Lopez in Madrid during a presentation of the new Pepsi "Samourai" in 2004.
Beckham acts as England's captain during the 2004 European Championships in Portugal.
Beckham waves after a La Liga match between Real Madrid and Deportivo La Coruna in 2007.
The midfielder celebrates with his sons in 2007 after Real Madrid won the Spanish League title by beating Mallorca.
Beckham makes an appearance to promote his fragrance "David Beckham Intimately Night" in Sydney in 2007.
Beckham reveals his new No. 32 jersey after his loan move to AC Milan in 2008.
Beckham controls the ball during a 2010 World Cup qualifier.
Beckham, during his time with the Los Angeles Galaxy, walks toward the line judge to have a chat during Game 1 of the MLS Western Conference semifinals in 2009.
Beckham arrives at Sydney International Airport in 2010.
David and his wife, Victoria, arrive at the wedding of Prince William and Kate Middleton at Westminster Abbey in 2011.
The Beckhams attend the Vanity Fair Oscar Party in West Hollywood, California, in 2012.
Beckham celebrated his second MLS Cup in December 2012 when he decided to leave with a year left on his contract and seek one final challenge in Europe.
Beckham passes under London's Tower Bridge in a speedboat carrying the Olympic Torch in 2012.
Beckham poses with Paris Saint-Germain President Nasser Al-Khelaifi, left, and PSG sports director Leonardo during a news conference announcing his new gig in January 2013.
Beckham waves after PSG played Brest in
Beckham and his daughter, Harper, make their way through a crowd in New York in February. Harper, Beckham's fourth child, was born in 2011.
Since retiring from soccer, Beckham has tried his hand at acting. It was announced in March that
David Beckham through the years
David Beckham through the years
David Beckham through the years
David Beckham through the years
David Beckham through the years
David Beckham through the years
David Beckham through the years
A name brand
David Beckham through the years
David Beckham through the years
David Beckham through the years
David Beckham through the years
David Beckham through the years
David Beckham through the years
David Beckham through the years
David Beckham through the years
David Beckham through the years
David Beckham through the years
David Beckham through the years
David Beckham through the years
David Beckham through the years
David Beckham through the years
David Beckham through the years
STORY HIGHLIGHTS
Beckham 'opened the door' for it to be cool to be gay
Credited with changing the world of style for football players
Beckham insisted he would wear 'that dress' again
(CNN) -- David Beckham was always adept at curling the ball around a wall -- but when it came to the barrier of homosexuality in football, he broke straight through it.
Former England captain Beckham, who announced his retirement from football Thursday, was the first superstar footballer to embrace his "gay icon" status, freely giving interviews to gay magazines and openly talking about his gay fan base.
That attitude was the catalyst for a change, according to author and journalist, Chas Newkey-Burden.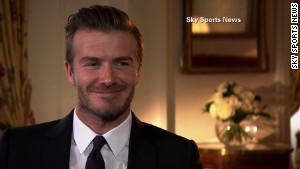 Beckham: I want to go out on top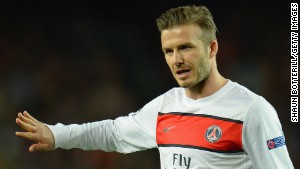 Beckham brand will outlast soccer career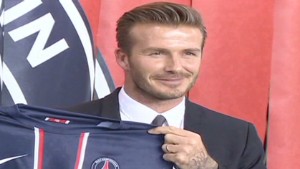 David Beckham calls it a career
"What David Beckham did was break the long silence about homosexuality in football," Newkey-Burden told CNN.
"Before Beckham came along, it was basically a taboo but he changed all that.
"He openly courted his gay fan base, saying he loved being a gay icon and was happy for his wife to broadcast that around.
"He was the first to give interviews to gay magazines -- before that, no footballer would have done that.
"He also changed the way footballers were looked at. He was inherently good looking, but it was that he paid so much attention to his appearance that was unprecedented."
Read: Can you bend it like Beckham?
In an interview with the BBC given in 2007, Beckham spoke of his pride at being tagged as a "gay icon".
"Maybe it's things like (the fact) I like to look after myself, I like to look smart and presentable most of the time," he said at the time.
"I always liked to look good, even when I was a little kid. I was given the option when I was a page boy once of either wearing a suit or wearing knickerbockers and long socks and ballet shoes -- and I chose the ballet shoes and knickerbockers."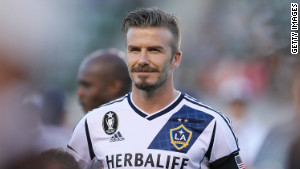 2011: Beckham: I always want to win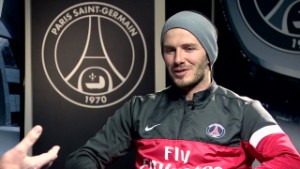 David Beckham's life in Paris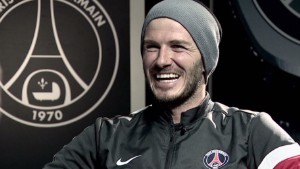 Beckham: Tom Cruise is hotter than I am
Once Newkey-Burden spent five months trying to organize an interview with the midfielder, only for the player himself to sanction the piece after reading one of the journalist's articles on football and homosexuality in Four Four Two magazine.
Read: Rogers' retirement reasons could bring change
"David read the piece I did about how far football had come in dealing with homophobia," Newkey-Burden recalled.
"I know he was very moved by the fact I wrote how he had opened the door to change and that is what swung getting me the interview with him.
"Look, there are 92 league clubs in England with each squad having around 20 players, so statistically, there must be some gay players, " added the journalist.
"One day it will be common place for footballers to come out and David Beckham will have played a part in that.
"He opened the door and it is the person who opens the door who makes the difference.
"Beckham said to the world: 'I'm straight, I'm the England captain and I think it's cool people are gay.'"
Despite Beckham embracing his "gay icon" status, football continues to struggle with homophobia.
Last February, U.S. football star Robbie Rogers announced he was retiring from football after "coming out" -- leaving Swedish player Anton Hysen as the only openly gay player in Europe.
Rogers might yet make a return given he has been training with Los Angeles Galaxy.
Read: In search of a gay soccer hero
Beckham was also key in footballers becoming fashionistas and attracting interest from the mainstream media, according to Newkey Burden.
"Gay football fans don't want 11 neatly coiffured and manicured players to admire," said the journalist and celebrity biographer who has written books about Adele, Brangelina, Michael Jackson and Paris Hilton.
"They're more attracted to the old-fashioned kind of player like Vinny Jones or Alan Shearer if I'm honest.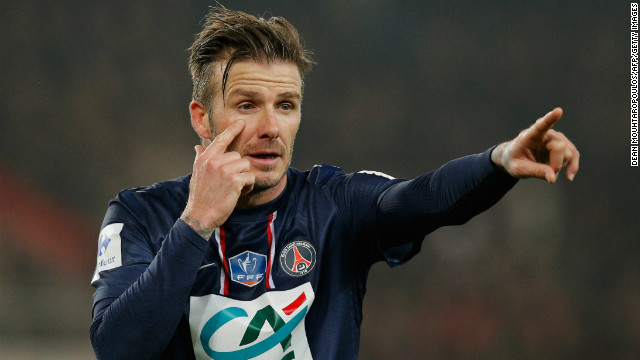 David Beckham made an immediate impact at Paris Saint-Germain, with victories in his first two appearances against French rivals Marseille.
He was unveiled at the Parc des Princes on the final day of the January 2013 transfer window, and announced that he will donate the pay he receives during his five-month contract to a children's charity in Paris.
Beckham celebrated his second MLS Cup success with Los Angeles Galaxy in December 2012, when he decided to leave with a year left on his contract as he sought one final career challenge in Europe.
David Beckham made his debut for English Premier League team Manchester United in 1993. By 1996, the midfielder was becoming renowned for his ability to score and create goals with his now legendary right foot. In a match against Wimbledon, Beckham stunned football fans by scoring from the halfway line.
Beckham swiftly progressed into the England team and was part of Glenn Hoddle's squad for the 1998 World Cup in France. In a second-round match against Argentina, Beckham was sent off for kicking out at Diego Simeone. England lost the match on penalties and were eliminated, with Beckham becoming a hate figure for some fans.
Beckham rebuilt his reputation and in 1999 was a key part of the Manchester United team which became the first English club to win the Premier League, FA Cup and European Champions League in the same season. The Old Trafford side, led by Alex Ferguson, secured the treble thanks to a stunning late comeback against Bayern Munich in the Champions League final.
Beckham's redemption was complete in 2000, when caretaker England manager Peter Taylor made him captain of the national team. He retained the role under Sven-Goran Eriksson, leading England at the 2002 and 2006 World Cups and the 2004 European Championships.
In 2003, after a turbulent final few months at United which involved Ferguson accidentally kicking a boot at Beckham, he joined Real Madrid's "Galacticos".
But Beckham's spell in Madrid didn't produce the trophy rush he had hoped for. His sole title came in 2007, under future England manager Fabio Capello, thanks to a win against Real Mallorca on the final day of the season.
Beckham made the switch to Los Angeles Galaxy in the U.S.'s Major League Soccer in 2007. His stated aim was to raise the profile of soccer in the country.
Four years after heading to the States, Beckham finally won the MLS Cup with Galaxy last season. Galaxy beat Houston Dynamo 1-0 in the final thanks to a goal from Landon Donovan.
Off the pitch, Beckham is famous for being one half of one of the world's most high-profile couples. He started dating Victoria Adams of British pop group Spice Girls in 1997. The pair married in 1999 and have four children, son Brooklyn, Romeo and Cruz and daughter Harper Seven.
Football fans wear masks depicting Beckham at the London 2012 Olympics. He was not picked for the GB team, but played a big role in his hometown being awarded the Games.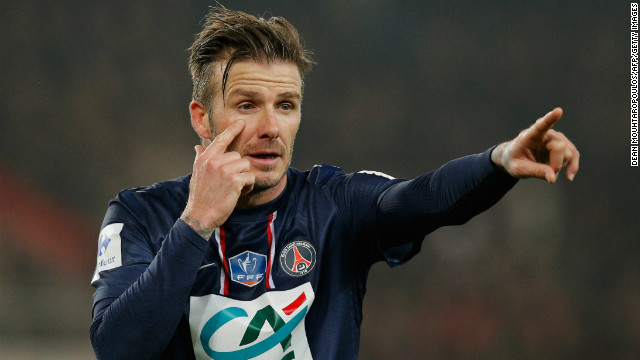 The career of David Beckham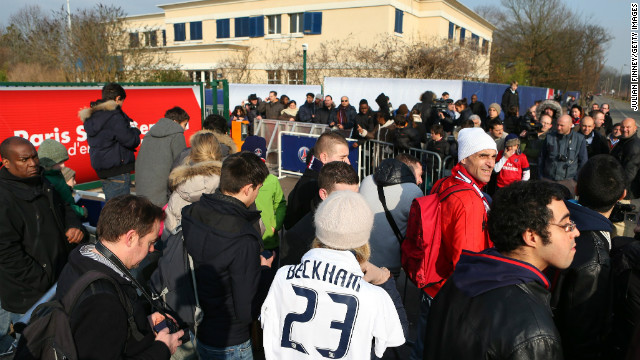 Hundreds of fans and journalists flocked to the Paris Saint-Germain training ground Wednesday to get a glimpse of David Beckham in action on the practice field. The interest in Beckham's move to the French club has caused huge excitement with the anticipation building ahead of the midfielder's possible debut on Sunday.
David Beckham took part in his first training session with his new Paris Saint-Germain teammates less than 24 hours after watching them claim a 2-1 win at Valencia in the last-16 round of the Champions League. on Tuesday.
Beckham, 37, was put through is paces at the club's open training day where more than 100 journalists turned up to witness the event. The former Manchester United and Real Madrid star is hoping to make his debut against Sochaux on Sunday, but it's not known if his pop star wife Victoria will be in attendance. Beckham's family has remained in London where his children Brooklyn, Romeo and Cruz attend school following their move from Los Angeles.
Beckham, who won 115 caps for England, has signed a five-month deal with the Qatari-backed club, but has revealed that his salary will be donated to a Paris children's charity. He will now hope to force his way into the side and link up with the likes of Zlatan Ibrahimovic, Lucas Moura and Ezequiel Lavezzi with the team six points clear at the top of Ligue 1.
Beckham waves to the waiting press pack as he makes his way out at the club's Camp des Loges training center in Saint-Germain-en-Laye, near Paris. The session, which was led by PSG's Italian coach Carlo Ancelotti, was shown live on French television.
Beckham shows off his new pink boots, a pair of which even Posh Spice might approve of. While Beckham is busy preparing for his debut, fashion designer Victoria was having her latest designs shown off by models in London.
After working up a sweat, Beckham throws off his top and gets back to work with the players who didn't feature in Tuesday's win at Valencia. If Beckham doesn't play against Sochaux on Sunday, he could line-up the following week against fierce rival Marseille and fellow Englishman Joey Barton.
Beckham takes to the sand as he steps up his training regime. Running on sand has several long-term benefits which includes strengthening the lower body muscles, burning more calories and is supposed to be easier on the joints as opposed to grass.
Beckham watched PSG's win at Valencia alongside the club's sporting director Leonardo. The pair looked on as their side edged out Valencia 2-1 in the first leg thanks to goals from Ezequiel Lavezzi and Javier Pastore, before Zlatan Ibrahimovic was sent off late on. The Swede will miss the second leg in the French capital on March 6.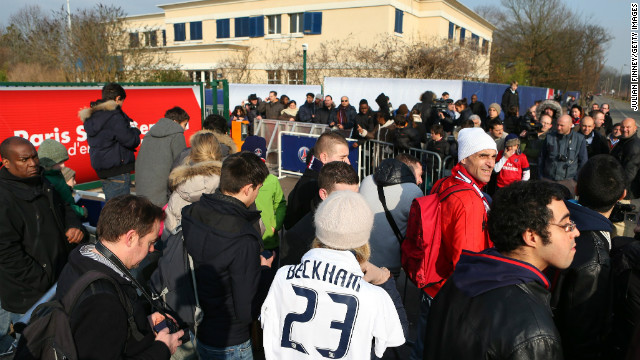 'Box Office' Beckham thrills French audience
"But Beckham was someone who was proud to be a gay icon and made it cool too.
"Just look at the number of metrosexuals who have emerged since Beckham.
"It's now OK for players to have silly, floppy hair and dress in the way they do. He did that."
Read: The gay footballer who chose freedom
Players now try to trend it like Beckham more often than they try to bend it like Beckham.
From wearing his wife's underwear to parading around in a sarong, the former Manchester United, Real Madrid, LA Galaxy, AC Milan and Paris Saint-Germain man has never been one to shy away from experimentation.
While former Spice Girl Victoria has gone on to establish herself as a leading fashion designer, it is Beckham who brought men into the 21st century with his eye for the latest trends.
From his outrageous hair styles to his love of grooming and moisturizing, Beckham relaunched the notion of the metroxsexual along with his very own brand of cologne.
Whether it was by provocatively modelng in his Armani underwear or being paraded in front of the press in another exquisitely tailored suit, Beckham set the bar high when it came to looking sharp.
"Beckham was the antithesis to the godawful lad culture of the late Nineties," GQ.co.uk fashion editor Nick Carvell told CNN.
"Being a footballer who was clearly motivated by fashion trends and absolutely loved clothes, he turned the idea of what it meant to be a stylish sportsman at the time on its head.
"Sure he made some mistakes along the way (cornrows), but that's what made him a trendsetter -- he always led and never followed.
Read: David Beckham: The devoted dad
"He was certainly one of the first celebrities to de-stigmatize grooming pursuits that were previously seen as girls-only (his early penchant for highlights comes to mind).
"Lots of people would say that it helps he has an athlete's body, but there are plenty of sportsman who dress appallingly.
"I think it's his willingness to try new things combined with a clear appreciation for a good tailor.
"He might have worn the occasional eye-raising get-up when he was younger, but it always fitted perfectly."
That infamous sarong, which he was pictured wearing in 1998, was certainly one "eye-raising item" but as Newkey-Burden explains, Beckham had no regrets.
"When I interviewed him in 2006, I asked Beckham if he regretted wearing that 'dress'. He said: 'No, that's one of the things I'd do again!'"