First Saudi woman summits Mount Everest
May 20, 2013 -- Updated 1417 GMT (2217 HKT)
STORY HIGHLIGHTS
Raha Moharrak is first Saudi woman to reach summit of Everest
Moharrak is part of "Arabs With Altitude" team, with a Qatari, a Palestinian and an Iranian
The expedition is aiming to raise $1 million for education projects in Nepal
2013 marks the 60th anniversary of the first successful climb to the summit of Everest
(CNN) -- A 27-year-old graphic designer has made history by becoming the first Saudi woman to conquer Mount Everest.
Raha Moharrak reached the top of the mountain on Saturday as part of the "Arabs with Altitude" expedition, which also includes a Palestinian, an Iranian and a Qatari aiming to be the first from his nation to summit the mountain.
The mountaineers' Twitter account, @EverestArabs, marked the occasion by tweeting: "The first ever Saudi woman to attempt Everest has reached the top!! Bravo Raha Moharrak. We salute you."
"I really don't care about being the first, so long as it inspires someone else to be the second," Moharrak, who lives in Dubai and in the Saudi port city of Jeddah, is quoted as saying on the expedition's website, Arabs on Top of the World.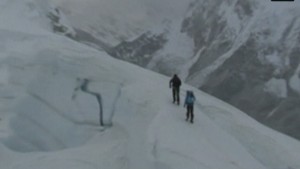 Sherpas, climbers sign Everest treaty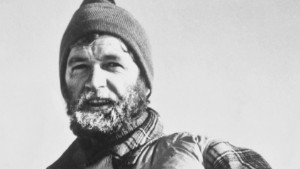 Mountaineer George Lowe dies at 89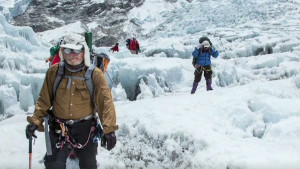 Climber 'traffic jam' on Everest?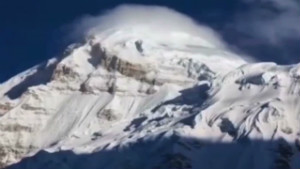 Conquering the world's highest peak
Read more: Climber summits Everest twice in one week
Coming from a traditional and conservative family meant that "convincing them to let her climb was as great a challenge as the mountain itself," according to her biography on the site, though they now fully support her efforts.
"We are all very proud of Raha's achievement but are awaiting for her safe return," Moharrak's brother Mohammed told CNN.
The team -- made up of Moharrak, Qatari Sheikh Mohammed Al Thani, Palestinian Raed Zidan and Iranian Masoud Mohammad -- is aiming to raise $1 million to fund Reach Out to Asia's educational projects in Nepal.
Moharrak spent many months training for the expedition; she scaled Argentina's highest peak, Aconcagua, in February and has been in Nepal acclimatizing to the altitude since early April.
Read more: Google Maps climbs world's tallest mountains
She is now on her way back down the mountain and is expected to reach Everest base camp on Monday.
Moharrak's ascent is the latest step in changing attitudes towards women and sports in Saudi Arabia. The ultra-conservative kingdom fielded its first female Olympians at the 2012 Games and officially permitted sports in private girls schools for the first time earlier this month.
This year marks the 60th anniversary of the first expedition to reach the summit of Everest: Sir Edmund Hilary and Tenzing Norgay made it to the top of the mountain on May 29, 1953.
CNN's Schams Elwazer and Bharati Naik contributed to this report.

Today's five most popular stories
December 23, 2014 -- Updated 1444 GMT (2244 HKT)

CNN set out on a hunt to find the women who excelled in their professions this year and we found some of the most inspiring women of 2014.
December 17, 2014 -- Updated 1419 GMT (2219 HKT)

Jane Fraser is often cited as one of the most powerful women in banking. She tells CNN's Poppy Harlow how women lead differently.
December 3, 2014 -- Updated 1743 GMT (0143 HKT)

Women's-only private members clubs are becoming more popular, offering spaces to work, socialize and relax, albeit with hefty membership fees.
November 28, 2014 -- Updated 1515 GMT (2315 HKT)

A new social network for women claims to be 'troll-proof' and was created by Karen Cahn, former Google, YouTube, Aol executive.
November 27, 2014 -- Updated 1418 GMT (2218 HKT)

She's the daughter of a Beatle and counts Kate Moss among her friends, but she had to create her own mark in the fashion world.
November 18, 2014 -- Updated 1743 GMT (0143 HKT)

Alli Webb always loved having her hair done, so she decided to bring that happy feeling to millions of women worldwide with her business, Drybar.
November 17, 2014 -- Updated 1324 GMT (2124 HKT)

NASA's chief scientist Dr Ellen Stofan wants to land humans on Mars by 2035, but there are some serious challenges to overcome before then.
November 4, 2014 -- Updated 1041 GMT (1841 HKT)

The Design Museum hosts a power dressing exhibition, from Joan of Arc's short tunics, to Joan Collins' eye-gouging shoulder pads.
October 30, 2014 -- Updated 1520 GMT (2320 HKT)

Opinion piece from architect Zaha Hadid on growing up in a very different Iraq, to close Leading Women's month of STEM coverage.
October 30, 2014 -- Updated 1227 GMT (2027 HKT)

Leading Women ran an iReport assignment which resulted in some amazing images of girls in STEM from our readers.
October 29, 2014 -- Updated 1108 GMT (1908 HKT)

Robots can be many things -- knowledgeable, dexterous, strong. But can they ever be genuinely laugh-out-loud hilarious?
October 27, 2014 -- Updated 1830 GMT (0230 HKT)

Victoria Beckham has come a long way from Posh Spice. She has now been named Britain's top entrepreneur, by magazine Management Today.