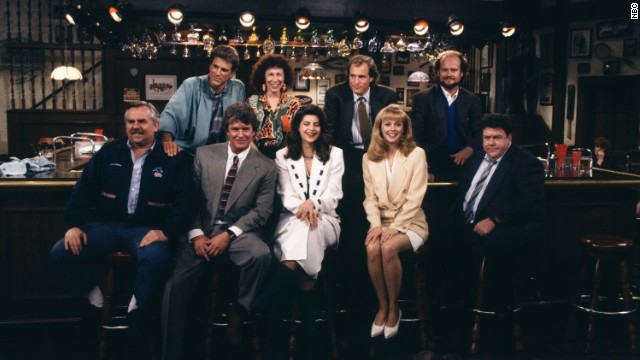 On May 20, 1993, NBC's Boston bar comedy "Cheers" had "One for the Road" as the series ended its 11-season run. It spawned not only an unforgettable theme song (who doesn't want to go to the place where everybody knows your name?) but another classic comedy with "Frasier," which made our list
of the greatest shows of the past 20 years
. Let's catch up with the cast of "Cheers" 20 years after it wrapped.
Since holding down the neighborhood bar as former baseball player and ladies' man Sam Malone, Ted Danson has been busy. He's starred in "Becker," "Bored To Death," "Damages" and "Curb Your Enthusiasm." For the past two years, he's been a part of CBS's "CSI: Crime Scene Investigation" team.
reportedly reconciled
. This fall, she'll appear with former co-star Kirstie Alley in a TV Land comedy called "Kirstie's New Show."
Rhea Perlman's Carla Tortelli was the bar's resident firecracker of a waitress. Perlman's continued to pop up in movies and on TV since "Cheers," including "Hung" from 2009 to 2010 and "Hot In Cleveland" last year. Around that time, Perlman's personal life took the spotlight when her marriage to Danny DeVito hit a rough patch, though the two have
After playing postal worker and bar regular Cliff Clavin, John Ratzenberger has done voice work on TV shows like "Captain Planet" and Pixar movies like "Toy Story," "Cars," "Wall-E" and last summer's "Brave." In 2013, he joined FX's comedy "Legit" and will voice the Abominable Snowman in June's "Monsters University."
George Wendt was another Cheers regular as Norm Peterson and since has appeared mostly on TV. He was in the self-titled comedy "The George Wendt Show" for its brief run in 1995 and more recently has guest starred on "Hot in Cleveland" and "Portlandia."
Shelley Long's Diane Chambers was one of Cheers' original waitresses, but by season six, she had moved on. Long's played some memorable on-screen moms since then, including Carol Brady in 1995's "The Brady Bunch Movie" and 1996's "A Very Brady Sequel," and the zany DeDe Pritchett on ABC's "Modern Family."
Woody Harrelson's career has skyrocketed since he played dimwitted bartender Woody Boyd. After "Cheers," he starred in major films like "Natural Born Killers," "No Country for Old Men" and "The People vs. Larry Flint," for which he earned an Oscar nod. This year, he'll reprise his role as Haymitch in "The Hunger Games: Catching Fire."
Mayor Tom Kane on Starz's "Boss,"
came to an end in 2012. That same year,
Grammer welcomed a fifth child, a girl,
with his fourth wife, Kayte Walsh. In 2014, he'll voice the Tin Man in "Legends of Oz: Dorothy's Return."
Kelsey Grammer played Dr. Frasier Crane for another 11 years after "Cheers" in the spinoff "Frasier" while pursuing other work such as voicing Sideshow Bob on "The Simpsons." His last major TV role, as
'Cheers': Where are they now?
'Cheers': Where are they now?
'Cheers': Where are they now?
'Cheers': Where are they now?
'Cheers': Where are they now?
'Cheers': Where are they now?
'Cheers': Where are they now?
'Cheers': Where are they now?
'Cheers': Where are they now?