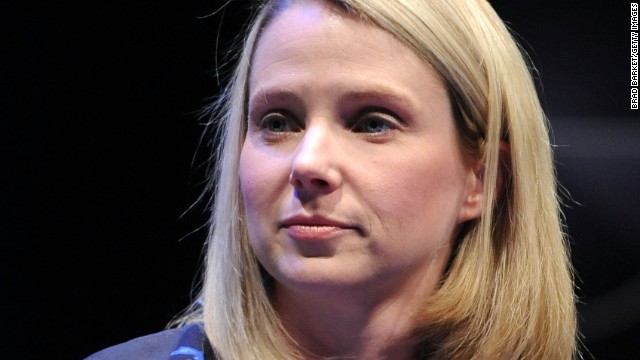 Yahoo announced it
bought the blogging site Tumblr
for a whopping $1.1 billion on Monday, May 20. Like many other acquisitions where an older media giant snatches up the new tool all the cool kids are using, Yahoo says it hopes to tap into a younger audience. Here's a look at other tech acquisitions:
Microsoft announced
it would be moving its Hotmail users over to its new e-mail service Outlook in February 2013. Pictured, Microsoft CEO at the time Bill Gates speaks at an event, November 1997.
When Hotmail was hot, Microsoft Corp. purchased the e-mail service in December 1997. Company leaders wouldn't comment on the pricing at the time, but it was estimated that Hotmail sold for hundreds of millions of dollars. Hotmail's main competitor has since shifted from e-mail provider AOL to Gmail, and
Yahoo bought broadcast.com
, the leading video and audio broadcaster at the time, for $5.7 billion in stock. Pictured in front, Yahoo's then President Jeff Mallett, left, and CEO Tim Koogle; in back, Broadcast.Com Inc.'s then president, Mark Cuban and then CEO, Todd Wagner, celebrate the announcement of the acquisition, April 1999.
In its last big purchase in April 1999,
AOL bought MapQuest.com Inc.
for $1 billion in December 1999. AOL hoped to boost its e-commerce and ad reach on a local level. Pictured here in November 2001 is AOL chairman and CEO at the time, Barry Schuler.
Time Warner and AOL merged in January 2001
. (Time Warner is the parent company of CNN.) After everyone involved lost money,
Time Warner announced AOL would spin off
as its own independent company in May 2009. Pictured from left, AOL Chairman Steve Case, Time Warner Chairman Gerald Levin and Vice Chairman of Time Warner and CNN founder Ted Turner pose for a photo after announcing the merger in January 2001.
eBay purchased PayPal
for $1.5 billion in June 2002. The payment service proved to be hugely successful, and in late 2012 the
company announced a deal
that will allow consumers to use PayPal to pay in stores and other locations that accept Discover card. Pictured, eBay president and CEO Meg Whitman poses with Niklas Zennstrom, CEO and co-founder of Skype in September 2005.
In order to simplify online buying and selling,
for $10.3 billion
in cash in December 2004. Pictured, PeopleSoft President Craig Conway speaks in June 2003.
Oracle had a drawn-out fight for rival software development business PeopleSoft, which sold to Oracle
Google purchased the 20-month-old video site YouTube
for $1.65 billion in stock in October 2006. Pictured, YouTube founders Chad Hurley, left, and Steve Chen, February 2008.
Amazon bought the online apparel and footwear retailer Zappos.com
for $807 million in stock in July 2009. Pictured in February 2010 is Zappos.com CEO Tony Hsieh who was with the company months after its creation.
The computer tech corporation Oracle purchased ATG, provider of eCommerce software and other commerce applications, for approximately $1 billion in the form of $6 per share in cash in November 2010. Pictured, Oracle CEO Larry Ellison speaks in September 2003.
Amazon bought LOVEFiLM, the European counterpart to the movie rental and streaming service Netflix, in January 2011 for £200 million, or $317 million. Netflix had moved into Canada months before and had been announcing plans to expand further internationally. Pictured, Amazon founder Jeff Bezos speaks in September 2011.
passed around
since its creation in 2003, starting with eBay in 2005 for $2.6 billion with the idea of buyers and sellers calling each other over Skype. A year after Skype filed to go public to raise funds, Microsoft agreed to buy the company in May 2011 for $8.5 million and assume the company's debt. Pictured, Microsoft CEO Steve Ballmer, left, shakes hands with Skype CEO Tony Bates during a news conference in May 2011.
The online call service Skype has been
most famously and most expensively Instagram.
Facebook spent $1 billion in cash and stock to buy the 2-year-old photo-sharing network Instagram in April 2012. Pictured are Instagram creators Kevin Systrom, right, and Mike Krieger in May 2012.
Facebook has been purchasing smaller companies since it came into existence in 2004,
acquisition of Motorola Mobility in May 2012
-- its largest acquisition to date at $13 billion. Pictured, Google Executive Chairman Eric Schmidt introduces new Motorola smartphones in September 2012.
Google made its first move into the gadget-making world with the
Big acquisitions in the tech world
Big acquisitions in the tech world
Big acquisitions in the tech world
Big acquisitions in the tech world
Big acquisitions in the tech world
Big acquisitions in the tech world
Big acquisitions in the tech world
Big acquisitions in the tech world
Big acquisitions in the tech world
Big acquisitions in the tech world
Big acquisitions in the tech world
Big acquisitions in the tech world
Big acquisitions in the tech world
Big acquisitions in the tech world