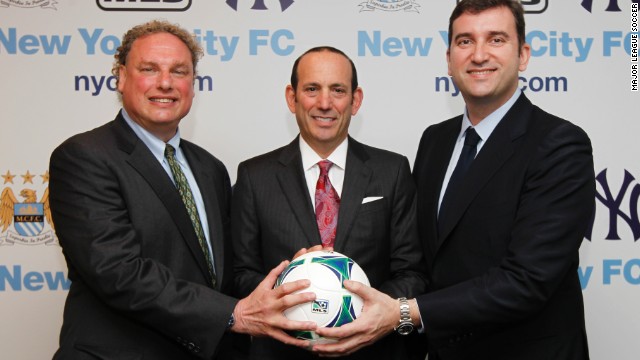 New York Yankees president Randy Levine, MLS chief Don Garber and Manchester City CEO Ferran Soriano revealed the new franchise plans.
Former Manchester City star Patrick Vieira threw a ceremonial pitch at a recent New York Yankees game against Toronto.
Former French international star Thierry Henry is the star player at the only current MLS franchise in the Big Apple, the New York Red Bulls.
David Beckham played for six seasons with Los Angeles Galaxy in the MLS and helped popularize football in the United States. He helped them to the last two MLS titles.
Done deal
Star pitcher
City rivals
Beckham influence
STORY HIGHLIGHTS
New York City FC to become 20th club in Major League Soccer
EPL Manchester City and MLB giants New York Yankees to partner in franchise
Abu-Dhabi owned Man City will be majority owner
Club hope to enter the MLS in 2015
(CNN) -- Two of the richest organizations in sport announced Tuesday that they have partnered to buy a Major League Soccer franchise in New York.
English Premier League side Manchester City will be the majority owner with MLB giants New York Yankees also claiming a stake in the team -- which will be named New York City FC (NYCFC).
The MLS currently has 19 clubs -- including the New York Bulls -- with NYCFC looking to join the league for the 2015 season.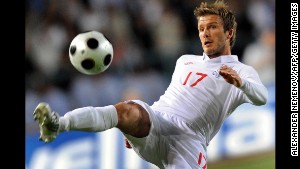 Beckham says goodbye to soccer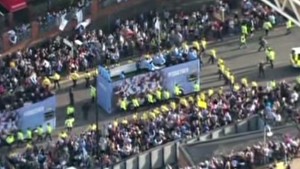 UAE reacts to Mancini's sacking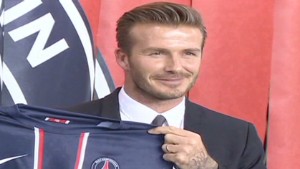 CNN FC: Beckham retires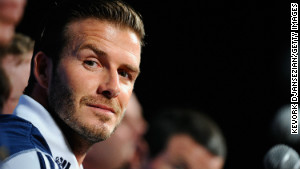 David Beckham's U.S. soccer legacy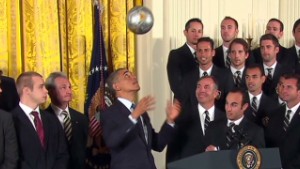 Obama shows off soccer talent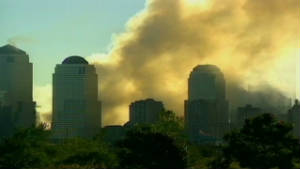 How sports helped people heal from 9/11
"This is a transformational development that will elevate the league to new heights in this country," said MLS Commissioner Don Garber.
"The New York area is home to more than 19 million people -- and we look forward to an intense crosstown rivalry between New York City Football Club and the New York Red Bulls that will captivate this great city," he added.
Abu-Dhabi owned Manchester City will take the lead on recruiting the management team, staff and players for the new franchise, which will be on the hunt for a permanent home in the Big Apple -- with the Flushing Meadows area of Queens identified as a possible location.
"New York is a legendary sports town, as well as a thriving global city with a rapidly expanding soccer fan-base," Ferran Soriano, the Chief Executive Officer of Manchester City said.
Read: LA Galaxy claim second straight title as Beckham departs
City, who saw their own cross city rivals Manchester United wrest the EPL title from them this season, have already expanded their activities in the United States by setting up community programs in New York, Chicago, Los Angeles and Washington D.C.
They have an existing marketing deal with 27-time World Series champion Yankees and the Manchester City squad will be in New York to play a friendly against fellow EPL giants Chelsea at the Yankee Stadium Saturday.
"We are pleased to be associated with this major move by MLS to increase its presence in the New York market," said Hal Steinbrenner, managing general partner of the Yankees.
Steinbrenner said they wanted to work with City to "create something very special for the soccer fans of New York."
The Red Bulls, who are owned by the soft drinks company bearing that name, have recruited the likes of former Arsenal, Barcelona and French international star Thierry Henry and have a growing fan base.
Watch video: Henry enjoys life at the Bulls
They have a purpose built stadium in New Jersey, while the New York Cosmos have also reformed and will join the second-tier of the MLS later this year.
In the 1970s the Cosmos boasted a legendary line-up which included Brazil's Pele and former German international captain Franz Beckenbauer.
They even played for two seasons at the Yankee Stadium but they folded in 1984 -- the same year the then North American Soccer League (NASL) collapsed.
Since the formation of the MLS in 1996, football has enjoyed steady growth in the United States -- boosted by the arrival of David Beckham to Los Angeles Galaxy in 2007.
Beckham, who helped Galaxy to the MLS championship for the past two seasons, retired after a brief spell with Paris Saint-Germain and is reported to want to set up his own franchise in the league.