Severe weather moves to the east
May 22, 2013 -- Updated 0210 GMT (1010 HKT)
STORY HIGHLIGHTS
Storm system moving eastward toward Great Lakes, Tennessee Valley
Tornadoes possible in parts of Texas, Oklahoma, Arkansas, Louisiana
Threat of tornadoes expected to diminish overnight
(CNN) -- The storm system behind Monday's Oklahoma twister brought strong rainstorms to parts of the South on Tuesday evening before heading toward the Great Lakes and the Tennessee Valley.
Tornado watches continued for portions of Texas, Oklahoma, Louisiana, Arkansas, Mississippi, Missouri and Tennessee. Those watches were set to expire by 10 p.m. CT Tuesday.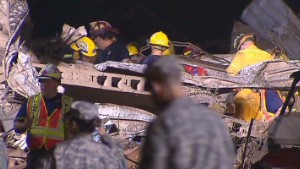 Students unaccounted for after tornado

Tornado hits Moore Medical Center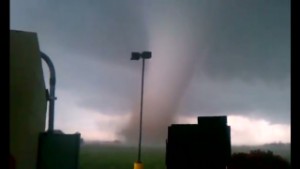 See cell phone video of tornado
The threat of a few strong tornadoes, large hail and thunderstorm wind gusts remained in northeastern Texas, southwestern Arkansas, extreme southeastern Oklahoma and northwestern Louisiana, CNN Meteorologist Sean Morris said.
"The threat for strong tornadoes will rapidly diminish in these areas after sunset, with the main threat becoming damaging straight line winds during the overnight hours," Morris said. "Isolated tornadoes will still be possible."
Rainstorms pushed through the Dallas area on Tuesday afternoon. A ground stop at Dallas-Fort Worth International Airport was later lifted.
Storms are expected to move east on Wednesday and will extend from the Great Lakes south-southwestward into the Ohio River Valley and into the Deep South.
Primary threats will be damaging winds and large hail, according to the National Weather Service. Isolated tornadoes also will be possible.
Storms weren't restricted to the Great Plains and Midwest.
The National Weather Service said weather spotters on Tuesday afternoon reported a possible tornado near Copake, New York, near the Massachusetts border.
Mobile tools to help you survive tornado season
10 deadliest U.S. tornadoes on record

Part of complete coverage on
Severe weather
August 7, 2013 -- Updated 1446 GMT (2246 HKT)

Get a glimpse of the weather events happening around the world by clicking through our photo gallery.
March 11, 2013 -- Updated 1918 GMT (0318 HKT)

Christopher Browne gets ready for snow long before any falls in Washington, which hasn't seen a stormy winter for a few years now.
February 11, 2013 -- Updated 1541 GMT (2341 HKT)

Mobile devices have changed how we handle severe weather.
March 6, 2013 -- Updated 2232 GMT (0632 HKT)

You love making snowmen and sledding. You hate the way the white stuff feels when it creeps into your boots and traps you inside for days.
February 9, 2013 -- Updated 1057 GMT (1857 HKT)

In our increasingly digital world, a mobile phone or other portable device is often a one-stop communication device.
October 29, 2012 -- Updated 1129 GMT (1929 HKT)

Water jugs and batteries are not the only things to consider when extreme weather threatens.

All you need to know about keeping your food safe to eat and what to have on hand in the event of a weather emergency.
May 22, 2013 -- Updated 1219 GMT (2019 HKT)

Getting the latest warnings when tornadoes are headed your way and knowing what to do before, during and after one hits are all key to staying safe. A handful of apps can help you stay on top of impending dangerous weather.
May 30, 2013 -- Updated 1531 GMT (2331 HKT)

You've just that heard a tornado is headed directly toward you. You don't have a safe room, and you're not near a shelter. Do you hunker down and hope for the best or do you flee?
May 21, 2013 -- Updated 1609 GMT (0009 HKT)

Here are the 10 deadliest tornadoes to touch down in the United States, according to the National Oceanic and Atmospheric Administration:
July 17, 2013 -- Updated 2307 GMT (0707 HKT)

Weather experts agree: When lightning strikes, it's best to go indoors.
November 18, 2013 -- Updated 1603 GMT (0003 HKT)

A tornado is a funnel-shaped cloud that forms under thunderclouds and contains rapidly rotating air.
Today's five most popular stories