Review: 'Behind The Candelabra' could use more camp
May 24, 2013 -- Updated 1459 GMT (2259 HKT)
STORY HIGHLIGHTS
Michael Douglas plays Liberace and Matt Damon Scott Thorson in "Behind the Candelabra"
Thorson's memoir of their five year relationship inspired the film
Steven Soderbergh directs
(EW.com) -- No one wants a Liberace biopic to be subtle.
You want the director to don a puffy-sleeved man-blouse and spell out the drama in rhinestones. You want the camera to linger on the peacock-feathered pianos, the velveteen ''royal throne'' toilets, and, of course, that white fox-fur coat — the only coat in the world with its own chauffeur. And you'll get all of that in Steven Soderbergh's "Behind the Candelabra," which casts Michael Douglas as the Vegas legend and Matt Damon as his much younger lover Scott Thorson, whose memoir of their tumultuous five-year relationship inspired the film.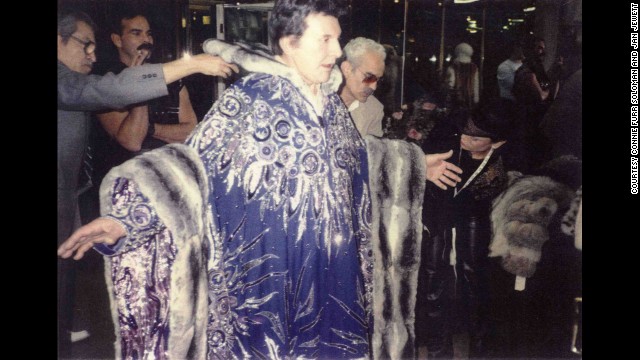 Liberace's extravagant style is as famous as his music, and his looks will be on full display in Stephen Soderbergh's "Behind the Candelabra" when the film premieres on HBO May 26. A sneak peek has shown star Michael Douglas as Liberace in an elaborate fur and Matt Damon as his lover Scott Thorson in the snazziest chauffeur suit possible. But Liberace's eye-catching costumes, like this purple and silver cape with rare empress Chincilla fur, are also described in detail in the new book, "Liberace Extravaganza!" Here is a selection of some of its images:
The 150-page tome offers more than 260 full-color photos of his items, like these red boots with fur.
"Liberace Extravaganza!" was authorized by the Liberace Foundation and written by costume designers Connie Furr Soloman and Jan Jewett.
A white bow tie with silver detail is the type of accessory that became a Liberace signature.
Liberace focused on the details from head to toe, such as with these yellow shoes.
Flamboyant outfits like this Neptune Outfit were what audiences had come to expect from the talented musician.
Liberace attends a fitting with Anna Nateece at her salon.
This bow tie had the addition of fringe to add to its decadence.
This lush outfit is described as his Christmas cape.
There would be no missing this pair of black flame boots.
Another glittering bow tie from the star's collection, this time in gold
Liberace's "flame" costume
Here, Liberace is seen with Michael Travis and Primo.
A black upside-down monkey fur cape
A look at one of Liberace's dazzling bow ties proves he was never one to shy away from something bright.
Liberace's purple and pink Phoenix costume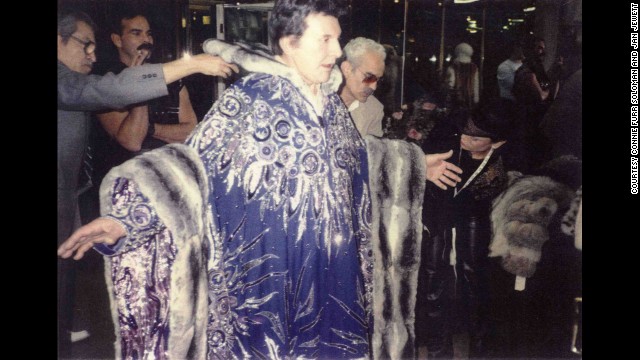 'One of a kind': What Liberace wore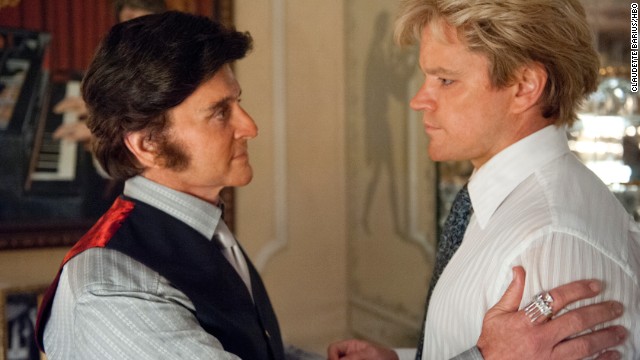 Michael Douglas stars as Liberace and Matt Damon as Scott Thorson in the Steven Soderbergh-directed film "Behind the Candelabra."
Liberace's inspired performances, with extravagant costumes and props, garnered him a loyal and worldwide fan base.
The film looks at the love affair between Liberace, played by Douglas, and Thorson, played by Damon.
The secret five-year affair between Liberace and Thorson was the basis for a book by Thorson which inspired the film.
Soderbergh says he turned to HBO to produce the film instead of releasing it as a feature film because larger studios feared it was ''too gay.''
Thorson and Liberace's relationship ended in a public breakup, and Thorson sued for palimony.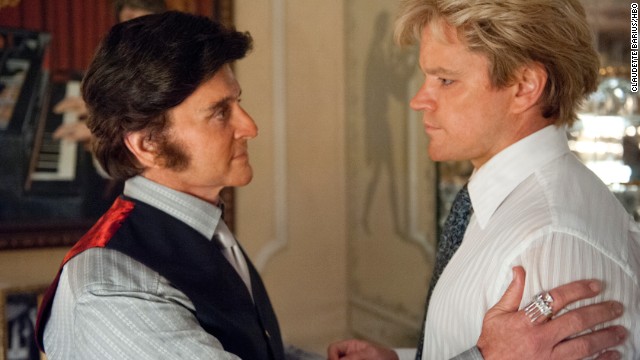 'Behind the Candleabra'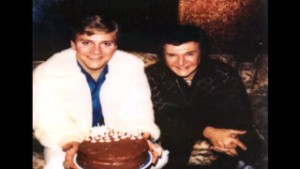 2002: Liberace's lover speaks out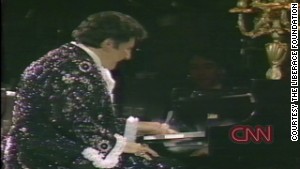 2001: The secret life of Liberace
But there's less razzle-dazzle here than you'd expect from a portrait of a camp icon. Despite the stranger details of their courtship — say, the fact that Liberace had Thorson undergo plastic surgery to look more like him, or that he offered to adopt his young paramour — their love feels as banal as any married couple's, right up until the end, when Thorson sues Liberace for palimony. The man deserved a sensational, Sunset Boulevard-style tribute; what he got plays more like a Lifetime movie.
To be clear, there's still just enough camp gold to get the best lines bedazzled on a leotard. (My favorite: ''Honey, in gay years, you're Judy during the Sid Luft obese period.'') Also, casting Rob Lowe as Liberace's drug-pushing, alien-faced plastic surgeon is a genius move that allows the actor to send up his pretty-boy image. But Douglas' performance is surprisingly restrained, especially given that he's playing a man who lived in fear every day that his double life would be exposed. The more secretive parts of Liberace's world, like his obsession with sex clubs and porn, come across as quirky rather than dark. And Damon, who captures Thorson's damaged-child side well, makes him a little too sympathetic. (After all, this is a guy who's now in jail for burglary.)
It's interesting that Soderbergh couldn't get "Candelabra" made as a feature film; he says it's because studios feared it was ''too gay.'' Liberace's fans were actually mostly straight women, the older, blue-haired types. And for better or worse, that seems like the target audience for this movie, a glossy story of love gone wrong and then (slightly) redeemed at the end, without a whole lot of deep pathos in between. Those ladies might've been comforted by Liberace's final words in the movie: ''Too much of a good thing is wonderful,'' he says. That's true — but just a little bit more of a bad thing might've been better. Grade: B-
"Behind the Candelabra" will air Sunday May 26 on HBO. HBO is owned by the parent company of CNN and EW.
See the original article at EW.com.
CLICK HERE to Try 2 RISK FREE issues of Entertainment Weekly
© 2011 Entertainment Weekly and Time Inc. All rights reserved.