Airline dumps shark's fin cargo
May 24, 2013 -- Updated 0753 GMT (1553 HKT)
STORY HIGHLIGHTS
Air New Zealand suspends shark's fin cargo after complaints by environmental groups
Cathay Pacific suspended shark's fin cargo in 2012
Approximately 72 million sharks are killed each year for their fins
(CNN) -- The anti-shark's fin campaign is crusading on in Asia Pacific.
Air New Zealand has become the latest airline to stop flying shipments of shark's fin to Hong Kong, the shark's fin capital of the world.
The decision came about after the New Zealand Shark Alliance revealed the airline's shipments in local media.
"Air New Zealand has taken the decision to suspend the carriage of shark fins while we undertake a review of the issue," Air New Zealand spokesperson Andrew Aitken told CNN. "We have no further comment to make while this review is underway."
The topic is a particularly sensitive environmental issue in Hong Kong, the world's biggest market for shark's fin, as campaigns highlighting the cruelty and devastation stemming from the practice are becoming more and more successful.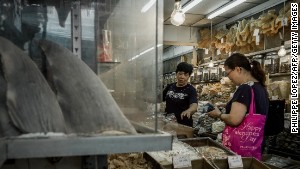 Hong Kong is the shark's fin capital of the world.
Prominent hotels and restaurants in the city have been publicly striking shark's fin from their menus, while Hong Kong's main carrier Cathay Pacific also announced a ban on shark's fin cargo last September.
"Due to the vulnerable nature of sharks, their rapidly declining population, and the impacts of overfishing for their parts and products, our carriage of these is inconsistent with our commitment to sustainable development," said Cathay Pacific's statement at the time.
The Peninsula Hotels Group bans shark's fin from menus
Approximately 72 million sharks are killed each year and 10,000 tons of fins are traded through Hong Kong.
Conservation groups say there is still far to go in terms of education and awareness.
"We were delighted to hear that Air New Zealand is following suit of the Cathay Pacific announcement," Hong Kong Shark Foundation director Claire Garner told CNN.
"Airlines need to know what they're carrying and how they are impacting environmental sustainability."
"It can be quite tricky in terms of monitoring and managing shipping as shark's fin is transported in a dried form and the packaging can be made to look like other kinds of dried seafood," said Doug Woodring of the Ocean Recovery Alliance in Hong Kong.
"Decisions [like Air New Zealand's] can have a big impact on reducing consumption in Hong Kong."
Fiji-based Air Pacific was another airline that came under fire from environmental groups for carrying shark's fin cargo earlier this month.
A report in Hong Kong's South China Morning Post said the airline had run a contest for Hong Kong weddings that didn't feature shark's fin in the menu (a popular wedding banquet menu item) and offered honeymoon flights to Fiji as the prize.
Air Pacific and New Zealand Shark Alliance were not available for immediate comment.
Shark finning thrives on Hong Kong rooftops
Yao Ming and Richard Branson call for shark's fin ban in China

Today's five most popular stories
Part of complete coverage on
October 20, 2014 -- Updated 1808 GMT (0208 HKT)

The guidebook asked staff, contributors and authors for well-known and lesser-known recommendations.
October 20, 2014 -- Updated 1607 GMT (0007 HKT)

An airport in Asia has stolen the crown from Manila's Ninoy Aquino, voted 'world's worst' three years in a row.
October 21, 2014 -- Updated 1620 GMT (0020 HKT)

It's time for a beef break, veal vacation, hog holiday or sinew sabbatical in a T-bone a-fide U.S. meatopolis.
October 20, 2014 -- Updated 1319 GMT (2119 HKT)

With so many awesome new attractions on the way, the next few years are going to be a roller coaster ride.
October 17, 2014 -- Updated 0107 GMT (0907 HKT)

Scientists are busy surveying Southeast Asia's Coral Triangle, home to 75 percent of all known coral species.
October 16, 2014 -- Updated 1350 GMT (2150 HKT)

Bounce Below transforms an abandoned slate mine into a surreal, springy world of fear and fun,
October 14, 2014 -- Updated 2316 GMT (0716 HKT)

With chopsticks or fingers? Wasabi or no? A double Michelin-starred Tokyo chef sets the record straight and shows us the sushi way.
October 13, 2014 -- Updated 2224 GMT (0624 HKT)

It may look like a gateway across time and space crafted with alien technology, but in reality it's a fruit and vegetable market.
October 13, 2014 -- Updated 0925 GMT (1725 HKT)

Based on the votes of over 330 industry experts, the 2014 winners include bars from 27 cities in 14 countries.
October 12, 2014 -- Updated 2231 GMT (0631 HKT)

Careening down an active volcano at 95 kph on a thin board? It happens only at Cerro Negro in Nicaragua.