Airline dumps shark's fin cargo
May 24, 2013 -- Updated 0753 GMT (1553 HKT)
STORY HIGHLIGHTS
Air New Zealand suspends shark's fin cargo after complaints by environmental groups
Cathay Pacific suspended shark's fin cargo in 2012
Approximately 72 million sharks are killed each year for their fins
(CNN) -- The anti-shark's fin campaign is crusading on in Asia Pacific.
Air New Zealand has become the latest airline to stop flying shipments of shark's fin to Hong Kong, the shark's fin capital of the world.
The decision came about after the New Zealand Shark Alliance revealed the airline's shipments in local media.
"Air New Zealand has taken the decision to suspend the carriage of shark fins while we undertake a review of the issue," Air New Zealand spokesperson Andrew Aitken told CNN. "We have no further comment to make while this review is underway."
The topic is a particularly sensitive environmental issue in Hong Kong, the world's biggest market for shark's fin, as campaigns highlighting the cruelty and devastation stemming from the practice are becoming more and more successful.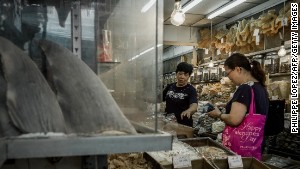 Hong Kong is the shark's fin capital of the world.
Prominent hotels and restaurants in the city have been publicly striking shark's fin from their menus, while Hong Kong's main carrier Cathay Pacific also announced a ban on shark's fin cargo last September.
"Due to the vulnerable nature of sharks, their rapidly declining population, and the impacts of overfishing for their parts and products, our carriage of these is inconsistent with our commitment to sustainable development," said Cathay Pacific's statement at the time.
The Peninsula Hotels Group bans shark's fin from menus
Approximately 72 million sharks are killed each year and 10,000 tons of fins are traded through Hong Kong.
Conservation groups say there is still far to go in terms of education and awareness.
"We were delighted to hear that Air New Zealand is following suit of the Cathay Pacific announcement," Hong Kong Shark Foundation director Claire Garner told CNN.
"Airlines need to know what they're carrying and how they are impacting environmental sustainability."
"It can be quite tricky in terms of monitoring and managing shipping as shark's fin is transported in a dried form and the packaging can be made to look like other kinds of dried seafood," said Doug Woodring of the Ocean Recovery Alliance in Hong Kong.
"Decisions [like Air New Zealand's] can have a big impact on reducing consumption in Hong Kong."
Fiji-based Air Pacific was another airline that came under fire from environmental groups for carrying shark's fin cargo earlier this month.
A report in Hong Kong's South China Morning Post said the airline had run a contest for Hong Kong weddings that didn't feature shark's fin in the menu (a popular wedding banquet menu item) and offered honeymoon flights to Fiji as the prize.
Air Pacific and New Zealand Shark Alliance were not available for immediate comment.
Shark finning thrives on Hong Kong rooftops
Yao Ming and Richard Branson call for shark's fin ban in China

Today's five most popular stories
Part of complete coverage on
November 24, 2014 -- Updated 0118 GMT (0918 HKT)

These quirky and beautiful subway stops make standing cheek-to-cheek with 45 strangers almost seem fun.
November 21, 2014 -- Updated 1314 GMT (2114 HKT)

Luxury vintage Land Rover tours explore Bedouin backwaters without bashing up precious dunes.
November 20, 2014 -- Updated 0250 GMT (1050 HKT)

Cities around the world have closed the brew gap, but the Oregon city's innovative scene continues to lead the beer parade.
November 19, 2014 -- Updated 2249 GMT (0649 HKT)

From gourmet hotdogs to Sevillian tapas, the food served in these London restaurants is worth lining up for.
November 20, 2014 -- Updated 1545 GMT (2345 HKT)

Plans are underway to build the world's tallest -- and quite possibly most terrifying -- roller coaster at an Orlando, Florida, theme park due to open in 2017.
November 18, 2014 -- Updated 1932 GMT (0332 HKT)

The 7th Annual Cruise Critic Editors' Picks Awards highlight the top cruise lines for North American travelers in 18 categories.
November 19, 2014 -- Updated 0206 GMT (1006 HKT)

Joining the ranks of pilgrims tackling Adam's Peak rewards with a spiritual awakening, or at least a stunning sunrise.
November 18, 2014 -- Updated 1313 GMT (2113 HKT)

Beautifully designed travel document reveals image of Northern Lights when placed under UV light.
November 18, 2014 -- Updated 0525 GMT (1325 HKT)

New concept offering luxury rooms in ancient dwellings helps spare beautiful villages from falling into ruin.
November 21, 2014 -- Updated 2247 GMT (0647 HKT)

Are you the butcher or the cattle? Tainted meat-obsessed fans are following the tracks of their favorite "Walking Dead" survivors.
November 17, 2014 -- Updated 0521 GMT (1321 HKT)

People never cease to find amazing ways to make water more incredible than it already is. Here are some powerful examples