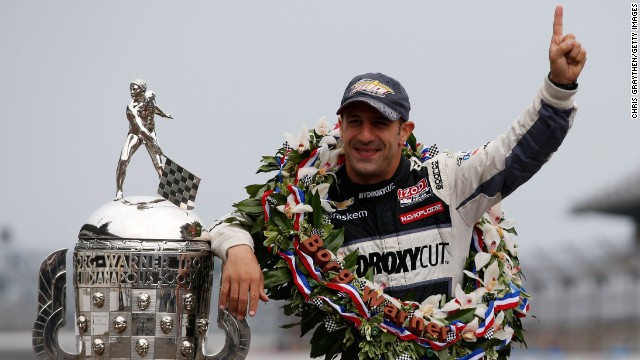 Indianapolis 500 Champion Tony Kanaan of Brazil poses with the Borg Warner Trophy at the Indianapolis Motor Speedway's "yard of bricks" on Monday, May 27.
Brazil's Tony Kanaan, driver of the Hydroxycut KV Racing Technology-SH Racing Chevrolet, pours the traditional victory milk over his head after winning the Indianapolis 500 at the Indianapolis Motor Speedway on Sunday, May 26.
Kanaan celebrates in victory lane. The race featured a record 14 leaders and 68 lead changes
No. 11 Kanaan leads the pack during the race.
Scott Dixon of New Zealand makes a pit stop in the No. 9 Target Chip Ganassi Racing Honda.
Takuma Sato of Japan, in car No. 14, holds the lead.
Charlie Kimball, driver of the No. 83 NovoLog FlexPen Honda, makes a pit stop.
Marco Andretti in No. 25 for Andretti Autosport, left, and Tony Kanaan of Brazil in No. 11 lead the pack before a turn.
Ed Carpenter in car No. 20 leads a pack.
Carpenter keeps his lead.
Dario Franchitti's No.10 stops in the pit.
Will Power of Australia in No. 12 leads cars down the front stretch.
Balloons are released as cars, drivers and crews wait to start the race.
Driver Charlie Kimball stands on the grid during the performance of the national anthem.
Tony Kanaan, left, and Hélio Castroneves of Brazil greet each other.
Dario Franchitti of Scotland makes adjustments to his car before the start.
Katherine Legge of England, left, and Scott Dixon of New Zealand talk before the start of the race.
The 2013 Indy 500
The 2013 Indy 500
The 2013 Indy 500
The 2013 Indy 500
The 2013 Indy 500
The 2013 Indy 500
The 2013 Indy 500
The 2013 Indy 500
The 2013 Indy 500
The 2013 Indy 500
The 2013 Indy 500
The 2013 Indy 500
The 2013 Indy 500
The 2013 Indy 500
The 2013 Indy 500
The 2013 Indy 500
The 2013 Indy 500