Bail denied for 2 men after flight diverted over UK
May 28, 2013 -- Updated 1118 GMT (1918 HKT)
(CNN) -- Bail was denied Monday for two men charged with endangering an aircraft in Friday's diversion of a Pakistan International Airlines flight over the United Kingdom, a spokeswoman for police in Essex said.
Tayyab Subhani, 30, and Mohammed Safdar, 41, were sent back to police custody after their appearance at Chelmsford Magistrates Court on Monday morning. Their next court appearance is scheduled for August 5, said Helen Cook, press officer of the Essex police in the United Kingdom.
A UK fighter jet was scrambled to escort Pakistan International Airlines Flight PK709 as it was diverted from northwestern England's Manchester Airport to Stansted Airport near London on Friday.
Essex police, who cover the area near Stansted, said officers arrested Subhani and Safdar and removed them from the plane, which had 297 passengers aboard. The flight originated in Lahore, Pakistan.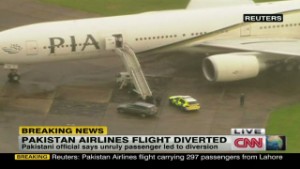 Airline: Unruly passenger diverts plane
Wajid Hasan, Pakistan's high commissioner to the United Kingdom, told CNN that the two passengers "got into an altercation with air stewardesses and threatened to blow up the plane."
The flight attendants contacted the pilot, who contacted UK air traffic control authorities, who then scrambled the fighter jet, he said.
The plane later continued on to Manchester from Stansted after all the passengers and cargo were screened, a process that took about four hours, according to the high commissioner's office.
Passengers arriving at Stansted told CNN they were delayed by what several called a terrorist scare. Police have not mentioned terrorism in connection with the incident.
CNN's Laura Smith-Spark, Shaan Khan and Nic Robertson contributed to this report.

Part of complete coverage on
December 13, 2013 -- Updated 1644 GMT (0044 HKT)

Put aside out-of-date views of Africa and see it the way Africans seem to: With a high level of optimism, a CNN survey shows.
December 13, 2013 -- Updated 0937 GMT (1737 HKT)

The all too real political theater playing out in Pyongyang may offer another tantalizing glimpse behind the opaque curtain of the North Korea.

Read the journal of Mira Sorvino, a human rights activist and Oscar winning actress, who went to Cambodia with the CNN Freedom Project.
December 13, 2013 -- Updated 0757 GMT (1557 HKT)

Kenya could reinvent itself as a center for innovation. But it needs to build new research universities and expand its education, one expert argues.
December 12, 2013 -- Updated 1819 GMT (0219 HKT)

The sign language interpreter widely ridiculed for his performance at the Nelson Mandela memorial stands by his work.
December 12, 2013 -- Updated 1456 GMT (2256 HKT)

Behind the scenes in Cambodian karaoke bars -- a common front for child prostitution.
December 12, 2013 -- Updated 0446 GMT (1246 HKT)

A global risk firm surveys the most politically explosive countries.
December 12, 2013 -- Updated 1509 GMT (2309 HKT)

On Tuesday, I was free. On Wednesday, I became a criminal. India's high court just made being gay illegal, writes Tushar Malik.
December 12, 2013 -- Updated 1046 GMT (1846 HKT)

A Japanese actor says playing villians in Chinese films has helped the China-Japan divide. CNN's Ivan Watson reports.
December 11, 2013 -- Updated 1524 GMT (2324 HKT)

Pope Francis is Time's person of the year. His papacy has drawn adulation from people around the world for his man-of-the-people ways.

He was imprisoned for life but that did not quiet him. Nelson Mandela became South Africa's first black president, and an icon and inspiration.
December 13, 2013 -- Updated 1333 GMT (2133 HKT)

Browse through images you don't always see in news reports, taken by CNN teams all around the world.

Today's five most popular stories