China instructs its citizens on how to behave abroad
May 29, 2013 -- Updated 1112 GMT (1912 HKT)
STORY HIGHLIGHTS
China's government has issued a set of guidelines for tourists
Among them: Doodling or carving on ancient relics is not acceptable behavior
Regulations are response to recent case of Chinese teenager defacing an Egyptian sculpture
(CNN) -- Spitting. Littering. Cutting in lines. Defacing historic treasures.
These are some of the behaviors the Chinese government is hoping to eradicate with a set of official conventions to be followed by Chinese citizens when traveling.
The guidelines were posted Tuesday on the Chinese central government's website.
According to state news agency Xinhua, the regulations also prohibit climbing on or touching ancient relics or carving into them.
"Being a civilized tourist is the obligation of each citizen," according to the government post, which lays out a long list of guidelines issued by the National Tourism Administration.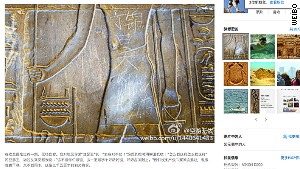 The 'Ding was here' graffiti
The call for "civilized" conduct comes in the wake of a firestorm of anger and outrage unleashed in Egypt, China and around the world this week when a 15-year-old Chinese tourist carved his name in Chinese characters into the 3,500-year-old stone at Egypt's Luxor Temple.
The biggest backlash came from within China with netizens exposing and criticizing the teenager.
The netizen reaction shows the incident in Egypt should not be used to generalize the behavior of Chinese travelers, says Mei Zhang, founder and CEO of travel agency WildChina, which handles both inbound and outbound tourists.
"This kind of behavior is difficult to label as bad Chinese tourist behavior because the outreach you've seen on Chinese social media like Sina Weibo is, 'How can this be possible?'" Zhang told CNN.
"It's almost like the behavior of this young man in Egypt is one piece of [Chairman] Mao's dropping that spoils the whole pot of soup. This is what Chinese are saying."
Outrage after Chinese tourist defaces Egyptian temple
The government regulations also call on travelers to follow public orders, protect ecology, public infrastructure and utilities, maintain a clean environment, respect the rights of others and show them courtesy, Xinhua reported. Travelers should also seek appropriate entertainment, according to the guidelines.
Outbound Chinese tourism has expanded rapidly in recent years. In 2012, Chinese overtook Americans and Germans as the world's top international tourism spenders, with 83 million people spending a record $102 billion on international tourism.
That growth has brought with it a backlash in some industry sectors. (See our report on Chinese tourism: The good, the bad and the backlash).
WildChina's Zhang said there have been similar issues in the past as Chinese citizens begin to travel internationally.
"It's a natural process that Chinese travelers are going through, as travelers around the world have also gone through. It's a gradual process of China's coming out, of China's travelers being exposed to more of the international world. It's a natural adjustment stage," she told CNN.
Earlier this month, Beijing called on its nation's tourists to improve their behavior, with Vice Premier Wang Yang stating it was important to project a good image of Chinese tourists.
Chinese travelers the world's biggest spenders
CNN's Hiufu Wong and Marnie Hunter contributed to this report.

Part of complete coverage on
December 10, 2013 -- Updated 1811 GMT (0211 HKT)

"To awaken quite alone in a strange town is one of the pleasantest sensations in the world."
December 6, 2013 -- Updated 0304 GMT (1104 HKT)

A Japanese blogger has gained Internet fame for taking selfies with a fake lover. Here's his sad/uplifting tale.
December 6, 2013 -- Updated 0151 GMT (0951 HKT)

Biman Bangladesh Airline will take star-crossed airliner on its last joy ride.
December 3, 2013 -- Updated 0303 GMT (1103 HKT)

Whistler, Chamonix, Aspen -- the best known winter sports resorts have become that for a reason.

More than just the merger of Buda and Pest, the Pearl of the Danube is also the cultural crossroads of Europe's east and west.
December 2, 2013 -- Updated 1316 GMT (2116 HKT)

Visiting the DPRK is easy these days, so long as you don't forget to play by their rules.
November 26, 2013 -- Updated 2330 GMT (0730 HKT)

The best places to indulge our second-favorite thing to do with ice.

Top drinking spots with bird's eye views of one of the world's greatest cities.
November 26, 2013 -- Updated 0138 GMT (0938 HKT)

Mulled wine, skating on the river, light shows over snow. Some cities are made for winter.
November 22, 2013 -- Updated 1607 GMT (0007 HKT)

Only 800 people a year are allowed to visit Namibia's bleak but beautiful Skeleton Coast, littered with whale bones and crumbling shipwrecks.
November 24, 2013 -- Updated 0500 GMT (1300 HKT)

Aah, slide shows. How we hated Grandpa's annual two-hour presentation of his trip to the Grand Canyon. But now, don't we kind of miss them?

For 24 hours, we made the world's busiest airport our destination and found a world unto its own. Join us on our journey.

Today's five most popular stories