China instructs its citizens on how to behave abroad
May 29, 2013 -- Updated 1112 GMT (1912 HKT)
STORY HIGHLIGHTS
China's government has issued a set of guidelines for tourists
Among them: Doodling or carving on ancient relics is not acceptable behavior
Regulations are response to recent case of Chinese teenager defacing an Egyptian sculpture
(CNN) -- Spitting. Littering. Cutting in lines. Defacing historic treasures.
These are some of the behaviors the Chinese government is hoping to eradicate with a set of official conventions to be followed by Chinese citizens when traveling.
The guidelines were posted Tuesday on the Chinese central government's website.
According to state news agency Xinhua, the regulations also prohibit climbing on or touching ancient relics or carving into them.
"Being a civilized tourist is the obligation of each citizen," according to the government post, which lays out a long list of guidelines issued by the National Tourism Administration.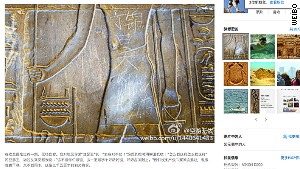 The 'Ding was here' graffiti
The call for "civilized" conduct comes in the wake of a firestorm of anger and outrage unleashed in Egypt, China and around the world this week when a 15-year-old Chinese tourist carved his name in Chinese characters into the 3,500-year-old stone at Egypt's Luxor Temple.
The biggest backlash came from within China with netizens exposing and criticizing the teenager.
The netizen reaction shows the incident in Egypt should not be used to generalize the behavior of Chinese travelers, says Mei Zhang, founder and CEO of travel agency WildChina, which handles both inbound and outbound tourists.
"This kind of behavior is difficult to label as bad Chinese tourist behavior because the outreach you've seen on Chinese social media like Sina Weibo is, 'How can this be possible?'" Zhang told CNN.
"It's almost like the behavior of this young man in Egypt is one piece of [Chairman] Mao's dropping that spoils the whole pot of soup. This is what Chinese are saying."
Outrage after Chinese tourist defaces Egyptian temple
The government regulations also call on travelers to follow public orders, protect ecology, public infrastructure and utilities, maintain a clean environment, respect the rights of others and show them courtesy, Xinhua reported. Travelers should also seek appropriate entertainment, according to the guidelines.
Outbound Chinese tourism has expanded rapidly in recent years. In 2012, Chinese overtook Americans and Germans as the world's top international tourism spenders, with 83 million people spending a record $102 billion on international tourism.
That growth has brought with it a backlash in some industry sectors. (See our report on Chinese tourism: The good, the bad and the backlash).
WildChina's Zhang said there have been similar issues in the past as Chinese citizens begin to travel internationally.
"It's a natural process that Chinese travelers are going through, as travelers around the world have also gone through. It's a gradual process of China's coming out, of China's travelers being exposed to more of the international world. It's a natural adjustment stage," she told CNN.
Earlier this month, Beijing called on its nation's tourists to improve their behavior, with Vice Premier Wang Yang stating it was important to project a good image of Chinese tourists.
Chinese travelers the world's biggest spenders
CNN's Hiufu Wong and Marnie Hunter contributed to this report.

Today's five most popular stories
Part of complete coverage on
November 16, 2014 -- Updated 2326 GMT (0726 HKT)

Take a trip to the Chinese town that has more relics than people.
November 13, 2014 -- Updated 1742 GMT (0142 HKT)
You know about reggae and Usain Bolt -- but you probably aren't aware of these other Jamaican superlatives.
November 14, 2014 -- Updated 1152 GMT (1952 HKT)

Artist creates brilliant tribute to Dutch impressionist painter -- a cycle route that glows in the dark
November 14, 2014 -- Updated 0633 GMT (1433 HKT)

European airlines beware: These 320kph trains are upping the travel game with roomy seats and onboard wi-fi.
November 24, 2014 -- Updated 0819 GMT (1619 HKT)

For such a relatively small collection of islands, the UK packs in an phenomenal range of beautiful scenery.
November 12, 2014 -- Updated 2237 GMT (0637 HKT)

Rovos Rail's epic trips out of South Africa pamper passengers with fine dining, vintage comfort and even a bathtub.
November 18, 2014 -- Updated 0137 GMT (0937 HKT)

Self-taught Iranian photographer gains rare access to shoot religious buildings as they've never been seen.
November 11, 2014 -- Updated 0345 GMT (1145 HKT)

The subject of erotica has a way of making people uncomfortable.
November 7, 2014 -- Updated 0037 GMT (0837 HKT)

UK's Heathrow Airport pairs destinations with fragrances to evoke long distance travel. We do too.
November 6, 2014 -- Updated 2100 GMT (0500 HKT)

Bumper cars, a freefall simulator and robot bartenders are just a few of the cool features on Royal Caribbean's new Quantum of the Seas.
November 2, 2014 -- Updated 2258 GMT (0658 HKT)

Up in the mountains and across deep chasms, these bridges are both spectacular and terrifying.