Bombings, shooting leave at least 10 dead in Iraq
updated 3:33 PM EDT, Tue May 28, 2013
STORY HIGHLIGHTS
NEW: 2 die in a bomb blast near a Baghdad market, police say
A bombing occurred earlier near Sadr City, also in Baghdad, killing 7
An intelligence officer was gunned down in Mosul, officials say
Sunni-Shiite discord has been tied to a recent increase in violence
Baghdad (CNN) -- Bombings and a shooting left at least 10 dead in Iraq on Tuesday, the latest violence to rock a country beset by sectarian and political tension.
Seven people died and 34 were injured when a car bomb exploded near a busy intersection at the edge of Sadr City in eastern Baghdad, a densely populated Shiite district.
Then on Tuesday night in the predominantly Shiite al-Shaab neighborhood of northeastern Baghdad, a roadside bomb went off near an outdoor market. That blast killed at least two people and wounded at least three others, according to police officials in the Iraqi capital.
And in the northern city of Mosul, drive-by attackers gunned down a Nineveh Province intelligence official, killing him, police said.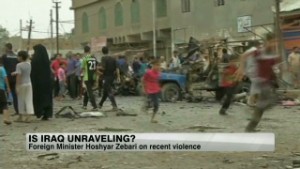 Is Iraq unraveling?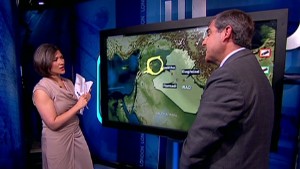 Iraq still divided along sectarian lines
Tuesday's bloodshed comes amid an uptick in violence over the past several weeks, much of it stemming from discord between Sunni and Shiite Muslims.
On Monday, at least 57 people were killed and 190 wounded in a wave of attacks in Baghdad and other cities, police said.
The Monday carnage drew condemnation from the U.N. special representative in Iraq.
"I once again urge all Iraqi leaders to do everything possible to protect Iraqi civilians. It is their responsibility to stop the bloodshed now," Martin Kobler said in a statement Tuesday.
"It is the politicians' responsibility to act immediately and to engage in dialogue to resolve the political impasse and not let terrorists benefit from their political differences. We will continue to remind the leaders of Iraq that the country will slide into a dangerous unknown if they do not take immediate action."
Sunni Arabs had more political clout in Iraq during Saddam Hussein's rule until his government was deposed in 2003 after the U.S.-led invasion.
Sunnis have long felt politically marginalized under a Shiite-led government in the post-Saddam era. According to the CIA World Factbook, around two-thirds of Iraq's nearly 32 million people are Shiite and roughly a third are Sunni. A small percentage of Christians and members of other religious groups make up the rest of the population.
Opinion: Are dark days returning to Iraq?
Amanpour blog: Is Iraq unraveling?
CNN's Joe Sterling contributed to this report