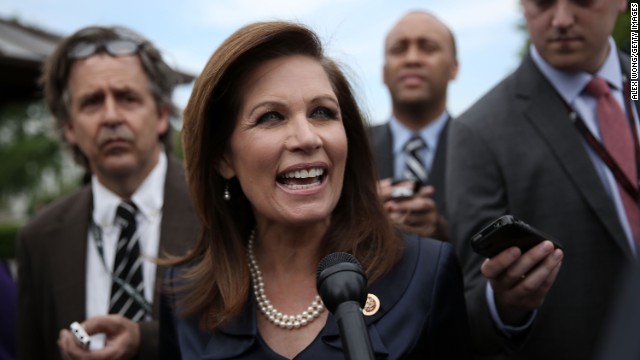 U.S. Rep. Michele Bachmann has announced
she won't seek re-election to Congress. In a video posted on her campaign website Wednesday, May 29, the Minnesota Republican denied that concerns over winning re-election or a congressional ethics inquiry over campaign funds influenced her decision. Known as a voice for the tea party, the conservative firebrand ran unsuccessfully for the 2012 GOP presidential nomination. Bachmann, pictured on May 16, discusses the scandal of the Internal Revenue Service targeting tea party groups. Here's a look back at her career:
Bachmann endorses Mitt Romney at a May 2012 campaign event in Portsmouth, Virginia. Bachmann ran against Romney for the GOP presidential nomination before dropping out after the Iowa caucuses.
Bachmann addresses a rally with Tea Party Patriots national coordinator Jenny Beth Martin, left, in front of the U.S. Supreme Court in March 2012. The high court was hearing oral arguments on the constitutionality of the Patient Protection and Affordable Care Act, or Obamacare, which Bachmann has fiercely opposed.
Bachmann and her husband, Marcus, join in the services at the Jubilee Family Church in Oskaloosa, Iowa, in January 2012 as the then-GOP presidential candidate made a final push before the Iowa caucuses.
Bachmann addresses a town hall-style meeting in Des Moines, Iowa, in December 2011. By then, her presidential campaign had begun to lose steam to other conservative candidates.
Bachmann embraces her mother, Arlene Jean, after announcing at a January 2012 news conference in West Des Moines, Iowa, that she was ending her presidential campaign. Bachmann finished sixth in the Iowa caucuses.
Bachmann speaks at a September 2011 rally in Orlando sponsored by the Faith and Freedom Coalition before a GOP presidential debate.
From left, Republican presidential candidates Herman Cain, Bachmann, Mitt Romney, Texas Gov. Rick Perry, Rep. Ron Paul, former House Speaker Newt Gingrich and Rick Santorum participate in a September 2011 presidential debate sponsored by CNN and the Tea Party Express in Tampa, Florida.
Bachmann encourages people to vote for her in an August 2011 appearance outside the Hilton Coliseum at Iowa State University in Ames, Iowa. Her presidential campaign reached its peak that month when she beat out a slate of other candidates to win the Ames Straw Poll in Iowa.
Bachmann greets supporters at a GOP picnic in Humboldt, Iowa, in August 2011 ahead of the straw poll.
Bachmann and her husband, Marcus, recite the Pledge of Allegiance before she announced her candidacy for the 2012 Republican presidential nomination in Waterloo, Iowa, in June 2011. The congresswoman was born in Iowa.
Bachmann attends the Time 100 Gala at Lincoln Center in New York in April 2011. The magazine
Bachmann addresses an April 2011 rally on Capitol Hill in support of spending cuts.
Bachmann at a January 2011 news conference in which Republican House members displayed signed petitions demanding the repeal of health care legislation.
launched the campaign
against then-House Speaker Nancy Pelosi following passage of the bill to overhaul health care.
Bachmann participates in the "Fire Pelosi" bus tour in September 2010. The Republican National Committee
Bachmann reacts to the crowd at the Republican National Convention in September 2008 in St. Paul, Minnesota.
Bachmann, with her husband Marcus, left, at her side, declares victory in Minnesota's 6th Congressional District race in November 2006 in Bloomington, Minnesota. The congresswoman is now serving her fourth term.
Bachmann plays with daughters, from left, Caroline, Elisa and Sophia at their home in Stillwater, Minnesota, in December 2004.
Bachmann and Bill Wenmark address a crowd on the steps of the Minnesota state Capitol in St. Paul in April 1999.
Michele Bachmann's career in politics
Michele Bachmann's career in politics
Michele Bachmann's career in politics
Michele Bachmann's career in politics
Michele Bachmann's career in politics
Michele Bachmann's career in politics
Michele Bachmann's career in politics
Michele Bachmann's career in politics
Michele Bachmann's career in politics
Michele Bachmann's career in politics
Michele Bachmann's career in politics
Michele Bachmann's career in politics
Michele Bachmann's career in politics
Michele Bachmann's career in politics
Michele Bachmann's career in politics
Michele Bachmann's career in politics
Michele Bachmann's career in politics
Michele Bachmann's career in politics
Michele Bachmann's career in politics
Michele Bachmann's career in politics