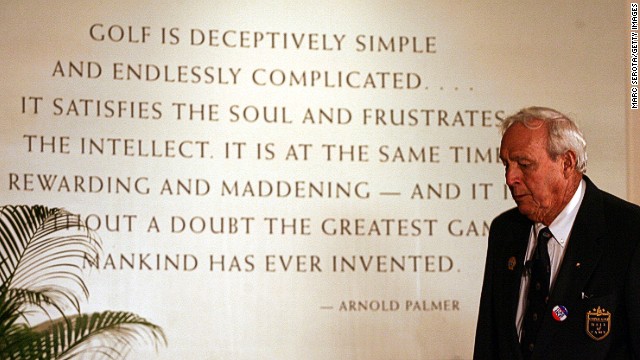 Arnold Palmer at golf's Hall of Fame, where he was inducted in 1974 after a glittering career.
Thanks to his golfing prowess and good looks, Palmer greatly helped to popularize the sport in the 1950s, when television coverage took off.
Augusta, 2004. As Palmer waits to putt out at the 18th green, for the 50th consecutive year, one of golf's all-time greats is overcome by emotion as his professional Masters career nears its end.
Lloyd Mangrum, pictured with Great Britain's 1953 Ryder Cup captain Henry Cotton (left), told Palmer he would have given up his 1946 U.S. Open win and 36 PGA Tour victories "for one Masters" triumph.
U.S. President Dwight D. Eisenhower drives down the fairway at Turnberry in Scotland in 1959. Eisenhower, a friend of Palmer's, was a golfing fanatic who
Tiger Woods plays a shot under the Eisenhower Tree at the 2011 Masters, suffering an injury that would cause him to miss four months of the season.
Palmer putts as fellow greats Jack Nicklaus (left) and Gary Player (center) look on during the Par 3 Contest prior to the 2011 Masters at the course the American called "a pleasure to play on."
Palmer congratulates Matt Every after the American won last month's Arnold Palmer Invitational at Bay Hill, qualifying for the Masters.
Palmer's grandson Sam Saunders, 26, turned pro in 2011 and is fighting to win back his place on the PGA Tour.
Word Play
Main Man
Tearful Farewell
Missing Major
Political Swing
Trees and Woods
"Impeccable Condition"
In Fine Fettle
Family Business
(CNN) -- Here is a look at the life of legendary golfer Arnold Palmer.
Personal: Birth date: September 10, 1929
Birth place: Latrobe, Pennsylvania
Birth name: Arnold Daniel Palmer
Father: Milfred Jerome (Deacon) Palmer, golf club pro
Mother: Doris M. Palmer
Marriages: Kathleen "Kit" (Gawthrop) Palmer (January 26, 2005-present); Winnie (Walzer) Palmer (December 20, 1954-November 20,1999, her death)
Children: with Winnie Palmer: Amy (August 1958); Peggy (February 1956)
Education: Wake Forest College, 1947-1951 (dropped out senior year)
Military service: U.S. Coast Guard, 1951-1954
Other Facts: Learned to play golf at age three, taught by his father the Latrobe Country Club golf pro.
Winner of over 90 golf tournaments and is the first person to make $1 million playing golf.
Is credited with bringing golf into the mainstream and making it popular with people outside of country clubs.
Palmer's fans were known as Arnie's Army and followed him on the weekly PGA Tour events.
Built a financial empire with endorsements and other golf-related ventures, including co-founding the Golf Channel.
Quit Wake Forest and joined the U.S. Coast Guard after his roommate, Bud Worsham, was killed in a car accident.
Proposed to his first wife after knowing her for three days.
Is a licensed jet pilot and flies a Cessna Citation X.
Timeline: 1954 - Wins the United States Golf Association Amateur Championship.
November 1954 - Turns pro and signs a sponsorship contract with Wilson Sporting Goods.
1958, 1960, 1962, 1964 - Wins The Masters.
1960 - Wins the U.S. Open.
1961, 1962 - Wins the British Open.
1971 - Buys the Latrobe Country Club, the same course where he learned to play golf.
1974 - Inducted into the World Golf Hall of Fame.
1980 - Wins the Seniors Championship, his first event on the Seniors Tour.
1981 - Wins the U.S. Seniors Open.
1993 - Presented with the National Sports Award by President Bill Clinton.
1994 - Makes his final appearance at the U.S. Open.
1995 - Makes his final appearance at the British Open.
1996-1997 - Diagnosed and successfully treated for prostate cancer.
1997 - The Palmer Cup is established, a competition showcasing American and European college golfers.
2003 - The Arnold Palmer Prostate Center is established. The center is part of the Eisenhower Lucy Curci Cancer Center within the Eisenhower Medical Center in Rancho Mirage, California.
2004 - Receives the Presidential Medal of Freedom from President George W. Bush.
2004 - Makes his 50th and final appearance at the Masters.
2006 - Plays his last Champions Tour event.
2007 - The Bay Hill Invitational, held at Palmer's Bay Hill Club, is renamed the Arnold Palmer Invitational. This is the second PGA tour competition to be named after someone; the Byron Nelson championship is the other.
September 30, 2009 - President Barack Obama signs into law the Congressional Gold Medal awarded to Palmer. Byron Nelson was awarded the honor posthumously in 2006, the only other golfer to receive the award.
March 25, 2012 - Is hospitalized overnight due to high blood pressure. He is unable to present the winner's trophy to Tiger Woods after the final round of the Arnold Palmer Invitational.
September 12, 2012 - Palmer receives the Congressional Gold Medal that was signed by President Obama in 2009 in a ceremony at the U.S. Capitol. Jack Nicklaus attends the ceremony. Palmer is the sixth sportsman to receive the award.