Tornadoes rip through heartland again: How to help
June 3, 2013 -- Updated 1358 GMT (2158 HKT)
STORY HIGHLIGHTS
A new rash of severe weather and tornadoes hit the Midwest Friday night
Areas of Oklahoma were affected again, as well as several other states
Damage stretches through parts of Oklahoma, Missouri, Illinois and Arkansas
Are you there? Stay safe and send iReport your photos and video.
(CNN) -- Heavy storms and tornadoes once again ripped through the Midwest on Friday night. Already devastated areas of Oklahoma were hit again, and this time the damage spread to neighboring states.
Over a dozen people are reported dead and many more are reported injured after at least 17 tornadoes touched down across the region. By Saturday, more than 210,000 customers were without power in the Midwest -- 89,000 in Missouri, 86,000 in Oklahoma, 31,000 in Illinois, 3,000 in Arkansas, 1,000 in Kansas and 500 in Indiana. The threat is not over as heavy rain continues to fall and raise the threat for flooding, particularly in Missouri just north of St. Louis.
It hasn't even been two weeks since a devastating tornado destroyed much of the Oklahoma City suburb of Moore, but because this storm is so soon after the first one, many of the organizations able to help people are already on the ground.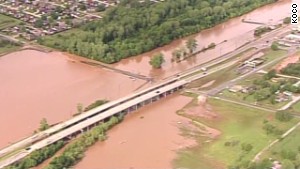 See dramatic aerials of tornado damage
The Red Cross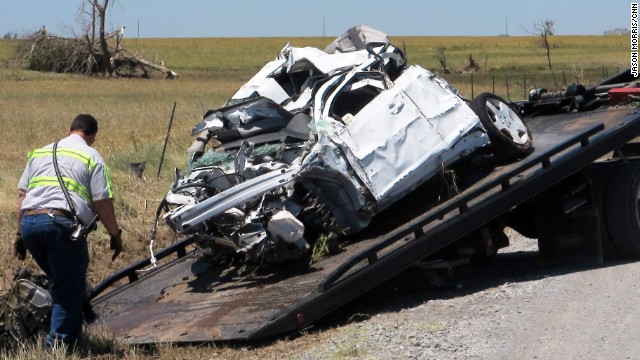 Crews haul away a mangled truck on Sunday, June 2, that storm chasers Tim Samaras, his son Paul Samaras and Carl Young were using to track the tornado that hit El Reno, Oklahoma. The three men, who had devoted their lives to hunting powerful storms died in the middle of the chase. Seventeen tornadoes were reported in the Oklahoma City and St. Louis areas on Friday, May 31.
Dustin Horn, second from left, helps his parents, JoAnn and Fred Horn, salvage items from their home on June 2, two days after a tornado ripped through El Reno, Oklahoma.
Mark Reynolds sifts through debris to salvage personal items in El Reno on Saturday, June 1.
Downed trees sit in the parking lot of the Canadian Valley Technology Center in El Reno on June 1.
An overturned airplane sits amid rubble at the Canadian Valley Technology Center in El Reno on June 1.
Bill Thesing, who was injured in his home when a tornado hit, returns from the hospital to to salvage items from his home with the help of his friend Tammy Hicks on Saturday, June 1, in El Reno, Oklahoma.
Yvonne Merritt stands among the things she was able to save from her home in El Reno on June 1.
Mikie Hooper collects her belongings from her RV, which was destroyed by a tornado in El Reno, Oklahoma, on June 1.
High winds left sheet metal wrapped around the branches of this tree along Route 66 in El Reno on June 1.
Two pickup trucks are pictured stuck in high water along North West 23rd Street in El Reno on June 1. Heavy rain has caused flooding in the area.
The tornado severed the pole supporting these power lines, leaving the remnants dangling near El Reno on June 1.
Two men walk by a damaged OKC-West Livestock Market building near El Reno on June 1.
An American flag flies above the destroyed remains of a mobile home in El Reno on June 1.
The tail section of a plane juts out of a crumbling building at a technology school in El Reno on June 1.
Kim Vanaken, left, consoles her sister Angela Coble, center, along with Amber Kelley while looking at what is left of Coble's house in El Reno on Saturday, June 1.
A man searches through the rubble of a home in El Reno on June 1. A large part of Moore, Oklahoma, was without power, as were parts of El Reno and Union City.
Destroyed trees and cars stand along a road at the Canadian Valley Technology Center in El Reno on June 1.
A tornado forms from a severe thunderstorm near Meridian outside of Oklahoma City on Friday, May 31.
Shredded trees and debris are scattered along Interstate 40 near El Reno, Oklahoma, on May 31.
A semi tractor-trailer damaged by a tornado lies along I-40 just east of El Reno on May 31.
Oklahoma Highway Patrol Troopers inspect an overturned vehicle sitting alongside I-40 near El Reno on May 31.
Storm clouds that produced a tornado roll through near El Reno on May 31.
Lightning from a tornadic thunderstorm strikes in Cushing, Oklahoma, on May 31.
Tornado debris hangs from a billboard sign, which was destroyed along Interstate-40 near El Reno on May 31.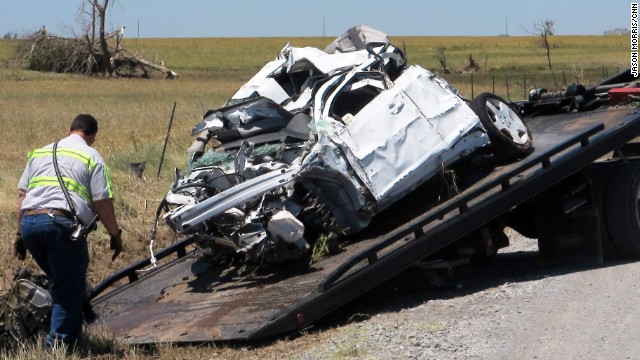 Severe weather hits Midwest again
The Red Cross of Oklahoma and The Red Cross of St. Louis are already assessing damage and providing emergency care, food and shelters for those affected by this new round of storms. You can help their efforts by donating to the Red Cross online or by texting REDCROSS to 90999. This will automatically charge $10 to your cell phone bill.
If you are outside of the United States and wish to contribute to the efforts of the Red Cross, please visit its international partner, International Federation of Red Cross and Red Crescent.
Samaritan's Purse
Samaritan's Purse deployed a group of staff members to travel from its North Carolina headquarters to Oklahoma with a Disaster Relief Unit right after the first storm hit. They came with a tractor trailer stocked with emergency supplies and equipment. Two groups of volunteers have remained in Shawnee, Oklahoma, and Moore, Oklahoma. They sought shelter through the storm last night and are ready to mobilize and help the newest survivors in need of assistance.
AmeriCares
Global health and disaster relief nonprofit AmeriCares has an emergency response team helping in Oklahoma. It will coordinate aid deliveries and assess the needs of survivors and medical organizations in the area.
Team Rubicon
Team Rubicon, a group of military veterans who respond to disasters, is another group that is already in Oklahoma helping survivors. Members also rode out the storm last night, but they have already emerged to assist in search and rescue efforts.
The Salvation Army
The Salvation Army has also jumped into action. Members have mobilized their canteens throughout the region, providing food, hydration and emotional support to first responders and storm survivors. You can contribute to the Salvation Army by calling 1-800-SAL-ARMY (1-800-725-2769), on their website or by texting "STORM" to 80888 to make an automatic $10 donation.
Save the Children
Save the Children is another organization already hard at work in the Moore, Oklahoma, area and is ready to respond to the now widened scope of damage and people in need. Save the Children's efforts focus on the needs of children affected by these tragic storms. They create child-friendly spaces in the affected areas to help maintain a bit of normalcy in times when a child's world has been turned upside down. Text TWISTER to 20222 to donate $10 to Save the Children.

Today's five most popular stories
Part of complete coverage on
Severe weather
April 26, 2014 -- Updated 1358 GMT (2158 HKT)

Here are 10 facts about one of nature's most powerful forces.
August 7, 2013 -- Updated 1446 GMT (2246 HKT)

Get a glimpse of the weather events happening around the world by clicking through our photo gallery.
February 9, 2013 -- Updated 1057 GMT (1857 HKT)

In our increasingly digital world, a mobile phone or other portable device is often a one-stop communication device.
July 3, 2014 -- Updated 2339 GMT (0739 HKT)

Water jugs and batteries are not the only things to consider when extreme weather threatens.

All you need to know about keeping your food safe to eat and what to have on hand in the event of a weather emergency.
April 3, 2014 -- Updated 1453 GMT (2253 HKT)

Getting the latest warnings when tornadoes are headed your way and knowing what to do before, during and after one hits are all key to staying safe. A handful of apps can help you stay on top of impending dangerous weather.
May 30, 2013 -- Updated 1531 GMT (2331 HKT)

You've just that heard a tornado is headed directly toward you. You don't have a safe room, and you're not near a shelter. Do you hunker down and hope for the best or do you flee?
April 27, 2014 -- Updated 1531 GMT (2331 HKT)

Here are the 10 deadliest tornadoes to touch down in the United States, according to the National Oceanic and Atmospheric Administration:
July 17, 2013 -- Updated 2307 GMT (0707 HKT)

Weather experts agree: When lightning strikes, it's best to go indoors.
April 2, 2014 -- Updated 2011 GMT (0411 HKT)

A tornado is a funnel-shaped cloud that forms under thunderclouds and contains rapidly rotating air.