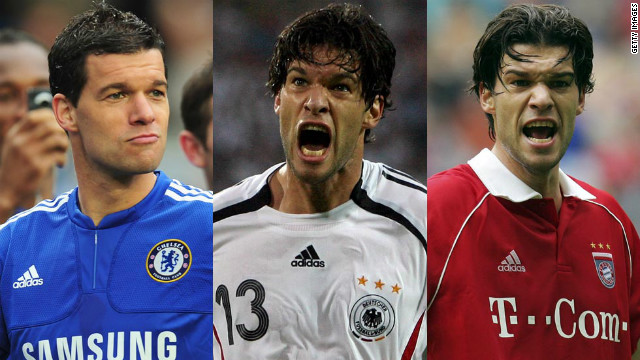 Former Germany international Michael Ballack brought the curtain down on his 17-year playing career with a match in Leipzig on Wednesday night.
A capacity 44,000 crowd attended the game between a World XI and a Germany XI to salute Ballack's career which saw him play for Kaiserslautern, Bayer Leverkusen and Bayern Munich in Germany, and Chelsea in England.
Former Ukraine international Andriy Shevchenko, who played with Ballack at Chelsea, and Bayer Leverkusen's Andre Schurrle, who has been linked with a move to London, celebrate the latter's goal in a match that ended 4-3 to the German XI. Ballack scored a hat-trick.
The World XI was coached by Jose Mourinho, who was Ballack's manager at Chelsea. It was confirmed this week that Mourinho had returned to Stamford Bridge after leaving Real Madrid.
The Germany coach Joachim Low was in attendance, along with tennis legend and Bayern Munich fan Boris Becker.
A host of stars turned out for Ballack's match, who became emotional when he left the field in the 83rd minute as Frank Sinatra's 'My Way' rang round the stadium.
Ballack bids farewell
Ballack bids farewell
Ballack bids farewell
Ballack bids farewell
Ballack bids farewell
Ballack bids farewell
STORY HIGHLIGHTS
Michael Ballack tells CNN the dominance of Dortmund and Bayern is bad for Germany
Two sides contested Champions League final and are streets ahead in Bundesliga
The 36-year-old says new Bayern coach Pep Guardiola has a tough job to improve the team
Ballack played a farewell match in Leipzig as his 17-year career officially came to an end
(CNN) -- As Michael Ballack finally calls time on his 17-year professional career, German football can bask in the knowledge they boast the best two teams in Europe.
But while the Champions League final between eventual winners Bayern Munich and Borussia Dortmund showcased all that is good about German football, the 36-year-old has told CNN the domestic game may suffer as a result.
As well as the continent's most glittering club prize, Bayern won the German Cup and the Bundesliga by an incredible 25 points.
Dortmund, who won the championship in the previous two seasons, were their nearest challengers, and the pair have accounted for five of the last six titles.
Read: Bundesliga most profitable league in Europe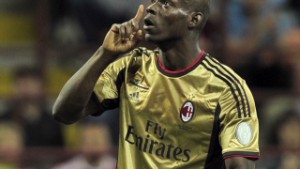 FIFA pass racism reforms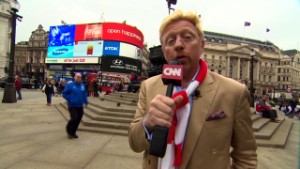 Boris Becker: A champion's London tour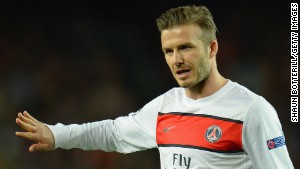 Beckham brand will outlast soccer career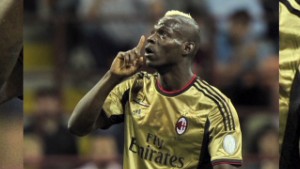 Balotelli: 'I will leave the pitch'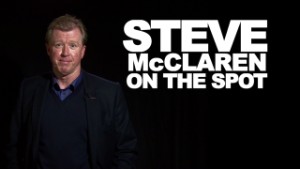 Alex Ferguson's recipe for success
Ballack told CNN World Sport that duopoly could be bad news for the Bundesliga, if Germany's top league starts to resemble Spain, where Barcelona and Real Madrid reign supreme.
"In Germany we have a situation now where Dortmund and Bayern are far, far more away from the other teams, and that's what we don't want to see in the Bundesliga," said Ballack, who has 98 Germany caps to his name.
"We have a little bit of a similar situation in Spain with Barca and Madrid, and in the (English) Premier League it's more open.
"These last years we could see a lot of surprises, and from the bottom (a team) could beat the first one. It was exciting and the Bundesliga was good to see. Bayern Munich is heading away a little bit so we will see how it develops in the future."
Bayern's historic treble confirmed them as the dominant force in Germany, and with their considerable financial muscle, they are already planning on extending their superiority over the rest.
Shortly before the end of the season it was announced that Mario Gotze -- one of Dortmund's best players -- would be joining Bayern for $49 million, with striker Robert Lewandowski expected to make a similar move in the coming weeks.
While the man who masterminded Bayern's success in 2013, Jupp Heynckes, is retiring, his replacement is Pep Guardiola, who won a total of 14 trophies in four years as coach of Barcelona.
So how can the other teams, Dortmund included, keep up with the Bayern juggernaut?
"With money," Ballack jokes. "No, it's difficult for the weaker teams to close the gap because like I said, the bigger teams still invest, and they could invest.
"If you take Bayern Munich, they just bought six months ago Javi Martinez for $52 million, now Gotze for $49 million. So that's a lot of money and it's not possible I think to do it for any other club in Germany.
Read: Pele backs Mourinho to succeed at Chelsea
"It is just Bayern Munich who has this good position, and from a financial point really good, and really healthy. And that's important.
"Dortmund as well, they are trying to close the gap between them and the other teams, but of course Bayern Munich are far away from the others."
Guardiola comes with a reputation as one of the game's leading coaches, but given the standards Bayern set this season, Ballack thinks the Spaniard will struggle to improve the team.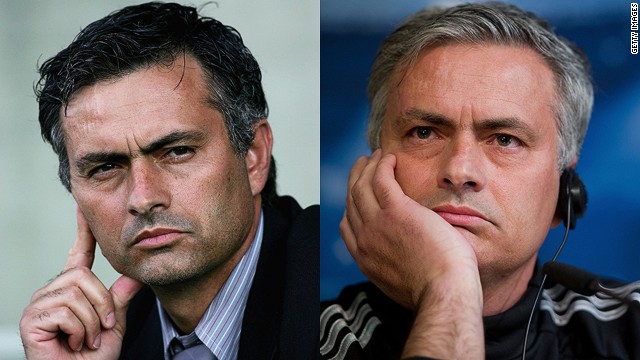 Jose Mourinho returned to coach Chelsea six years after leaving the club. After a spell with Inter Milan he endured a tough three years at Real Madrid and returns a different man and coach.
After a handful of games in charge at Benfica, Mourinho made his name with Uniao de Leiria. Angolan striker Freddy was one of his players and said even then the squad knew Mourinho was destined for the top. "He protected us from everyone, from the president, from fans, from journalists," he told CNN. "He makes you believe you are the best player."
Mourinho made his name at Porto, winning a host of domestic trophies, including two successive league titles, and crowned his spell at the club with a shock Champions League triumph in 2004.
Mourinho left Porto after their European success and joined Chelsea in June 2004, declaring at his first press conference: "I am a special one." He led the club to their first English league title in over 50 years in his first season at Stamford Bridge. Frank Lampard (L) and John Terry were two of his most trusted players. He left in September 2007 after winning five major trophies.
Mourinho's next move took him to Italy where he won two successive Serie A titles, the Italian Cup and a second Champions League crown in 2010. Despite delivering silverware and being loved by the fans he had a strained relationship with the Italian press, one reporter even accusing him of being physically violent.
Mourinho celebrates Inter's Champions League success with Marco Materazzi. Despite making limited appearances under Mourinho, the defender was pictured in tears when he left, evidence of the strong bond the coach forms with his squad, according to a former player of his, Freddy.
Portuguese journalist Jose Carlos Freitas says Mourinho behaves as if he's an actor on stage and he has alienated some people with his flamboyant style. He has few friends at Barcelona, where he used to work as a translator, and annoyed the club by sprinting onto the field to celebrate when his Inter side knocked Barca out of the Champions League.
Mourinho moved to Real in May 2010 but had to wait until the following season to break Barcelona's stranglehold on the La Liga crown. Real's success meant Mourinho had won league titles in four countries -- Portugal, England, Italy and Spain.
But the title Real Madrid really craved was their tenth Champions League success but Mourinho failed to deliver. After various run-ins with opposing managers, the Spanish authorities and some of his own players, defeat to Borussia Dortmund in Europe's top club competition effectively spelled the end of his time at the Bernabeu. Soon after it was announced he'd leave the club in June.
Mourinho's Real departure was welcomed by some, including Barcelona vice president Carles Vilarrubi who said he'd been a "scourge" on Spanish football. The Special One won't struggle for affection back at Chelsea and Freitas thinks that after his two years in Italy and three in Spain, Mourinho is ready to put down some roots and build a club in his own image.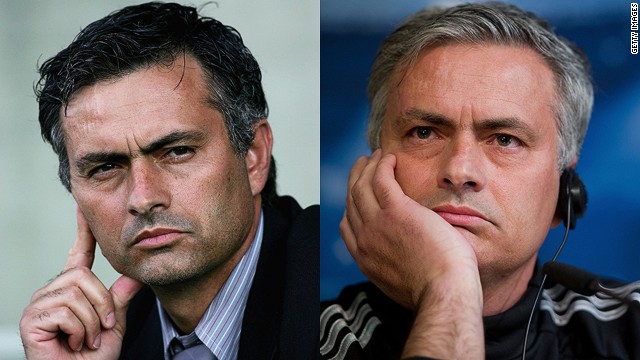 'The Special One' returns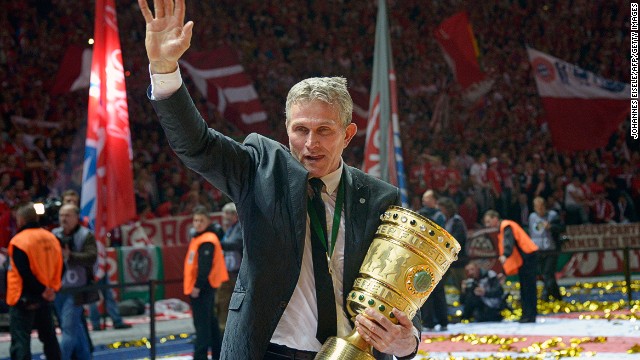 Bayern Munich's Jupp Heynckes waves to the crowd after winning the German Cup in his final match in charge.
Bayern's 3-2 victory over Stuttgart in the final made the Bavarian side the first from Germany to win a treble in one season, having romped to victory in the Bundesliga before winning the Champions League.
Striker Mario Gomez made the most of a rare starting chance as he scored two second-half goals, but the Germany international is expected to be sold when new coach Pep Guardiola takes over from Heynckes.
Photographers gather around Jose Mourinho during his last match as coach of Real Madrid, a 4-2 win at home to Osasuna. Real finished the season 15 points behind Spanish champions Barcelona.
Barcelona said farewell to French defender Eric Abidal, who made his final appearance in the 4-1 win over Malaga, having been told he will be released despite returning following a liver transplant.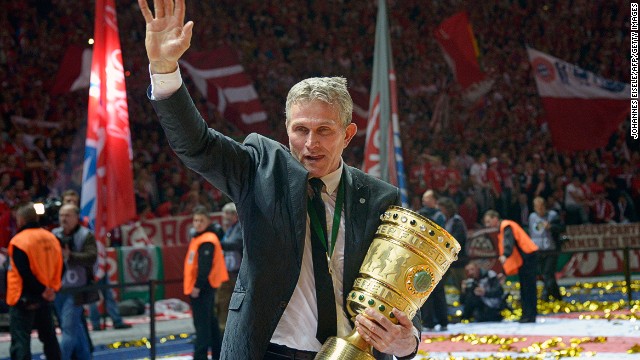 European season comes to a close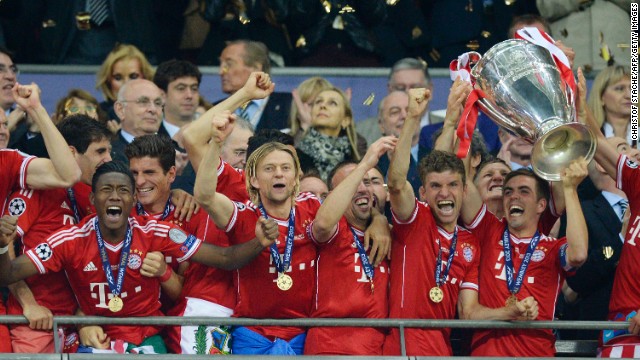 Bayern Munich players lift the trophy as they celebrate winning the UEFA Champions League final after beating Borussia Dortmund 2-1 at Wembley Stadium in London on Saturday, May 25.
Bayern Munich's midfielder Arjen Robben celebrates scoring the winning goal against Borussia Dortmund.
Bayern Head Coach Jupp Heynckes is carried by his players after winning the UEFA Champions League final.
Arjen Robben of Bayern Munich celebrates after scoring the winning goal against Borussia Dortmund during the UEFA Champions League final at Wembley Stadium in London on Saturday, May 25. Bayern defeated Dortmund 2-1.
Head Coach Jurgen Klopp, right, of Borussia Dortmund consoles his players after losing to Bayern Munich in the championship match.
Bayern players celebrate after match play was completed.
Dortmund players lie on the field in defeat after losing to Bayern 2-1.
Arjen Robben, left, of Bayern Munich challenges Mats Hummels of Borussia Dortmund for the ball.
Bayern Munich's striker Mario Mandzukic, left, scores the opening goal of the match.
Ilkay Gundogan of Borussia Dortmund, left, celebrates with teammates after scoring on a penalty kick to tie the game 1-1.
Bayern Munich supporters light flares in the stands during the game.
Dante, right, of Bayern Munich is given a yellow card after being called on a foul against a Borussia Dortmund player.
Bastian Schweinsteiger of Bayern performs a header against Marco Reus of Borussia Dortmund.
Bayern Munich's French midfielder Franck Ribery, center, talks with Borussia Dortmund's striker Robert Lewandowski after a penalty was called.
Mario Mandzukic of Bayern Munich celebrates after scoring a goal against Borussia Dortmund during the UEFA Champions League final at Wembley Stadium in London on May 25.
Borussia Dortmund's midfielder Jakub Blaszczykowski, left, vies with Bayern Munich's defender Jerome Boateng during the UEFA Champions League final at Wembley Stadium in London on Saturday, May 25.
Dortmund's goalkeeper Roman Weidenfeller makes a save against Bayern during the first half.
Borussia Dortmund's Polish midfielder Jakub Blaszczykowski, center, reacts after missing a goal against Dortmund.
Robert Lewandowski, left, of Borussia Dortmund collides with Franck Ribery of Bayern Munich.
Head Coach Jurgen Klopp of Borussia Dortmund shouts from the sidelines during the match.
Fans fill Wembley Stadium during the Champions League final match between Borussia Dortmund and Bayern Munich.
A fan of Bayern Munich wears face paint in support of his team during the match.
Thomas Mueller, left, of Bayern Munich goes after the ball against Neven Subotic of Borussia Dortmund during the UEFA Champions League final match at Wembley Stadium in London on May 25.
Marco Reus of Borussia Dortmund, center, drives to the goal against Dante, right, of Bayern Munich.
Bayern Munich fans wave red flags before the start of the championship game.
Borussia Dortmund supporters fill the stands as they wait for their team to take the field.
Borussia Dortmund fans in the upper deck of Wembley Stadium cheer for their team.
Bayern Munich supporters cheer from the stands.
Borussia Dortmund wear black and yellow attire in support of their team.
From left, UEFA President Michel Platini, German Chancellor Angela Merkel and German Football Association President Wolfgang Niersbach watch the action from the stands.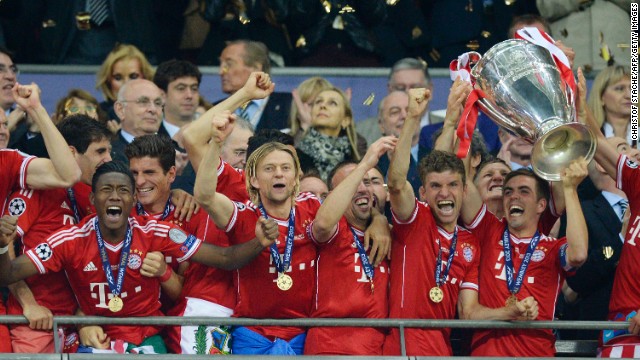 Champions League Final: Dortmund vs. Bayern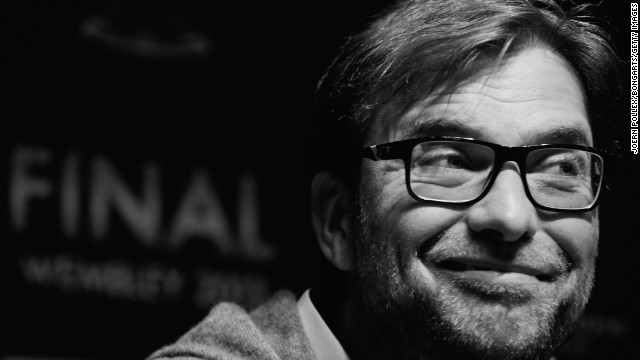 Borussia Dortmund coach Jurgen Klopp has won plaudits for his intelligent musings on football. "You can speak about spirit -- or you can live it," he told the Guardian newspaper this week.
The Bratwurst, a traditional German sausage, is renowned all over the world and is a big favorite with football fans.
Kim Kardashian is just one of a whole host of celebrities to have visited Munich's Oktoberfest -- a beer festival which is held in the city every year.
German Chancellor Angela Merkel is a huge football fan and will be a keen spectator at the Champions League final.
While Dortmund's players have produced on the pitch, its fans have done likewise in the stands with a number of outstanding montages on the famous Sudtribune terrace.
Mesut Ozil and Sami Khedira have become an integral part of Germany's new multicultural team under manager Joachim Low. The pair have established themselves as stars on the world stage with the national team and Spanish club side Real Madrid.
Six-time grand slam tennis champion Boris Becker, who once sat on the Bayern board, believes hosting the 2006 World Cup transformed his country's image.
Sebastian Vettel, Formula One's treble world champion, is one of Germany's most famous faces and is revered across the sporting world.
Christoph Waltz has become a leading name in Hollywood since winning an Oscar for Best Supporting Actor in Quentin Tarantino's film "Django Unchained." Waltz is the son of a German father and Austrian mother.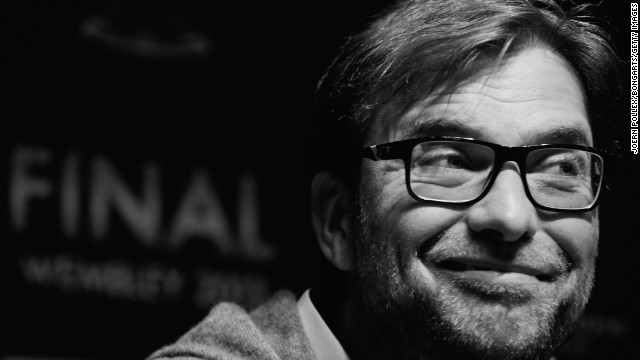 Germany: The new cool
"I think sometimes when you come in (as a new coach) you think 'I have to change something.' But if you see this Bayern Munich team now, I can't really see where he needs to change.
"Obviously he has his own idea of football and how he wants to play. I'm sure he's seen a lot of games, if not all, in the last six months from Bayern Munich, and he knows there's not much to improve.
"It's an incredible level that they've played in the last six months or the last year. And like I said before, the little details. Maybe change something just to change something because you want to play your own style.
"But on the other side, like I said, you can't really change a lot because everything works well. But I'm sure he's a smart guy and a good coach, and he will handle it."
Ballack's farewell match in Leipzig saw a World XI, coached by new Chelsea manager Jose Mourinho, take on a Germany XI, coached by Rudi Voller.
Former teammates Didier Drogba, now at Galatasaray, Ukrainian Andriy Shevchenko, Bayern captain Philipp Lahm and seven-time Formula One world champion Michael Schumacher, among others, took part.
Mourinho managed Ballack at Chelsea and has now returned to London for a second stint after his three-year tenure at Real Madrid ended in disappointment.
One of the Portuguese's first engagements will be to renew his rivalry with Guardiola when Chelsea play Bayern in the UEFA Super Cup at the end of August.
And Ballack, who won one Premier League title and two FA Cups in his four years at Chelsea, and three Bundesliga crowns with Bayern, says his time with Mourinho was a golden spell in his career.
"He has a fantastic reputation at (Chelsea), also I think in England. He's a charismatic manager and I really enjoyed working with him for two years and most of the players as well I can say.
"I think (his image) is not always what you see in the media. What we have as players, is another picture. And that's the picture in the dressing room.
"It's the daily work with him on the pitch and his speeches when he talks to us. And that's what I can say is special, because his attitude, his personality, if he comes in front of the group if he talks to us.
"What's fantastic is he brought the team behind him. And that shows not just in Chelsea, he also adapted really well on the international (stage). He worked in Italy, he worked in Spain, and everywhere he had success."